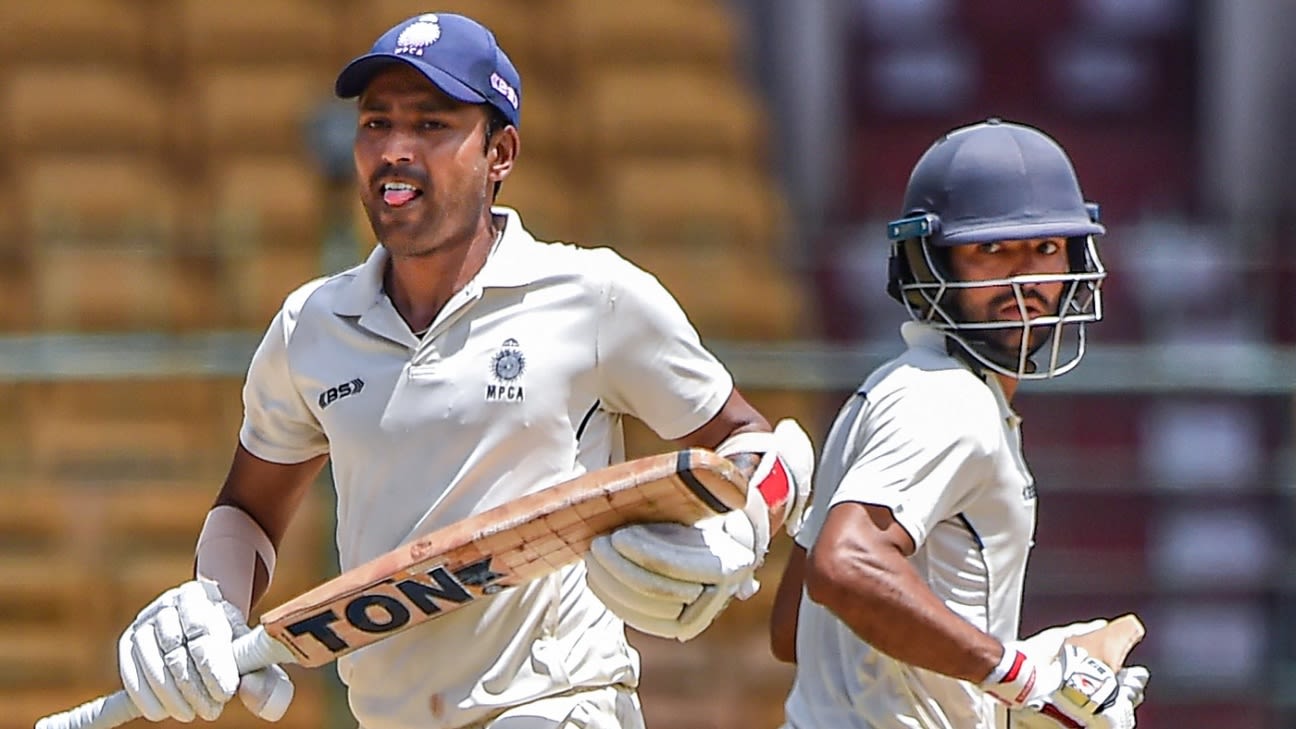 Madhya Pradesh 368 for 3 (Dubey 133, Shubham 116, Patidar 67*) trail Mumbai 374 (Sarfaraz 134, Jaiswal 78, Yadav 4-106) by 6 runs
To say Mumbai were given a taste of their own medicine would be an understatement.
Yash Dubey
and
Shubham Sharma
batted for nearly two sessions, doing what great Mumbai teams of the past have done to opponents: bat long and grind opponents to dust. Both hit a hundred each in a 222-run stand to put Madhya Pradesh firmly in control of the Ranji Trophy final in Bengaluru.
In 1998-99, MP had lost control despite securing a first-innings lead
against Karnataka
. This time, with two full days remaining and the cream of their batting still very much in control of the first innings, Mumbai must do all the running if they are to remain in the contest.
On the evidence of what we have seen of their tiring attack and the track, which is far from the menacing turner it was when the venue last hosted a Test against Sri Lanka three months ago, MP will fancy their chances of securing the title. But they will need just one glance towards their poker-faced still-sitting coach Chandrakant Pandit in the dressing room to get the drift of his simple message: it ain't over yet.
Having begun the third day 251 runs adrift, MP were just six behind, with seven wickets still standing, at stumps.
Rajat Patidar
, the batter a sparse Friday crowd had been waiting to watch right from the morning session, was not out on 67. Keeping him company was
Aditya Shrivastava
, the captain, who replaced Dubey in the final session. Dubey scored a gritty 133, his second hundred of the season.
Mumbai's woes were further compounded when they lost
Dhawal Kulkarni
, who limped off before tea and didn't return until late in the final session, leaving them a bowler short on what was the hottest afternoon of the final. By the time they dismissed both centurions, Mumbai were more relieved than ecstatic. Sledges and verbal volleys that were a feature right through the day gave way to genuine applause as Dubey fell to Shams Mulani.
That Patidar was padded up for 349 minutes was largely thanks to Dubey and Shubham's massive partnership. Shubham's 116 was his fourth century of the season and seventh overall. After digging in and displaying immaculate temperament in setting up shop for the long haul, he was caught behind when he pushed at a length ball from Mohit Avasthi that moved away ever so slightly.
As Patidar walked out to bat No. 4, the Chinnaswamy crowd welcomed him with the kind of cheer they have reserved for the likes of Virat Kohli and AB de Villiers. Loud cheers were followed by the usual chants of "RCB, RCB" as Patidar began like a bullet train, hitting five boundaries off his first 15 deliveries.
Two of those left even the bowlers in awe - the first was a punchy on-drive and the second a firm punch that bisected cover and mid-off in a jiffy. Where Dubey seemed intent on stonewalling the attack and knocking the ball around, trying to play copybook cricket even after his hundred, Patidar effortlessly sent the ball to different parts of the field as if his bat was a magic wand.
If it was wide, he slashed hard knowing the cordon was hardly packed. If the bowlers went full, he drove them effortlessly with the knowledge that there was hardly any movement to counter.
Before Patidar brought out the artist in him, it was Shubham who tantalised early on by opening the day with two gorgeous extra-cover drives off Tushar Deshpande to race towards his half-century. With MP reeling three boundaries in the first two overs of the day, Mumbai shifted from an attacking field to an in-out one. Dubey, overnight on 44, brought up his half-century off 139 deliveries; Shubham got there soon after, off just 74.
It wasn't until Dubey got past a half-century did he really begin to drive on the up. One boundary from Shubham through extra cover brought the century stand but in trying to take the attack to the bowlers, he briefly lost concentration. It needed a reprieve from Armaan Jaffer at short cover-point to bring him back on track.
Dubey was an epitome of concentration for most parts of his knock. He didn't flinch, not even when he copped a blow on the grille off Kulkarni. If he was shaken by the blow, he didn't show it. Mumbai tried their hand at mind games, and Dubey's fitting response came after he brought up his hundred. He took his helmet off and shut both his ears as if to suggest he had shut out all the noise, even as his applauding team-mates chuckled.
Mumbai's bowlers lacked potency for most of the day. Mulani was particularly disappointing. Coming into the game as the leading wicket-taker in the tournament with 37 scalps, he was either bowling flat or full, and Shubham latched on with a massive six down the ground.
Tanush Kotian
, the offspinner, showed he was under-bowled on Thursday by immediately creating three lbw opportunities as soon as he came on shortly before lunch. Dubey had a lucky break on 82 when umpire Virender Sharma ruled him not out to a sharp turner from around the stumps with 15 minutes to the interval. Replays showed it was more than worth a shout.
Dubey then breezed into the 90s with a four through midwicket and then got to his landmark off 234 deliveries with another four. Mumbai had another opportunity when Shubham, who followed suit in making a century, played an airy drive off Kulkarni's bowling but a leaping Suved Parkar at gully put it down. MP were 250 for 1 then.
Though Mumbai broke the stand soon after, Patidar was up and away immediately to put pressure back on them, even before they could try to get a grip over proceedings.
Patidar got to his half-century off 44 balls but should have been out in the next over when he sliced a lofted hit to point. Just as he started to walk off, he was called back as replays confirmed Mulani had overstepped. For the rest of the session, Patidar shut shop, not scoring a single run off the next 26 deliveries and seemingly focused on batting through to stumps.
Shashank Kishore is a senior sub-editor at ESPNcricinfo