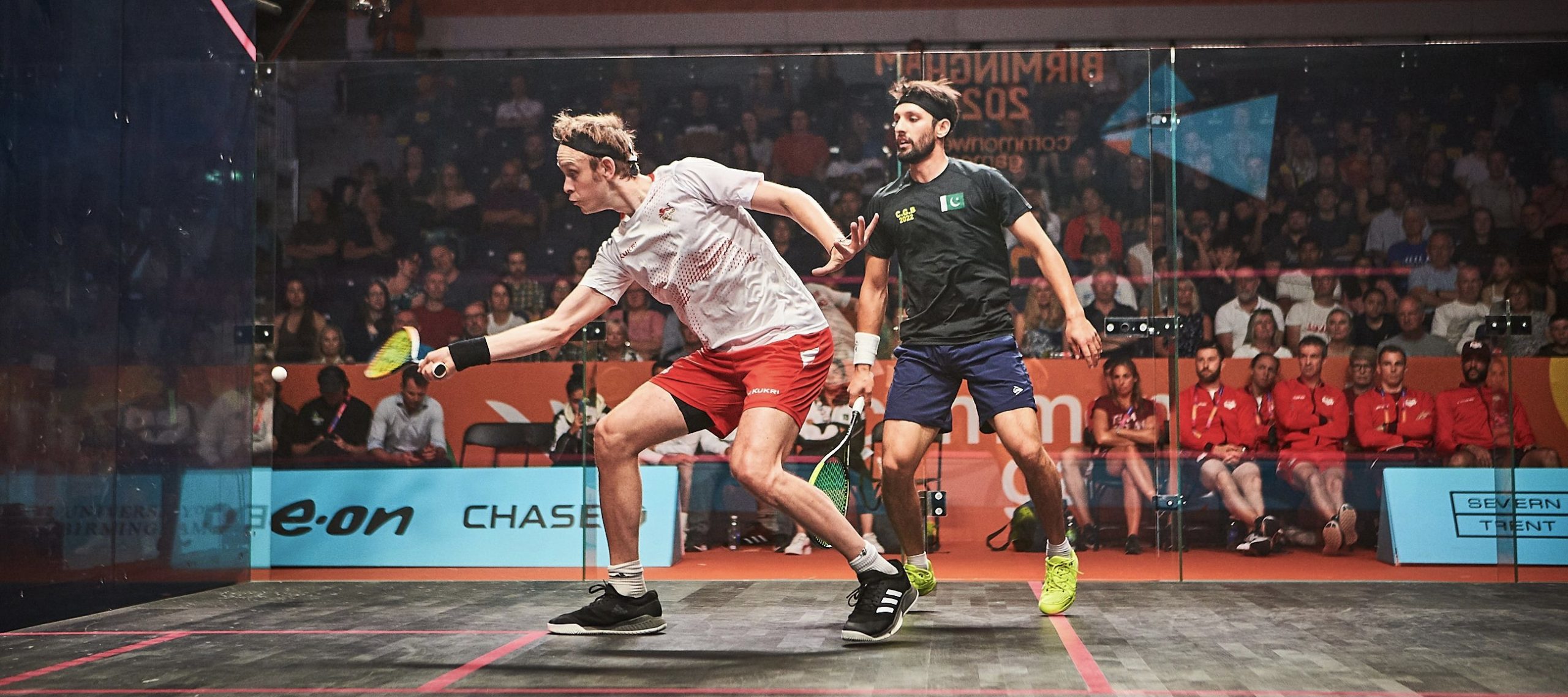 Big win for Lucy Turmel as she battles past Jess Turnbull to face top seed Joelle King in quarter-finals
By ALAN THATCHER (Squash Mad Editor)
Day Three of the Commonwealth Games squash action beckons with some mouthwatering encounters at the University of Birmingham.
Players have been training for months to peak in time for the Games, and today provides a huge number of opportunities for lower ranked individuals to give it their best shot against the stars of the sport.
+++
Squash fans are again complaining bitterly about the absence of coverage on the BBC. We now have a response from the BBC. Rod Gilmour's exclusive report can be found here
+++
Today's Results (Sunday July 31st)
Men's Third Round:
[1] Paul Coll (NZL) beat Emyr Evans (WAL) 8-11, 11-0, 11-5, 12-10 (51m)
[5/8] Adrian Waller (ENG) beat Christopher Binnie (JAM) 11-7, 11-4, 11-4 (35m)
[5/8] Greg Lobban (SCO) beat [9/16] Ivan Yuen (MAS) 11-3, 9-11, 11-9, 7-11, 11-7 (64m)
[9/16] David Baillargeon (CAN) v [3/4] Saurav Ghosal (IND)
[3/4] Patrick Rooney (ENG) v [9/16] Rory Stewart (SCO)
[5/8] James Willstrop (ENG) beat Nasir Iqbal (PAK) 11-6, 11-4, 11-7 (33m)
[5/8] Eain Yow Ng (MAS) v Nick Sachvie (CAN)
[9/16] Alan Clyne v [2] Joel Makin (WAL)
Women's Third Round:
[1] Joelle King (NZL) beat [9/16] Georgia Adderley (SCO) 11-3, 11-5, 11-5 (30m)
[5/8] Lucy Turmel (ENG) beat [9/16] Jess Turnbull (AUS) 11-1, 13-11, 9-11, 11-4 (40m)
[5/8] Hollie Naughton (CAN) beat [9/16] Aifa Azman (MAS) 11-6, 11-7, 16-14 (31m)
[3/4] Joshna Chinappa (IND) beat Kaitlyn Watts (NZL) 11-8, 9-11, 11-4, 11-6 (36m)
[3/4] Georgina Kennedy (ENG) v [9/16] Nicole Bunyan (CAN)
[9/16] Rachel Arnold (MAS) v [5/8] Tesni Evans (WAL)
[5/8] Emily Whitlock (WAL) v [9/16] Donna Lobban (AUS)
[9/16] Chan Yiwen (MAS) v [2] Sarah-Jane Perry (ENG)
+++
[5/8] James Willstrop (ENG) beat Nasir Iqbal (PAK) 11-6, 11-4, 11-7 (33m)
Solid, efficient, attractive squash from James Willstrop as the reigning champion advances to the quarter-finals.
He built a strong lead in every game and showed all his experience to stay in front as his opponent tried to find a way in to the match.
[5/8] Greg Lobban (SCO) beat [9/16] Ivan Yuen (MAS) 11-3, 9-11, 11-9, 7-11, 11-7 (64m)
Huge effort from Greg Lobban to win through to the last eight. The scoresheet tells the story of how close the match was throughout, following a comfortable opening game for the Scot.
From 5-5 in the fifth, Lobban got his nose in front and doggedly held that position to win it by a four-point margin.
[5/8] Adrian Waller (ENG) beat Christopher Binnie (JAM) 11-7, 11-4, 11-4 (35m)
Solid stuff from England left-hander Adrian Waller as he beat Chris Binnie from Jamaica to win through to a quarter-final clash with top seed Paul Coll.
From 5-5 in the opening game he moved ahead to take it 11-7. He powered into a 6-0 lead in the second and held off a surge from Binnie to win it 11-4. Binnie pushed hard in the third but Waller remained in control to win by the same score.
[3/4] Joshna Chinappa (IND) beat Kaitlyn Watts (NZL) 11-8, 9-11, 11-4, 11-6 (36m)
The experienced Joshna Chinappa was able to weather a determined challenge from New Zealand's Kaitlyn Watts.
Watts began strongly to build a 4-1 lead at the start but Chinappa hit back to win the game 11-8.
Then second game was a seesaw battle as Watts led 5-1 before a surge of points from the Indian star saw her lead 8-7. But Watts fought back to squeeze home 11-9.
Chinappa dominated the third and worked her way back into control after trailing 6-4 in the fourth to reach the last eight, where she faces Hollie Naughton.
[5/8] Hollie Naughton (CAN) beat [9/16] Aifa Azman (MAS) 11-6, 11-7, 16-14 (31m)
Wow! What a phenomenal finish by Canada's Hollie Naughton to beat Aifa Azman of Malaysia 16-14 in the third game.
She finished strongly to win the first two game sbut found herself 10-9 down in the third. She saved three game balls as the tiebreak progressed before winning the final three points.
[1] Paul Coll (NZL) beat Emyr Evans (WAL) 8-11, 11-0, 11-5, 12-10 (51m)
Huge effort by Emyr Evans against top seed Paul Coll. The 25-year-old Welshman, ranked 93 in the world, took the first game 11-8 after trailing 8-5.
Winning six points in a row against the world No.1 was a huge achievement but he paid for it in the second as Coll stepped back on court with a ruthless intent, winning it 11-0.
Coll maintained that control throughout the third but Evans fought back from 6-1 down in the fourth to hold game ball at 10-9. Coll, however, turned the screw one last time to win the final three points to reach the last eight.
Paul Coll on his battle with Emyr Evans
I've never come across him before. I had leads in both those sets and switched off a bit. Credit to him for putting on such a performance on the big stage. It's amazing. I had a decent lead in the fourth but was probably guilty of relaxing a bit much, but well done to him. 
It's good to sharpen up. I didn't mind being tested like that at all. It wasn't too physically gruelling. I had to play well to beat him.
For me it was more mentally, 8-5 in the first and lost 11-8, then 6-3 in the fourth and it went to 10-10. It was a bit of concentration thing, so I'll focus on tomorrow's match and learn from my mistakes.
+++
Looks like a sensible break in the schedule which allows squash fans to watch some of the final of the Women's European Football Championship at Wembley.
To reassemble the words of an intro I used at Canary Wharf a few years back, this is the biggest England-Germany final seen in London since Nick Matthew played Simon Rosner at Canary Wharf in 2015.
+++
First result of the day as women's top seed Joelle King overcomes a spirited challenge from Scotland's Georgia Adderley.
(1) Joelle King (NZL) beat Georgia Adderley (SCO) 11-3, 11-5, 11-5 (30m)
You can see from the scoresheet that Georgia battled bravely until the end of each game.
"I was up for this match. Georgia has been improving rapidly over the last year and has come down to Bristol a few times to train with me. That was a great performance from me. It was nice to feel confident on the court."
On how her Bristol-based coach Hadrian Stiff has changed her game: 
"The typical style of New Zealand and Australia players is a very powerful, physical game. When I met Hadrian I was a bit one-dimensional. I never used to lob or take the ball short, I just used to hit it hard and run!
"Since I started working with him, I've gone from having one game plan to having a Plan B, C and D. He has given me the technical allowance to change my game if I need to. Everything has gone to a new level.
"When we first met following my Achilles injury I definitely considered retiring at that point. It was very demoralising not to be able to compete at the same level as before I got injured.
"Meeting him happened at the right time. I was at ground zero and willing to give anything a go. We sat in a coffee shop at the British Open in Hull and I was just in tears and in a faraway place. From there to be in this position now is awesome."
Georgia Adderley on Joelle King
She is a phenomenal player, number one seed, and it was such an honour to be on court with her today. She was far too good for me. Her length quality was phenomenal. It's first time for me playing in front of so many people. I've learned a lot and I'll continue to learn over the next few hours and days. Now I[m just looking forward to the doubles next week.
I think the biggest thing for me is backing myself on there and being clear what I wanted to do. I was clear beforehand, but I think I maybe didn't execute in the way that I wanted to, but also Joelle didn't let me do that today. It shows me the level that I have got to get to, to be at that standard. It's exciting for me and inspiring as well. 
I'm disappointed but I will pick myself up and look forward to the doubles. 
ON PARTICIPATION OF WOMEN AND GIRLS IN SPORT  
THE CWG is amazing for that. You've got a mini squash court out the back and I've seen a lot of people on there already, including young girls. Hopefully there are people watching in here who maybe hadn't played squash before and are looking at us today and wanting to pick up a racket.
I would say to anyone reading this, go and pick up a racket, go into a local club and you'll be welcomed with open arms, and give it a go. You're never too young and you're never too old. 
I know as a Christian today that I am able to play sport and I feel so thankful to God for this and to the people around me who have got me here. I think that gratitude is a big thing and I have learned that through my faith.
+++
England's Lucy Turmel saw off Australia's Jess Turnbull in a hard-fought encounter.
Lucy was on fire in the first game but had to fight back from 10-8 down to win the second in the tiebreak.
It was tough again the third game and this time Jess finished strongly to win the final two points from 9-9.
Lucy regained control in the fourth and powered ahead to an 8-0 lead. Jess fought back to win four points but Lucy ended her fightback with the final three points.
Sunday Preview
First up on the glass court at 12 noon, Scotland's Georgia Adderley will be out to impress against New Zealand's top seed Joelle King, the defending champion.
Emyr Evans from Wales will also be fired up to produce his very best squash against men's No.1 seed Paul Coll from New Zealand.
In two Battle of Britain clashes, Scots Rory Stewart and Alan Clyne will also be fully motivated for their matches against England's Patrick Rooney and No.2 seed Joel Makin from Wales.
Other matches on the show court include James Willstrop against Nasir Iqbal (Pakistan), Georgina Kennedy versus Nicole Bunyan (Canada), and women's No.2 seed Sarah-Jane Perry faces Chan Yiwen of Malaysia.
The only match on the show court not involving a British player is the showdown between India's Joshna Chinappa and Kaitlyn Watts (New Zealand).
Every match has the potential for excitement, entertainment … and some shock results.
Please stay tuned and tell all your friends to follow all the action here at Squash Mad.
Birmingham 2022 Commonwealth Games, University of Birmingham..
Men's Third Round: 
12:45, Show Court – [1] Paul Coll (NZL) v Emyr Evans (WAL)
12:45, Court 2 – Christopher Binnie (JAM) v [5/8] Adrian Waller (ENG)
14:15, Court 2 – [5/8] Greg Lobban (SCO) v [9/16] Ivan Yuen (MAS)
18:00, Court 2 – [9/16] David Baillargeon (CAN) v [3/4] Saurav Ghosal (IND)
18:45, Show Court – [3/4] Patrick Rooney (ENG) v [9/16] Rory Stewart (SCO)
14:15, Show Court – Nasir Iqbal (PAK) v [5/8] James Willstrop (ENG)
20:15, Court 2 – [5/8] Eain Yow Ng (MAS) v Nick Sachvie (CAN)
20:15, Show Court – [9/16] Alan Clyne (SCO) v [2] Joel Makin (WAL)
Women's Third Round: 
12:00, Show Court – [1] Joelle King (NZL) v [9/16] Georgia Adderley (SCO)
12:00, Court 2 – [9/16] Jess Turnbull (AUS) v [5/8] Lucy Turmel (ENG)
13:30, Court 2 – [5/8] Hollie Naughton (CAN) v [9/16] Aifa Azman (MAS)
13:30, Show Court – Kaitlyn Watts (NZL) v [3/4] Joshna Chinappa (IND)
18:00, Show Court – [3/4] Georgina Kennedy (ENG) v [9/16] Nicole Bunyan (CAN)
18:00, Court 2 – [9/16] Rachel Arnold (MAS) v [5/8] Tesni Evans (WAL)
19:30, Court 2 – [5/8] Emily Whitlock (WAL) v [9/16] Donna Lobban (AUS)
19:30 Show Court – [9/16] Chan Yiwen (MAS) v [2] Sarah-Jane Perry (ENG)
Pictures to follow