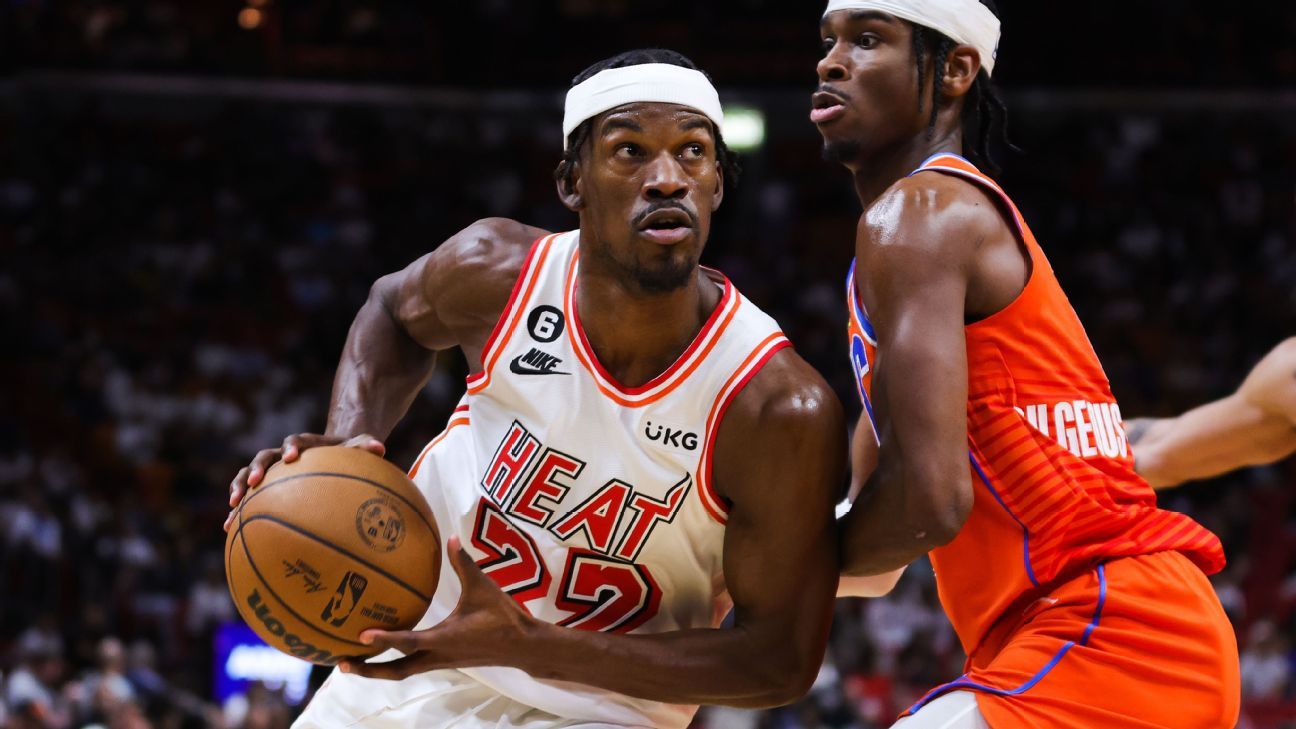 MIAMI -- Jimmy Butler's three-point play with 12.9 seconds left capped an NBA-record performance by the Miami Heat and gave them a 112-111 victory over the Oklahoma City Thunder on Tuesday night.
Butler's free throw made the Heat 40-for-40 from the foul line, breaking the 39-for-39 mark by the Utah Jazz against the Portland Trail Blazers on Dec. 7, 1982.
Butler was 23-for-23 from the line, tying the second-most makes without a miss in NBA history. James Harden made 24 without a miss for the Houston Rockets on Dec. 3, 2019, and Dirk Nowitzki made 24 without a miss for the Dallas Mavericks in a playoff game against the Thunder on May 17, 2011. Dominique Wilkins also went 23-for-23 in a game in 1992.
And Miami needed every bit of Butler's perfection -- along with everyone else's.
Butler had 35 points for Miami, which had used only eight players and was down to seven when Dewayne Dedmon was ejected in the second quarter.
Max Strus scored 22 points and Victor Oladipo had 19 for Miami. The Heat were without four regular starters -- Tyler Herro, Bam Adebayo, Kyle Lowry and Caleb Martin -- on Tuesday, along with reserves Duncan Robinson, Omer Yurtseven and Nikola Jovic, all because of injuries.
Shai Gilgeous-Alexander scored 26 points for the Thunder. Josh Giddey had a triple-double: 18 points, 15 rebounds and 10 assists.
Giddey got the triple-double on an assist setting up Aaron Wiggins' dunk for a 111-106 lead with 1:28 left.
Miami scored the final six points.
Miami led 89-88 going into the fourth, and with Butler on the bench -- he had played the entire third quarter -- the Thunder took advantage. They scored the first six points of the final period, taking their first lead of larger than three points when Tre Mann connected on a jumper with 9:20 left for a 94-89 lead.
But a six-point possession gave Miami the lead back. Oladipo made a steal, and Thunder center Eugene Omoruyi was called for a clear-path foul. Oladipo made both free throws, and on the continued Miami possession, Gabe Vincent made a 3-pointer while getting fouled by Mann. Vincent made the free throw, and just like that, a 96-91 deficit was a 97-96 lead.