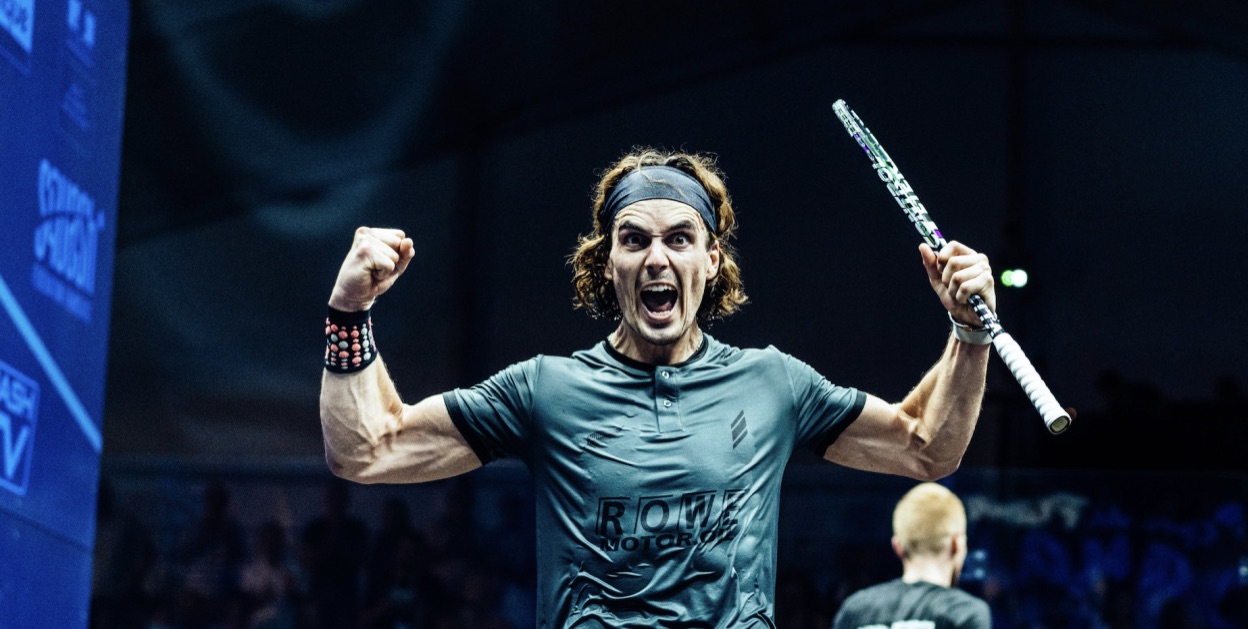 French success gives Kiwi a super start to the season 
By SEAN REUTHE – Squash Mad Correspondent
New Zealand's Paul Coll has moved up a spot to a joint career-high World No.5 ranking after the PSA Men's World Rankings for October were released today.
Coll, 27, made a winning start to the 2019-20 season last month as he defeated Welshman Joel Makin to capture the Open de France – Nantes 2019 presented by Tailor Capital title, marking his 14th PSA trophy.
The Greymouth man, known on tour as 'Superman' for his incredible feats of athleticism, rises ahead of Germany's Simon Rösner, who drops down to No.6.
Further up the rankings, back-to-back title wins at the J.P. Morgan China Open and Oracle NetSuite Open have seen Egypt's World No.2 Mohamed ElShorbagy cut the gap between himself and World No.1 Ali Farag to 341 points.
ElShorbagy has spent 40 months atop the World Rankings during his career, but surrendered that mantle to Farag in March of this year, and has been playing catch-up ever since.
ElShorbagy defeated Farag in the final of the China Open, and followed that up by defeating World No.3 Tarek Momen in last night's Oracle NetSuite Open final. Karim Abdel Gawad, who will make his first appearance of the season at this month's FS Investments U.S. Open, takes the other spot inside the top five.
Meanwhile, Peru's Diego Elias moves up to a career-high No.7 ranking, and is followed by Mohamed Abouelghar at No.8 and Miguel Rodriguez at No.9. Marwan ElShorbagy ends a six month absence from the top 10 at the expense of India's Saurav Ghosal, who drops a place to No.11.
Joel Makin and Omar Mosaad stay at No.12 and No.13, respectively, while Fares Dessouky rises a place to No.14, swapping places with Zahed Salem, who falls to No.15.
Gregoire Marche remains at No.16 and is followed by English duo Daryl Selby – who reclaims the mantle of England No.1 for the first time since September 2018 – and James Willstrop, with Australia's Ryan Cuskelly following at No.19.
Declan James completes the top 20.
PSA Men's World Rankings Top 20 – October 2019.
Report by SEAN REUTHE (PSA). Edited by ALAN THATCHER
Pictures courtesy of PSA 
Posted on October 1, 2019