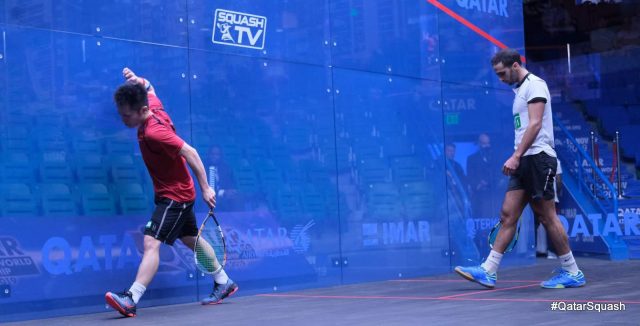 No upsets but heartbreak for Leo Au
By ALEX WAN – Squash Mad Asian Bureau Editor
There were no upsets on the lower half of the draw today as all seeds made it through to the round of 16. Five Egyptians, led by top seed Mohamed ElShorbagy, Marwan ElShorbagy, Mohamed Abouelghar, Omar Mosaad and Zahed Salem came through in contrasting styles and is joined by Paul Coll, Miguel Rodriguez and Saurav Ghosal.
Dressed in a shocking pink top, Columbian Miguel Rodriguez came into the match and blazed through his second round match to kick off the day's proceedings, sweeping aside Alan Clyne in straight games and thus ending all Scottish interest in the event. The win puts him through to a seventh successive last 16 of the World Championships.
"I wanted to be more proactive, vary my shots a bit more as I didn't want to be stuck at the back of the court. I feel more energetic today too and I didn't allow Alan to be in front much. I feel the tough match in the first round sharpened me a little too and for me, I usually play better as the tournament goes and you can see that I did much better today."
"I didn't know that! I know I was in the quarters three times, but seventh last 16 is pretty good too. But I still have more to go and I want to do even better than last year. I'm taking one match at a time and happy to have a day off tomorrow", Miguel said when reminded that he's into his seventh successive last 16 of the World Champs.
Zahed Salem won the all-Egyptian battle of the day, taking out World Junior Champion Mostafa Asal in four very contested games. Zahed, ranked just seven rungs above his opponent, employed a smart game plan of keeping the ball tight with not too much pace which at times, seemed to have frustrated his younger opponent.
After the first two games were split between the pair, the third and fourth saw Zahed in total control for most of the rallies. Slowly and calmly, the world number 16 worked his way to a 58-minute win and a place in the last 16 where he will play Miguel Rodriguez.
"Mostafa is 18 years old and he is playing amazingly. It's the first time we are playing on the tour, so I had to stay focused right from the start. I didn't want to play an open game and I kept the balls to the side and force mistakes out of him. I had to be more cautious and not go so much for my risky shots. It worked well and I am happy with my performance", Zahed said after.
Qatari wild card Syed Azlan Amjad, who came through after his previous match was awarded to him for opponent inflicted injury, was no match for The Hammer of Thor Omar Mossad, but the bespectacled 23 year old was happy for the opportunity.
"It's a great experience and I enjoyed playing the world number 15 (Omar Mosaad). It's definitely very difficult to play him. Obviously the pace was very different playing Omar and it was crucial to get the ball behind, but I was struggling to do that. Overall I'm happy with how I played but there's lot of room for improvement", said a very satisfied Syed Azlan.
In perhaps the match of the day, Mohamed Abouelghar escaped the gallows after he narrowly edged Hong Kong's Leo Au. After taking the first two games rather comfortably, he found himself on the back foot when Leo changed his game plan to a lob and drop game which clearly didn't suit his style. It didn't help that Leo could possibly have one of the best lobs in the business.
Leo, the sole Hong Kong survivor in the event, lobbed and dropped his way back to 2-2 to force a decider, which was close. It was highly entertaining squash of two contrasting styles all the way and it's a shame that it had to be ended with two shocking stroke decisions in favour of Mohamed. One has to feel it for Leo, who is usually very calm and composed, but looked visibly angry to have lost the match in such a manner.
"Leo is such a tough player on this type of court. It suits his lob and drop game very much, which he used after the second game. It put me off guard a little bit but I'm glad I kept going at it and very happy things went my way at the end. "
"I couldn't be happier the last two decisions went my way! Sometimes we get tough calls. It's part of the game. Sometimes it goes against me and sometimes against my opponents, it's all part of the game", said Mohamed Abouelghar when asked what he thought of the last two controversial decisions.
Saurav Ghosal won a straight forward match 3-0 against Frenchman Lucas Serme to keep the Asian challenge alive. He plays top seed Mohamed ElShorbagy next, who saw off new England number one Adrian Waller in three very close games. The world number two had to come back from 4-point deficits in the opening two games and again from 8-9 down in the third.
"No game is easy at the World Champs. I had a good start but then he came back really well. My length dropped off a little bit but I managed to refocus to win the first game. After that, I started feeling the court better and things got much smoother", said Saurav.
Mohamed's brother, Marwan is also through after defeating Nicolas Mueller in four games. He had to dig deep to get into the game as his Swiss opponent came in firing and took a commanding 8-0 lead in the opener.
While Marwan never managed to catch up, he prolonged the game which allowed him to get into it. That paid dividends as he was clearly back in business in the next three games, where he slowly worked his way to clinch each of them for a 3-1 win in 40 minutes.
"I didn't have a slow start, I'd call it a fast start from Nicky Mueller. He came out firing and went for it from the start. I clearly didn't expect him to go short so quickly. But I'm happy with the way I came back after that. It's a big test for me this match, and I am happy I got through it. After the first game, things were more controlled after I got into a rhythm", Marwan said after his come from behind win.
Fourth seed of the tournament, Paul Coll is also through after beating Spain's former world number five Borja Golan in straight games. The pair, who shared a table at breakfast earlier, put away their friendship for 40 minutes to serve the crowd up some entertaining squash.
"I'm happy with how I played. I feel like I put in a good performance. Borja is very experienced and he is such a classy player, you really have to be good to beat him. He's such a good competitor, he is never going to give it to you easily. I'm happy with my accuracy today and very happy to be through", said Paul, who will play Omar Mosaad next.
2019 PSA Men's World Championships, Khalifa Tennis and Squash Club, Doha, Qatar.
Second round (bottom half)
[8] Miguel Rodriguez (Col) 3-0 Alan Clyne (Sco) 11-8, 11-3, 11-6 (29m)
[14] Zahed Salem (Egy) 3-1 Mostafa Asal (Egy) 11-8, 6-11, 11-2, 11-7 (58m)
[12] Omar Mossad (Egy) 3-0 [wc] Syed Azlan Amjad (Qat) 11-5, 11-2, 11-6 (25m)
[7] Mohamed Abouelghar (Egy) bt Leo Au (Hkg) 11-6, 11-8, 8-11, 4-11, 12-10 (68m)
[9] Marwan ElShorbagy (Egy) 3-1 Nicolas Mueller (SUI) 5-11, 11-9, 11-8, 11-6 (40m)
[10] Saurav Ghosal (Ind) 3-0 Lucas Serme (Fra) 11-8, 11-5, 11-5 (36m)
[4] Paul Coll (Nzl) 3-0 Borja Golan (Esp) 11-7, 11-4, 11-8 (40m)
[1] Mohamed ElShorbagy (Egy) 3-0 Adrian Waller (Eng) 13-11, 11-9, 11-9 (48m)

Pictures courtesy of Qatar Squash
Posted on November 10, 2019