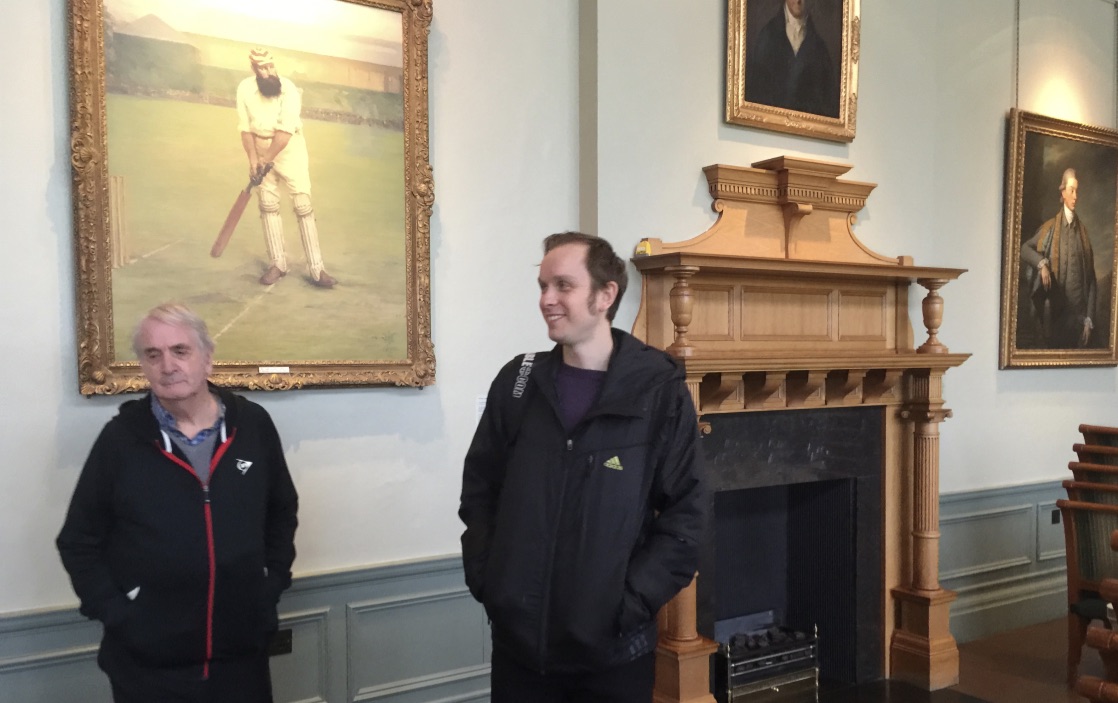 King James Lord's it at the Cumberland Club
By GORDON KERR – Squash Mad Correspondent
England's capital city was at the epicentre of world squash at the weekend with the finals of the London Open at the historic Cumberland Club and, a few miles south in the Surrey suburbs, the Channel VAS tournament at the fabulous St George's Hill Club in Weybridge.
As Weybridge witnessed the continuing monopoly of world squash by the Egyptians, the London Open reminded us of the quality of our own leading English players. The event at the Cumberland Club was a superb affair, culminating in two excellent finals yesterday (Sunday November 24).
James Willstrop beat his Pontefract training partner Patrick Rooney in an intense match in which Rooney displayed great athleticism and talent which belied his official world ranking of 67.
Rooney is 22 years old and a young man with phenomenal racket abilities. Willstrop is a former world number one, the Commonwealth Games champion and the most capped player in English history, with 181 appearances for the national team.
Rooney took the first game before being marginally outplayed by the trademark tight lengths and some judicious attacking play from Willstrop.
The women's final was more one-sided, with No.4 seed Sabrina Sohby solidly in control during her 3 – 0 victory over the very talented Jasmine Hutton, the number one seed from Sussex. Hutton hits the ball superbly but Sobhy has clearly benefitted from switching her training base to Egypt and absorbing much of the qualities on offer over there.
The crowd were enthralled throughout and a warm and appreciative atmosphere prevailed. The event was extremely well organised on the £500k twin show court extension at this Camden-based club.
Fittingly, Willstrop featured on the opening of the courts two years ago, playing an exhibition match against New Zeakand's Paul Coll, whom he beat to win the Commonwealth Games gold medal.
Former star player Zubair Khan, the senior club coach and cousin of Jahangir, was the main co-ordinator among all the professionals, aided by Obaid Khan.
This slideshow requires JavaScript.
Cumberland Squash Club Chair Nick Dart played a leading administration role. In the crowd it was great to see other famous names including Hiddy Jahan and Bader Zaman, uncle of Qamar.
During the London Open event a small private lunch was arranged at the Marylebone Cricket Club's own bistro pub next to the main entrance at Lord's, The Tavern.
The attendees were nearly all present or former players with Bath Cup squash teams (clubs such as Roehampton, Queen's, Hurlingham and The Wimbledon Club were represented). With the cap also tipped towards the Sobell Centre in Islington! 
The main purpose of the lunch was to listen to legendary coach Malcolm Willstrop tell some of his life stories and the lessons learned therefrom. Guests were delighted that James also joined in and fielded some questions himself.
To pick a few random points from Malcolm's intriguing life story:
He was a high standard county squash player but never made the national team. He captained his university team to two national university championships.
He met Jonah Barrington quite early on in county and university matches. They quickly became firm friends and Malcolm was at times "in Jonah's chair" courtside when Jonah was in his prime.
He started coaching in 1960 at St Peters School, York. Not only squash but also rugby and cricket.
When he moved to Greshams School in Norfolk, Gawain Briars arrived having never played squash before; Briars went on to become world number four.
Aged 81, he still works six days a week. His typical schedule is Monday to Friday 10.30 to 12.30, then 16.00 to 18.00 but on two days to 19.30 and 20.00. On Sunday mornings he has up to 40 kids for coaching.
He is a firm believer in group coaching. Pontefract has five club teams in the Yorkshire leagues and Malcolm picks and manages all the teams and watches many of their matches.
Malcolm was proud to have been a member of a high standard Yorkshire county over-45 team in the mid-1980s alongside well known players such as Mike Grundy and Mike Watson. He remembered how Ken Davidson was really only number six and hence the squad's reserve player.
Ken was so competitive that he even kept some Smarties in his shorts' pocket which would mysteriously appear all over the court in the middle of a crucial rally in which he was struggling.
One match Malcolm recalled fondly was against a mighty Essex team boasting many-times national champion Jeremy Lyon.
Not content with forcing his way into the team by persuading the number five player to withdraw on account of a mild injury, Ken approached Malcolm and declared that he must play at number three. "What are you saying?" Malcolm replied; "You shouldn't really even be in the team, you are playing at five."
Twenty minutes later Davidson approached Malcolm again. "I've just spoken to Jeremy Lyon. He said he is amazed that I am not playing at one, so I cannot play any lower than three."
After the lunch a small group toured the Long Room at Lord's and admired the artworks, including one of Dr W G Grace past whom the world's celebrated Test cricketers walk past on their way out to the hallowed field beyond.
London Open Men's Final:
[1] James Willstrop (ENG) bt [5] Patrick Rooney (ENG) 8-11, 11-6, 11-7, 11-6 (58m)
Semi-finals:
[1] James Willstrop (ENG) bt [3] Shahjahan Khan (USA) 11-4, 13-11, 11-8 (50m)
[5] Patrick Rooney (ENG) bt [9/16] Jan van den Herrewegen (BEL) 11-5, 11-9, 12-10 (40m)
Quarter-finals:
[1] James Willstrop (ENG) bt [6] Mohd Syafiq Kamal (MAS) 11-6, 11-2, 11-2 (33m)
[3] Shahjahan Khan (USA) bt [8] Ammar Altamimi (KUW) 11-13, 10-12, 11-8, 11-5, 11-7 (54m)
[5] Patrick Rooney (ENG) bt [4] Asim Khan (PAK) 11-7, 11-7, 8-11, 11-1 (53m)
[9/16] Jan van den Herrewegen (BEL) bt [9/16] Emyr Evans (WAL) 10-12, 11-8, 11-2, 11-6 (57m)
Women's Final:
[6] Sabrina Sobhy (USA) bt [1] Jasmine Hutton (ENG) 11-4, 11-5, 11-2 (35m)
Semi-finals:
[1] Jasmine Hutton (ENG) bt [3] Enora Villard (FRA) 11-4, 11-9, 11-5 (38m)
[6] Sabrina Sobhy (USA) bt [2] Menna Nasser (EGY) 11-8, 11-4, 8-11, 11-7 (47m)
Quarter-finals:
[1] Jasmine Hutton (ENG) bt [9/16] Sunayna Kuruvilla (IND) 6-11, 11-3, 11-7, 11-7 (25m)
[3] Enora Villard (FRA) bt [7] Anna Serme (CZE) 11-9, 11-5, 8-11, 11-7 (45m)
[6] Sabrina Sobhy (USA) bt [4] Rachael Chadwick (ENG) 11-6, 11-1, 11-2 (22m)
[2] Menna Nasser (EGY) bt [5] Nikki Todd (CAN) 11-7, 11-7, 11-7 (35m)
Results courtesy of www.squashinfo.com
+++
Across the metropolis, at Wimbledon Racquets and Fitness Club, former world champion Nick Matthew also featured in a wonderful weekend of squash, enjoying himself immensely while entertaining a packed gallery at one of London's leading clubs.
As well as coaching a large queue of members and guests, Nick also took to the court for an exhibition match against Ben Coleman, who often heads up a strong Wimbledon team in the Surrey Cup. 
The visit was a staging post on the highly-acclaimed Dunlop Roadshow that Nick is taking around the clubs.
Wimbledon club manager and coach Phil Rushworth said: "The members love it and Nick really engages with them so well. He led three clinics from 1.30-4.30 for our junior academy players, adult club and adult team players.
"Then he played against our club champions before playing Ben Coleman in the exhibition followed by a brilliant Q & A with both players."
This slideshow requires JavaScript.
+++
In a column called Balls and Walls, it would be wrong of me not to include mentions of Nick Wall and Alex Wall.
Nick Wall, 19, is a British junior champion who is making impressive strides on the PSA World Tour. While Matthew was involved at Wimbledon, he was also keeping a close eye on developments in Las Vegas, where Wall won his first PSA title, beating Faraz Khan of the USA 11-6, 11-7, 7-11, 11-5. 
Alex Wall, who has regaled a number of squash audiences with his soaring operatic talents, once again entertained the crowds at St George's Hill before a brilliant 90-minute final of the Channel VAS tournament in which Karim Abdel Gawad wore down the mighty Mohamed ElShorbagy in a 90-minute battle.
Pictures courtesy of  Gordon Kerr, PSA Challenger Tour, Alex Wall and Cumberland Club
Posted on November 25, 2019