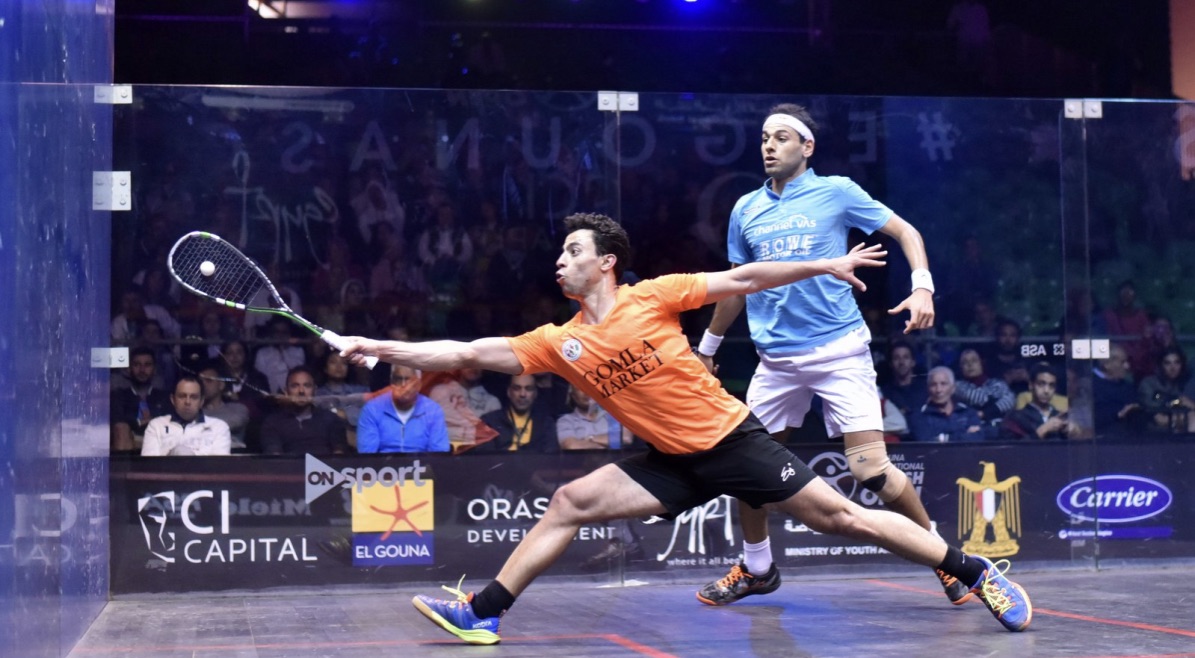 Top seed faces tough time
By ALAN THATCHER and ELLIE MAWSON
Top seed Marwan ElShorbagy faces a tough task to win next month's Wimbledon Club Squash Squared Open – with a likely clash against Fares Dessouky for starters!
World No.11 ElShorbagy is seeded to meet fellow Egyptian Omar Mosaad in the final of the PSA World Tour Bronze tournament, which takes place between May 11-16.
After receiving a bye in the first round, ElShorbagy faces the winner of the first round tie featuring Dessouky and Pakistan's Asim Khan.
Dessouky is in a rich vein of form, having overcome British Open champion Miguel Rodriguez and Marwan's brother Mohamed to reach the semi-finals of last week's El Gouna International, where he fell to Karim Abdel Gawad.
This year's tournament, which takes place at the Wimbledon Club in London, will be the fourth instalment of the event and the largest to date, with a prize purse of $50,000 on offer.
ElShorbagy is seeded on the same side of the draw as the likes of France's former World No.6 and defending champion Mathieu Castagnet and Mexico's Cesar Salazar.
The Bristol-based Egyptian is also seeded to meet England's No.1 Declan James in the semi-finals in what will be their first meeting since the Englishman claimed a shock win over ElShorbagy in the second round of March's Canary Wharf Classic.
At the opposite end of the draw, former World No.3 Mosaad is seeded to meet England's former World No.1 James Willstrop in the semi-finals, but will first have to navigate through a draw which includes Willstrop's compatriots Tom Richards and Daryl Selby.
English pair Jordan Warne and Tom Walsh occupy the wildcard spots and will face Egypt's Mostafa Asal and France's Lucas Serme, respectively, in round one.
The event is a significant fundraiser for Squash Squared, which is a UK registered squash and education charity supporting disadvantaged students for academic and sporting success. Tickets can be purchased via the tournament website and prices start from £20 for adults and £10 for juniors.  
The Wimbledon Club Squash Squared Open, May 11-16, The Wimbledon Club, London, England.
Main Draw:
[1] Marwan ElShorbagy (EGY) [Bye]
Asim Khan (PAK) v [9/16] Fares Dessouky (EGY)
[9/16] Lucas Serme (FRA) v [WC] Tom Walsh (ENG)
[6] Mathieu Castagnet (FRA) [Bye]
[8] Cesar Salazar (MEX) [Bye]
Mahesh Mangaonkar (IND) v [9/16] Ramit Tandon (IND)
[9/16] Mostafa Asal (EGY) v [WC] Jordan Warne (ENG)
[3] Declan James (ENG) [Bye]
[4] James Willstrop (ENG) [Bye]
Olli Tuominen (FIN) v [9/16] Chris Simpson (ENG)
[9/16] Ben Coleman (ENG) v Carlos Cornes Ribadas (ESP)
[5] Tom Richards (ENG) [Bye]
[7] Daryl Selby (ENG) [Bye]
Baptiste Masotti (FRA) v [9/16] George Parker (ENG)
[9/16] Iker Pajares Bernabeu (ESP) v Sebastien Bonmalais (FRA)
[2] Omar Mosaad (EGY) [Bye]
Preview by ELLIE MAWSON (PSA Media Team). Edited by ALAN THATCHER.
Pictures courtesy of PATRICK LAUSON and PSA
Posted on May 1, 2019