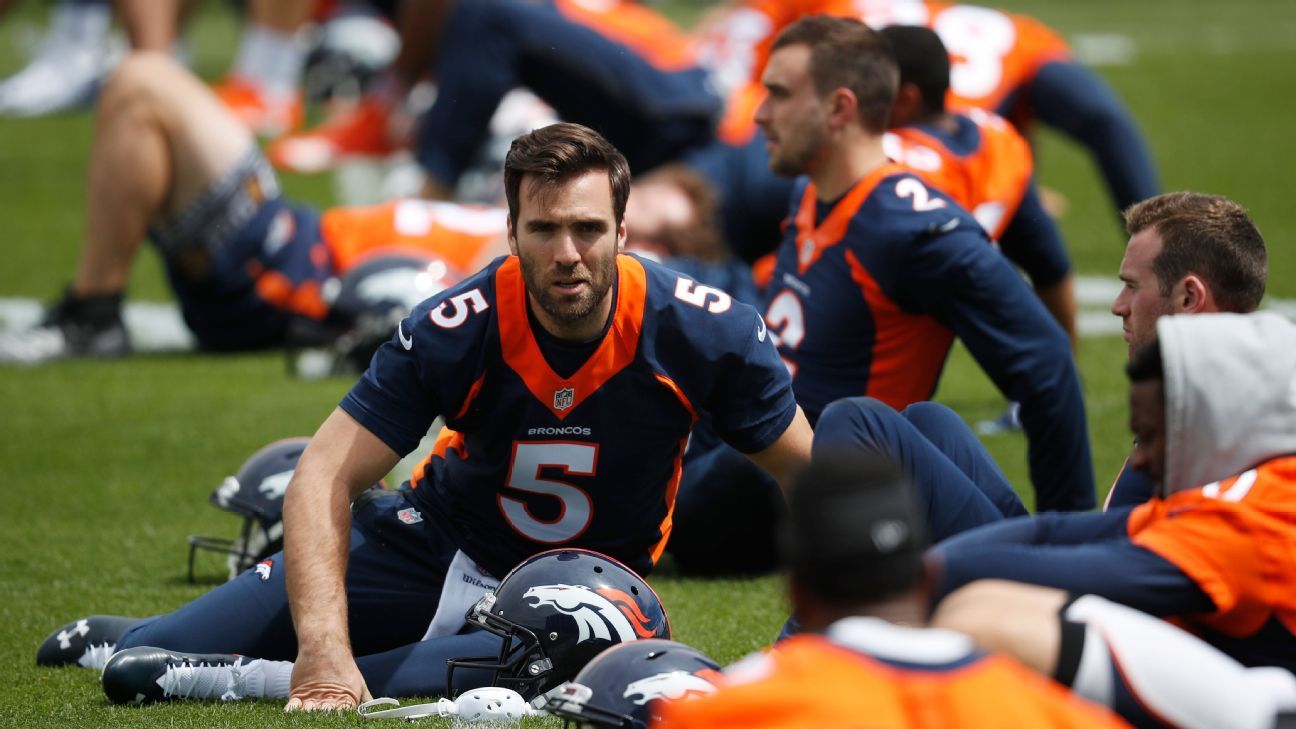 ENGLEWOOD, Colo. -- It's not that Denver Broncos quarterback Joe Flacco won't help rookie quarterback Drew Lock, it's that Flacco doesn't think mentoring the young passer is the biggest part of his job description.
"Listen, I have so many things to worry about. I'm trying to go out there and play good football. I'm trying to go out there and play the best football of my life,'' Flacco said Monday, after the Broncos' first day of organized team activities. "As far as a time constraint and all of that stuff, I'm not worried about developing guys or any of that. That is what it is. I hope he does it well. I don't look at that as my job. My job is to go win football games for this football team.''
Later Flacco added: "Listen, I hope he does learn from me because that means we're out there and we're slinging it around and having a lot of fun.''
In the end, Flacco said, he is learning a new offense as well and that Lock would glean more from offensive coordinator Rich Scangarello than anyone else during the process. The Broncos made Lock the second of two second-round picks -- the 42nd selection overall -- in last month's NFL draft.
The Broncos' decision-makers, including coach Vic Fangio and president of football operations and general manager John Elway, have repeatedly said Flacco is the team's starter and that Lock would initially compete with Kevin Hogan for the backup job.
Fangio said Monday he didn't think it was Flacco's job to make sure Lock was catching on quickly.
"That's on Drew to soak in and learn. Joe's learning a new system himself,'' Fangio said. "As we move along there will be a lot more interaction to get to know each other, but primarily it's on Drew to learn.''
Flacco said before the draft he hoped to prove to the Broncos in the early portion of the team's offseason workouts that they didn't need to select a quarterback in the draft, but that he would still consider himself to be the starter.
Ultimately, Flacco said, "it's out of my control.''
Flacco, who was acquired in a trade with the Baltimore Ravens earlier in the offseason, suffered a hip injury last season and was ultimately replaced in the Ravens' lineup by rookie Lamar Jackson. Flacco has repeatedly said he tried to be "a good teammate'' to Jackson last season, but that he felt he could still be a starter for "a while.''
Asked Monday what he thought when the Broncos selected Lock, Flacco said, "Listen, I've told you guys how I felt about it. There really isn't much more that needs to be said. I told you that it's not really in my control.''
Asked if Lock's arrival motivated him, Flacco said: "I think I've talked about that before, too. That is probably along the lines of him being drafted, it's one of those things. There is definitely little things that motivate you every year. At the same time, I have plenty of other things that have kept me motivated throughout my career and will continue to keep me motivated this year. That won't be the single or the biggest thing.''
During this past weekend's rookie minicamp, Lock said he looked forward to working alongside Flacco and that he understood "that I have to do the work,'' as the Broncos roll through the offseason and into training camp later this summer.
"It will definitely be a different transition,'' Lock said. "... If I'm going through this transition I'm glad to be behind Joe and hear what he has to say, learn from him. I'm excited to meet him, excited to get in the room with him and learn from a guy who's won a Super Bowl.''
"I'm not a selfish person, I don't think,'' Flacco said. "There are times where you have to be selfish. But listen, Rich does such a good job in those meeting rooms. Drew is going to learn from listening to him talk and then us getting the reps on the field and seeing how we all do it as a collective group of quarterbacks.''