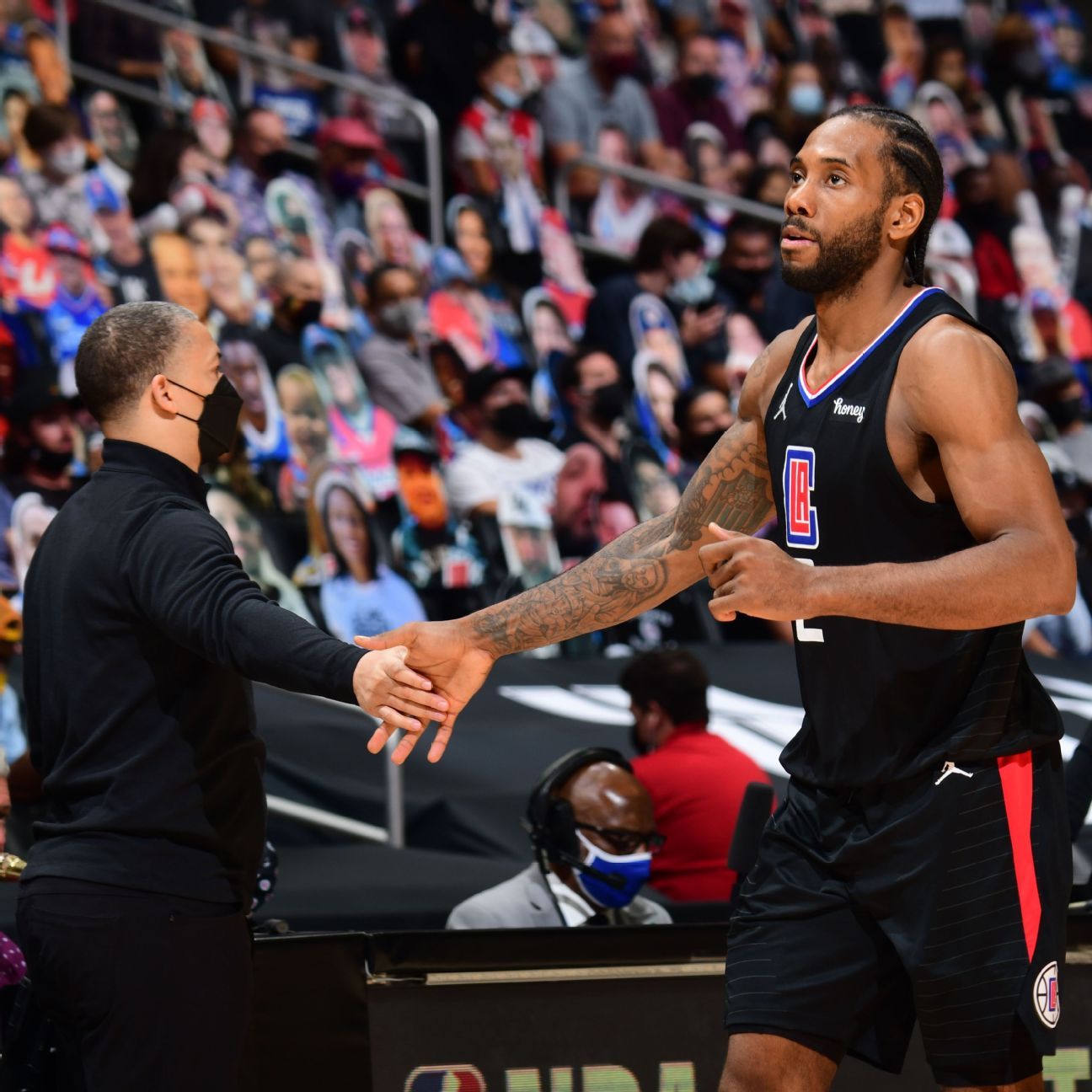 LOS ANGELES -- Kawhi Leonard blew by Royce O'Neale and took off down the lane before throwing down an explosive one-handed dunk all over Utah's Derrick Favors.
Leonard's powerful second-quarter slam put the exclamation point on a first half that saw the LA Clippers lead by as many as 29 points before evening their Western Conference semifinal series with the Jazz at two games apiece with a 118-104 victory at Staples Center on Monday night.
While the Clippers won their second straight game in blowout fashion to give them all the momentum, Ty Lue's team heads to Utah with some concern over Leonard's health. The Clippers' franchise player came up gimpy after driving to the basket while being fouled by Joe Ingles with 5:25 left in the game. Leonard leaned over before briefly grabbing his right knee. Leonard left the contest with 4:35 remaining and didn't return.
"I'm good," Leonard would only say when asked about his knee. "Next question."
Lue believes Leonard will be fine for Wednesday's pivotal Game 5 at Utah.
"Yeah, I think so," Lue said. "We'll know more after the game, but yeah, I think everybody is pretty good."
For the second straight game, the Jazz had no answers for Leonard and Paul George. Both Clippers All-Stars scored 31 points each. In the first half, Leonard had 19 points, George scored 15 and Marcus Morris contributed 22 of his 24 points. Those three Clippers combined to outscore Utah 56 to 44 at the half.
In Game 3, Leonard had 34 points while George added 31. On Monday, Leonard and George became the fifth duo since the 1976-77 merger with 30 points each in back-to-back playoff games.
"They just were at a different level," said Donovan Mitchell, who led the Jazz with 37 points, five assists and five rebounds. "And we couldn't buy a bucket."
Mitchell added, "We have to be the aggressors. They've come out and hit first both times at home."
Leonard's thunderous dunk wasn't just felt by the Jazz in Staples Center. It reverberated across the country, as Philadelphia 76ers star Joel Embiid reacted in real time as he was doing his postgame news conference Monday night. Embiid was watching a monitor and was impressed by Leonard's dunk that went viral online as well.
"I don't get to see the reaction of what's on the web or social media," said Leonard, who famously doesn't do much on social media. "[Ivica Zubac] showed me a clip of Embiid talking."
The dunk wasn't the only highlight Leonard provided before leaving the game. He also had an emphatic block in the third quarter to help keep the Clippers from getting lackadaisical with their big lead.
"You see him being more aggressive and you know what time it is," George said of Leonard. "It's written all over him in terms of it's go time. It's playoff basketball and you know, it's winning time. So you see it all around him, his approach, his body language, everything gets to be great and so he's leading the way."
Leonard looked as explosive as he has all season until appearing to tweak his knee in the fourth. Leonard stayed in the game, drawing another foul five seconds later, but missed two free throws. He would make two foul shots before coming out of the game for good with 4:35 left and the Clippers up 107-91.
Although wasn't examined on the bench, Leonard spoke with a trainer. The Clippers kept their star out even when Utah closed the deficit to 112-102 with 2:10 remaining.
The Clippers are now two wins away from their first-ever Western Conference finals appearance. But the two-time Finals MVP isn't thinking about that right now.
"I don't care about the Western Conference finals," Leonard said. "We're trying to win the championship. Obviously that's the next step, but I'm not even looking at that."