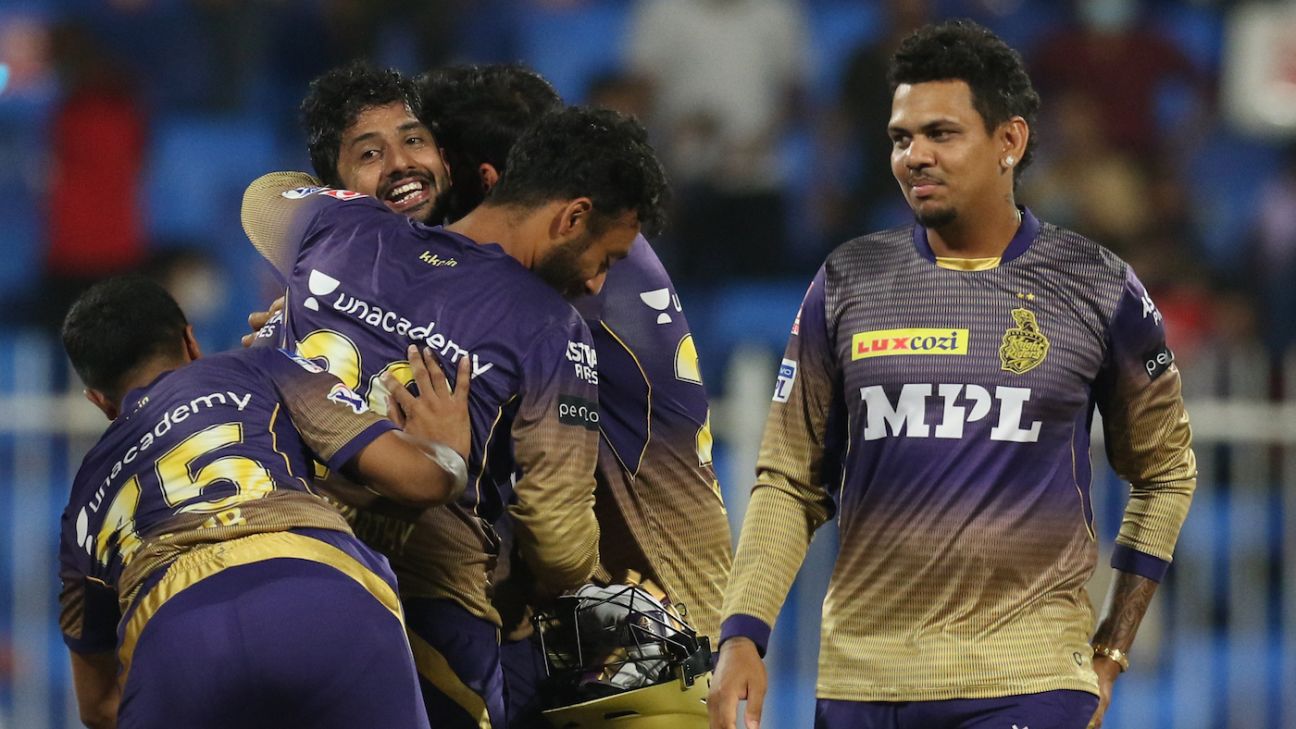 Kolkata Knight Riders 136 for 7 (Venkatesh 55, Gill 46, Ashwin 2-27, Rabada 2-23. Nortje 2-31) beat Delhi Capitals 135 for 5 (Dhawan 36, Shreyas 30*, Varun 2-26) by three wickets
They spent a large part of the chase in cruise control, and then Kolkata Knight Riders hit a wet patch that almost threatened to skid them right off the path and into an abyss. From 13 runs needed in 25 balls, Knight Riders lost six wickets in 3.5 overs with only seven runs added, and faced an equation where Rahul Tripathi was facing up to R Ashwin needing to score six in the last two balls. Tripathi had scored six from ten balls till then, missing more than connecting, while Ashwin had given up one run in four balls while nabbing two wickets.
Tripathi had set himself up for a quickish length ball outside off, and threw a season's worth of verve into a flat-batted hit that was carried as much by nervous energy as anything else over the long-off boundary. Knight Riders' resurgence in the UAE leg of IPL 2021 continued, with their seventh win in nine games. They are in the final, where Chennai Super Kings await.
WATCH - Tripathi's match-winning six in the last over
Delhi Capitals had seemed down and all but out of the contest for most of the second innings, but they came alive with a vengeance as Knight Riders panicked with the finish line in sight.
Before the nail-biting finish, Knight Riders set themselves up with a familiar template: the spinners choked the life out of the opposition, and the openers muscled a strong reply. Varun Chakravarthy was the bowling hero, taking 2 for 26 in four hard-to-read overs, which could have easily been 3 for less than 26 if he hadn't over-stepped by a millimeter.
While batting, they had the fearless Venkatesh Iyer to thank, the opener's insouciant 55 off 41 setting up a foundation strong enough to withstand the earthquake that came later.
The no-ball and Shreyas Iyer's grandstand finish
Shreyas had come in to bat in the 12th over, which is later than he generally comes out for Capitals. For most of his innings, he just rotated the strike. His fifth-wicket partner Shimron Hetmyer was more adventurous, though he had a slice of luck when on 2 in the 17th over. A shovel was brilliantly caught by Shubman Gill diving forward at long-on, but Varun had over-stepped - by a thin margin. Hetmyer whacked two sixes against Lockie Ferguson's pace in the next over, though he gave it away when going for a non-existent run to be caught short of the crease by a long margin.
Shreyas then provided a rousing end to the innings, hitting a four and a final-ball six off Shivam Mavi as he conceded 15 in the final over, and the Capitals' total was in competitive territory given how the pitch was playing. Mavi, who had 1 for 12 in three overs till then, had his figures spoilt somewhat.
Venkatesh Iyer takes off
Venkatesh encapsulated the Knight Riders' opening stand with one shot. In the fifth over, he sauntered down the track and clubbed the ball effortlessly over long-on, and he did it against Kagiso Rabada. He had earlier deposited Axar Patel over deep midwicket too, and that nonchalant six off Rabada reinforced how dominantly Knight Riders had started. The powerplay brought 51 runs with the openers still going strong, Shubman Gill playing the supporting role to Venkatesh's swashbuckling strokeplay.
The end of the powerplay didn't slow the scoring down. Dew had set in with force just before Capitals' innings ended, and they got the worse end of the conditions. But even if the dew made the ball more difficult to grip and come on to the bat more easily, it still needed the batsmen to execute their shots against bowlers of high pedigree, and they did that with panache.
Venkatesh reached his half-century in 38 balls, eventually falling to Rabada when he pulled straight to deep square leg. That broke the opening stand, but by then Knight Riders already had 96 runs on the board and only 12.2 overs had been bowled.
The scramble at the death
There was no hint of the drama that would unfold when Nitish Rana pulled Anrich Nortje to deep square leg at the end of the 16th over. But it began a procession that didn't look like it would end. Gill, who had essayed a breath-taking front-foot pull off Nortje over long-on, was caught behind off an uncharacteristic poke after a controlled innings and Knight Riders suddenly found there weren't that many wickets to spare.
The final over began with seven runs needed, and Knight Riders scored just one run off the first four balls while also losing Shakib Al Hasan and Narine. It was left to Tripathi to provide the final punch.
Capitals, who had looked the best team on show in the league stage while deservedly topping it, ended their campaign with three straight losses.
Saurabh Somani is an assistant editor at ESPNcricinfo