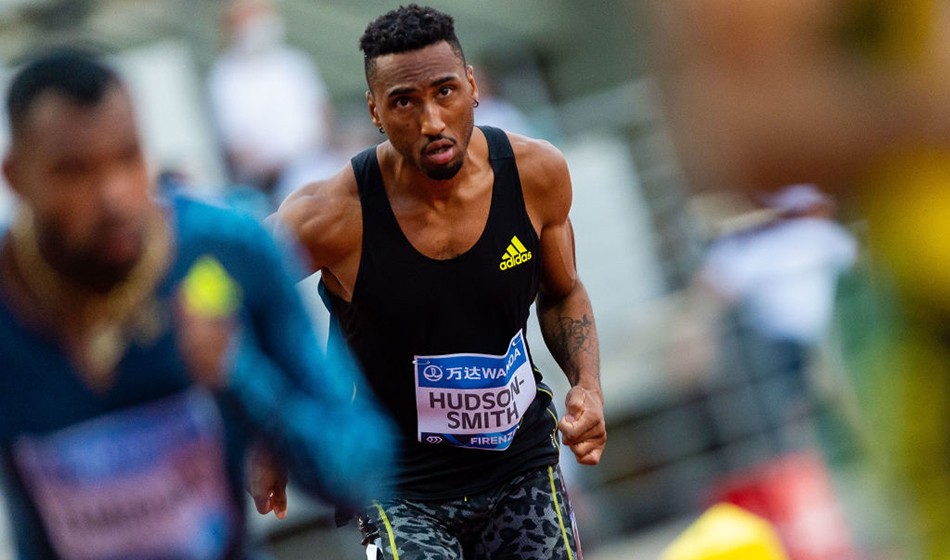 European 400m champion returns to form behind Olympic champion Steven Gardiner
While the major action in recent days has been on the US roads with top-class results at the Houston Marathon and Half-Marathon there was plenty of encouraging performances indoors and good domestic action on road and country.
UAB Blazer Invitational, Birmingham, USA, January 14
Olympic 400m champion Steven Gardiner set a Bahamian 300m indoor record of 32.06 which temporarily made him the seventh best all-time performer until Jacory Patterson's run at Clemson.
European 400m champion Matthew Hudson-Smith made a great return to form after his 2021 disappointments to set a British indoor record of 32.80.
Olympic 100m hurdles champion Jasmine Camacho-Quinn showed impressive endurance to win the 300m in a Puerto Rican record of 36.63 ahead of Jessica Beard's 37.00.
Leander Forbes won the men's 500m in 1:01.43.
UW Indoor Preview, Seattle, USA, January 15
On an oversize track, European indoor 3000m champion Amy-Eloise Markovc won the mile in a PB 4:30.78 ahead of Molly Sughroue's 4:31.54.
Ben Blankenship won the 3000m in 7:45.92 just ahead of Sam Prakel (7:46.06) and Johnny Gregorek (7:46.17).
Jonathan Shields, the son of former English National cross-country champion Jane, finished eighth in a PB 7:54.23.
Canadian Kieran Lumb won the men's mile in 3:55.53 ahead of Colton Johnsen (3:55.74).
Harvey Simmons Invitational, Ann Arbor, USA, January 15
The 2019 European under-20 champion Joshua Zeller improved his 60m hurdles PB to 7.76.
Under-20 Miles Brown won the 600m in 1:16.98 to just miss the US junior record.
Commodore Challenge, Nashville, USA, January 15
Divine Oladipo improved her indoor shot PB by over a metre to 17.92m to go sixth in the UK all-time indoor lists.
Second was Jessica Ramsey with 17.90m.
Loughborough, January 15-16
Former junior star Amy Hunt ran a PB and world indoor qualifier of 7.24 in the 60m.
Laura Zialor improved her indoor high jump PB by a huge seven centimetres with a leap of 1.88m.
Lubbock, USA, January 15
A week after leaving the teenage ranks, Terrence Jones surprisingly equalled the collegiate 60m indoor record with 6.45 after a 6.53 in his semi-final.
He had never previously ran 60 metres indoors and his 100m PB was a modest 10.39.
His Bahamian record moved him to ninth on the world all-time list.
A distant second was Jacoby Shelton (6.59) with Liberia's Emmanuel Matadi third in 6.60
ICYMI, 19-year-old @sprintertj clocked 6.45 in the 60m over the weekend ?

✅ @NCAATrackField joint indoor record
✅ Joint ninth fastest athlete in history
✅ Bahamian national record pic.twitter.com/ia8YlCsY91

— AW (@AthleticsWeekly) January 17, 2022
Ruth Usoro added over half a metre to the Nigerian triple jump record with a top class 14.76m, which is also well superior to her outdoor record of 14.50m.
Fayetteville, January 14
The 400m hurdler Shamier Little won the 600m in 1:29.12 just ahead of Lithuanian Gabija Galvydyte's 1:29.19.
Former Olympic hurdles finalist Cindy Sember won the 60m hurdles in 8.19.
Clemson, USA, January 14-15
Matthew Boling won the 200m in 20.49 on Sunday after a 8.25m long jump PB on Saturday.
Jacory Patterson won the 300m in 31.99 to go seventh in the world all-time.
The women's 300m was won by Talitha Diggs in 36.37 ahead of Ireland's European under-20 champion Rhasidat Adeleke's Irish senior record of 36.87.
There was a world lead in the 400m for Randolph Ross with 45.37 while Don'drea Swint won the 60m in 6.53.
With the 11th fastest ever time Kameron Jones ran 1:15.27 in the 600m ahead of Jonathan Jones' Barbados record 1:15.61
The 100m hurdles world record-holder Kendra Harrison won the 60m hurdles in 7.81 ahead of Grace Stark's 7.86.
Matthew Boling, the 2022 World Leader indoors with 8.25m! ?? pic.twitter.com/sg548nhDhI

— Jumpers World (@jumpers_world) January 15, 2022
Bordeaux, France, January 15
The Perche Elite Tour event saw victories for European indoor champion Angelica Moser (4.52m) and Menno Vloon (5.74m).
Reno, USA, January 14
KC Lightfoot set a world-leading 5.91m with Olympic medallist Chris Nielsen and Jacob Wooten both clearing 5.81m to complete the top three.
Olympic champion Katie Nageotte won the women's event with a 4.60m.
Flagstaff, USA, January 14
Turner Washington won the shot with a 21.33m throw.
Jarret Eaton won the 60m hurdles in 7.60 ahead of British Olympian David King's 7.67.
College Station, USA, January 15
World 5000m medallist Konstanze Klosterhalfen won the 3000m in 8:39.36 just ahead of Jessica Hull's Australian indoor record 8:39.79.
Olympic 800m champion Athing Mu won her first ever mile race in 4:37.99.
Spokane, USA, January 15
The 2021 NCAA 60m champion Micah Williams won the 60m in a PB 6.48.
In the women's 60m Jamaican Kemba Nelson won in 7.19.
Baton Rouge, USA, January 14
Aleia Hobbs won the 60m in 7.10.
10km Platja d'en Bossa, Ibiza, Spain, January 16
Adel Mechaal won in 27:50, to go second all-time in Spain. Ethiopian Berihun Yeriga (28:06) and Carlos Mayo (28:07) completed the top three.
Sarah Lahti won the women's race in a Swedish record 31:18.
Adama, Ethiopia, January 15
There were wins for Boki Diriba (28:47) and Medina Issa (32:39).
Birtley Cross-Country Relays, Birtley, January 16
Morpeth were comfortably first male team taking the three-man event in 28:21 well clear of hosts Birtley (29:31) and Sunderland (30:07).
Birtley were easy women's winners in a time of 36:08 with Sunderland (37:44) and Morpeth (37:53) completing the top three.
Birtley's Katie Francis (11:16) ran the fastest women's leg with team-mate Chloe Price (11:35) second best.
The masters events were won by Tyne Bridge's men (31:03) and Morpeth's women (37:53).
Essar Four Villages Half Marathon, Helsby, January 16
On a new course which incorporated some off-road sections, there were clear victories for Michael Kallenberg (67:22) and Manchester Marathon winner Anna Bracegirdle (75:20).
The latter defeated second woman and top W45 and reigning overall Masters International cross-country winner Kirsty Longley (78:26) by over three minutes.
Manchester Area League, Tatton Park, January 15
Sophie Wood (30:24) is on course for a clear overall league victory as she finished around 200m ahead of fellow Sale Harrier Alice Wright as Sale continued their dominance of the team standings.
Nigel Martin, also of Sale (30:27) and on course or the overall league title won by over a minute from David Barratt, though the latter led Salford Harriers to a narrow team victory over Sale.
Midland Women's League, Burton Dassett, Staffordshire, January 15
Loughborough's Kirsty Walker, second in the previous fixture, won overall (24:16) but it was second-placed Saskia Millard (24:41) who led Birmingham University to a clear team victory on the day.
Open Track Surrey Ladies League, Mitcham Common, January 15
Leading Belgrave to an easy team win Sarah Astin (31:53) won a competitive division one race from Hannah Cox (32:00) and Suzie Monk (32:01).
Elizabeth Leason (34:21) headed home the division 2 race in her league debut from 58-year-old Clare Elms (34:55) who led Dulwich to an easy team victory.
Open Track Surrey Men's League, Division 1, Mitcham Common, January 15
The 2018 English National Runner-up Andy Coley-Maud I26:37) won a competitive race that went down to the final kilometre as he headed South West champion Jack Millar (26:44) and the 2018 South of England champion John Gilbert (26:61) who was first M40 and greatly improved on his 31st from the last fixture.
Belgrave won the team event but runners-up Hercules Wimbledon have a clear lead overall after three fixtures.
Open Track Surrey Men's League, Division 2, Richmond Park, January 15
Surrey 5000m champion Ed Chuck (26:09) led home his team-mate Jack Ramm (26:15) as Dulwich Runners were easy winners.
Start Fitness Metropolitan League, Wormwood Scrubs, January 15
There were senior victories for Tom Frith (25:04) and Beth Hawling (28:33). Highgate's men are dominating the team contest and have a 800 point lead though London Heathside are safely clear in the women's contest.
Birmingham League Division 1, Smethwick, January 15
George Beardmore (28:47) gained his second victory of the campaign as he led home Joe Hudson (28:54) and Edward Potter (28:56). Triathlete and former English Schools cross-country champion Ben Dijkstra was fifth in 29:07 as Birmingham University defeated Loughborough in the team stakes.
Royal Sutton Coldfield won the division two team event at Burton Dassett as Ian Allen (34:16) of Spa Striders was the individual winner.
Alton Sports Hampshire Men's League, Reading, January 15
Southampton's Peter Hart headed the field in 31:09 but Luke Prior (31:15) led home a trio of Aldershot runners who sealed a team victory.
Alton Sports Hampshire Women's League, Reading, January 15
Under-20 competitor Pippa Roessler was a clear winner in 19:02 from Kate Estlea (19:14) who led Basingstoke to a rare win over Aldershot who still lead the overall standings.
Chiltern League, Milton Keynes, January 15
BBen Alcock (27:16) easily won from Under-20 team-mate Harry Brodie (27:47) as Bedford headed the senior men's team event though third-placer Richard Slade (28:04) had the consolation of leading Chiltern Harriers to another overall team victory.
Chiltern also lead the overall women's sections and won the senior women's race through Hannah Wardley (21:53) though third-placer 48 year-old Kate Rennie (22:01) led Dacorum and Tring to a women's victory.
Stubbington 10km, Hampshire, January 16
Richard Lovejoy (32:38) narrowly came out on top from Will Grace (32:42) to win this traditional January event.
Finishing sixth overall, there was a clear women's race success for Naomi Mitchell.
The 2:33:23 marathoner won in a PB 33:14 and finished over two minutes ahead of Cassie Thorp (35:36) with W45 Lesley Locks (35:37) right behind in third.
Blast Running 10km, Edinburgh, January 16
Sean Chalmers set a PB in taking the race title in 29:51, an astonishing five minutes ahead of all the opposition.
Nicole Jackson was first woman in a PB 39:58.
North of England Championships, Sheffield, January 15-16
David Morgan-Harrison improved in the 60m to 6.67 while Joe Ferguson gained the 200m title in 21.15.
San Sebastian, Spain, January 15
Maria Vicente won the long jump with a PB 6.70m leap.
York Knavesmire Brass Monkey-Half Marathon, January 16
Kieran Walker (65:38) just about got the better of Lewis Gamble-Thompson (65:42) to take the men's race
Charlotte Mason led home the women's race in a PB 78:10.