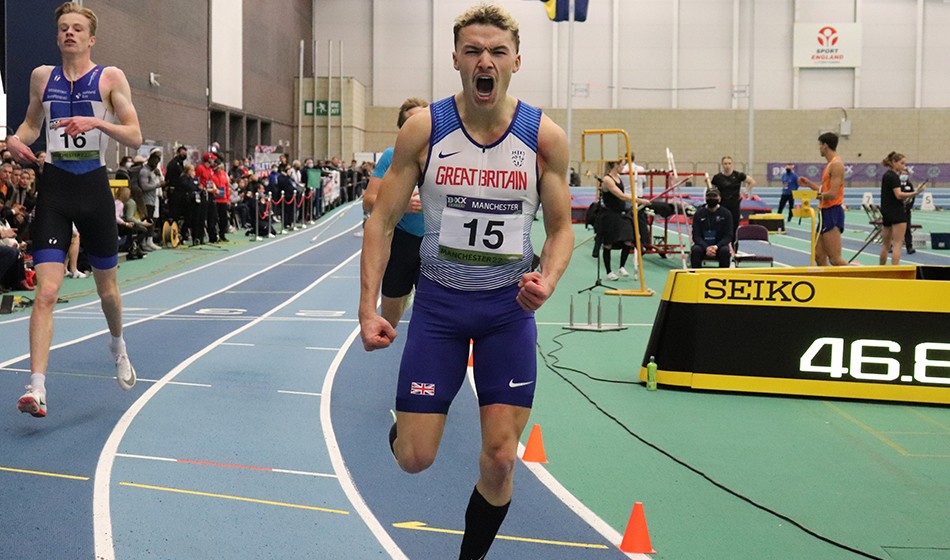 Teenage 400m talent is keen to earn selection for the World Indoors at the national championships in Birmingham next month
After winning the European under-20 title over 400m last year in Tallinn and then opening his 2022 campaign with victory at the BoXX United World Indoor Tour in Manchester on Saturday (Jan 22), Ed Faulds wants to make his mark at the UK Athletics Indoor Championships in Birmingham on February 26-27.
"I'm definitely going for the UK Indoor Champs," he said after clocking 46.84 to win impressively in Manchester. "I want to make a statement and hopefully get a World Indoors spot.
"I'm still an under-20 so it would be a big statement from an 19-year-old to win that."
Indeed, Faulds only turned 19 on January 1. Yet he is quickly turning into one of British athletics' hottest prospects and last summer his winning time of 45.72 in Tallinn placed him No.4 on the UK senior rankings for 2021 – less than a quarter of a second slower than No.1 Matt Hudson-Smith.
Britain did not manage to field an athlete in the men's individual 400m at the Olympics, which means the emergence of Faulds is a breath of fresh air. In addition to winning European junior gold at 400m, he also anchored the GB team to 4x400m victory at the event.
Faulds did not race again last summer after those European Under-20 Champs in July due to injury but he has enjoyed a good winter's training so far and come into 2022 as if he means business.
The Rugby & Northampton athlete is coached by former decathlete James Wright but also benefits from regular visits to the high performance centre at Loughborough due to being part of the Nike-supported Futures Academy programme.
"It's nice to be a part of it and have support from British Athletics," he says. "They're helping me get to where I want to be.
"Apart from the funding, it's the same as what the Olympic athletes are on," he adds, referring to the support package of medical help and squad get-togethers that Futures athletes benefit from.
Talent runs in the family too with his older brother, Josh, having run 50.84 for 400m hurdles in 2021.
On his win in Manchester, he added: "I'm not used to indoors. I've not run many races indoors but I'm happy with the position I'm in right now.
"There are always things to work on but for a season opener it was all right. It shows the Europeans last year wasn't a fluke. I had to back it up.
"My coach said I could get under 47 seconds and I'm over the moon with that as it means I'm in a better place than I was last year."
"[I wanted to show] the Europeans wasn't a fluke and I had to back it up."@FauldsEd chats to @Jason_AW on his 400m sub-47 indoor PB and victory ?#WorldIndoorTour pic.twitter.com/RcJMytYREZ

— AW (@AthleticsWeekly) January 22, 2022
His 400m performance in Manchester was also the third best ever by a British under-20 athlete indoors and if he carries on improving this winter then the UK junior record of 46.56, set by Mark Hylton in Birmingham in 1995, will be in danger.
After the UK Athletics Indoor Championships, Faulds says: "I'll take it step by step. If it leads on to the Commonwealth Games, great. If not I've got the World Under-20 Champs (in Colombia) to go to if I get the standard for it."