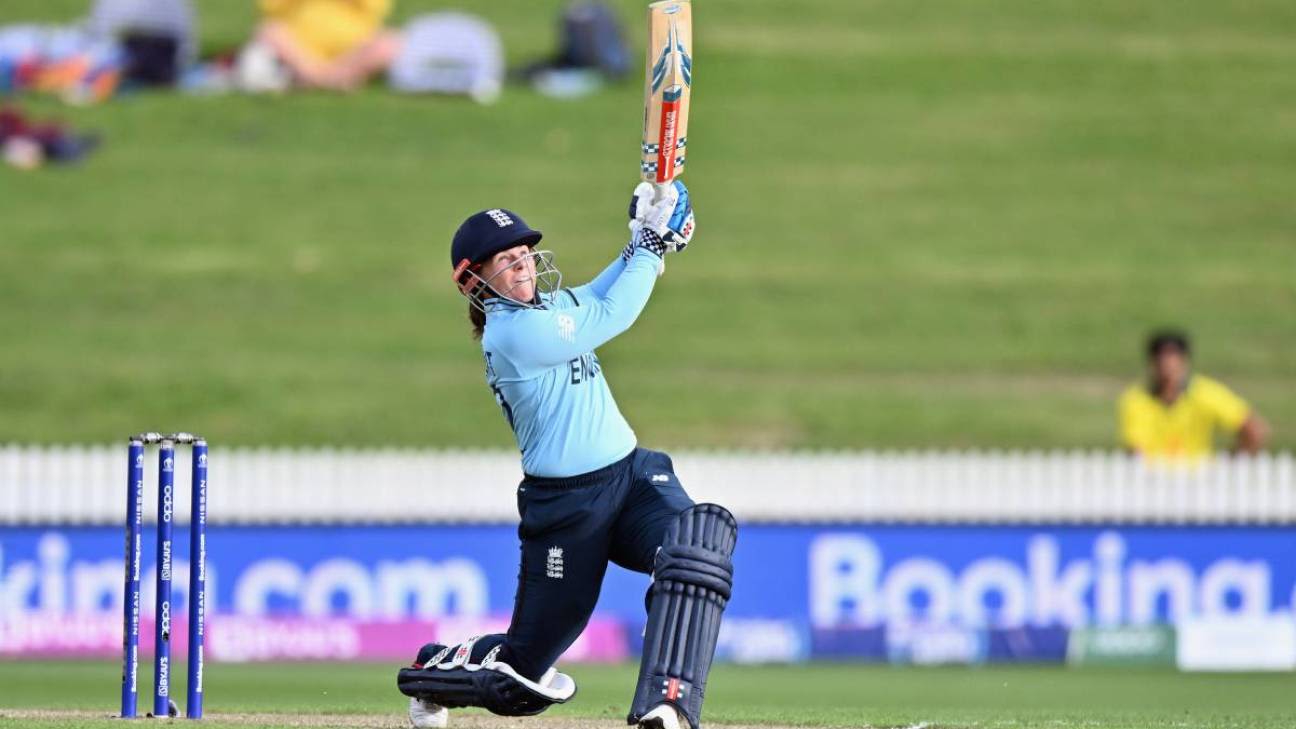 Tammy Beaumont
says there is no question of England taking liberties against a Bangladesh team that gave even the tournament favourites Australia a scare in windy conditions in Wellington on Friday. However, she remains confident that her own team is peaking at the right time, after dicing with an early exit following three consecutive defeats at the start of their campaign.
After a wild ride through the group stages, the permutations are almost complete. Anything other than a defeat to Bangladesh will guarantee England's place in the last four, where they will be joined by either West Indies or India, who face their own must-win final game against South Africa on Sunday.
"It's incredibly important to keep building that momentum," Beaumont said after England had turned their hopes around with two tight wins over India and New Zealand, followed by a more comprehensive nine-wicket win over Pakistan in their last outing.
"We're not secured in the semi-finals yet, so we definitely have to go out and have a good performance, and make sure we get that win on the board. Tournament cricket is all about building that momentum to get into finals and then once you're there, just maintaining it and getting those winning performances."
While Bangladesh have just the one victory in six attempts in the competition so far, they have been involved in a series of close-run encounters, including a four-run loss to West Indies, and a five-wicket defeat against Australia that briefly looked like turning into the shock of the tournament when Australia slipped to 41 for 4 chasing 136 in a rain-reduced chase.
And though Beth Mooney's unbeaten half-century restored order for Australia and maintained their 100% tournament record, Beaumont acknowledged the skill of Bangladesh's spinners was something that England would not be taking likely. Particularly given the added complications of the windy conditions expected in Wellington, and the dangers of taking the aerial route.
"A lot of their bowlers are definitely threats," Beaumont said. "Salma Khatun, bowling in the powerplay and throughout, is a real key bowler for them. So we'll definitely try to nullify the threat of her and their other spinners as well. They are just very controlled, very disciplined, pretty good in the field. So we'll have to put them under pressure for a long period of time and hope to catch up at the back end.
"They got a few early wickets against Australia, it's going be really key to start well against them tomorrow. They obviously don't bowl with that much pace, so that's going to be a challenge, particularly here at Wellington. It looks like it's going to be really windy, one-way hitting into the wind, so we're going to be very smart."
Both of Australia's opening batters perished against Bangladesh while going airborne in the powerplay, and Beaumont acknowledged that she might have to adapt her game accordingly to avoid a similar fate.
"When the wind is coming across the wicket, it kind of pushes you over at one end and really challenges your balance, and as someone who gets out lbw for fun anyway, it makes it a lot more difficult," she joked. "But if you're going to hit the ball in the air, it has to be more with the wind so that you can hit it longer. It's a bit silly trying to take on a spinner by hitting into the wind to get it up and over, and the ball almost comes back to the fielder. You've got to be smart about when you choose to hit the ball in the air, and when you choose to hit it on the floor."
The very fact that Bangladesh look capable of challenging the reigning world champions was, Beaumont believed, a credit to the rising standards of the women's game, which has been in full evidence during a compelling group stage that has featured an extraordinary number of tense final-over finishes.
"It's been a brilliant tournament," Beaumont said. "You've seen so many close games, and quite a few upsets - involving us, most of the time - but it's been brilliant for women's cricket. The last thing anyone wants is a very predictable World Cup where you can very much tell what every result is going to be. It's great to see the standards have gone through the roof for every country, and not the ones that are getting massive financial backing from their boards.
"It's only good for women's cricket if more and more teams are playing against the top teams and improving. There have been a lot more close games at this World Cup, no matter who you are, and the likes of Bangladesh have really contributed to that"

Tammy Beaumont
"Bangladesh should be playing against the likes of us more regularly, and in the new cycle for the next ODI World Cup, we will be playing against them more. It's only good for women's cricket if more and more teams are playing against the top teams and improving. There have been a lot more close games at this World Cup, no matter who you are, and the likes of Bangladesh have really contributed to that."
For England, however, the end of an arduous winter campaign is drawing nigh. One more win, and they will be braced for another World Cup semi-final - potentially against South Africa, the team they edged out by two wickets at the same stage of the 2017 tournament. And Beaumont felt the squad had the focus and the form to brace for one big push to the finish.
"We obviously started a little bit slow in the comp," Beaumont said. "But our bowlers are certainly peaking at the right time. Katherine Brunt looked in really good rhythm last game, Kate Cross has been brilliant throughout, [so has] Sophie Ecclestone. Everyone's chipping in where they can.
"With the batting, I guess we haven't had that that solid opening partnership yet, but it was good to see Danni [Wyatt] go on and get some good runs in the last game [against Pakistan], and there's been contributions throughout. So I do feel like we're starting to play our best cricket as we come into the back end of this tournament.
"I'm not going to lie, it's been tough. It's been a very long time away from home. And even before that, there were all sorts of rules and regulations around Covid protocols and stuff," she added. "This is the longest I've been on tour with England, but it's what we signed up for, and it's one-and-a-half weeks to go. If we can take a trophy home with us, it all will be worth it."