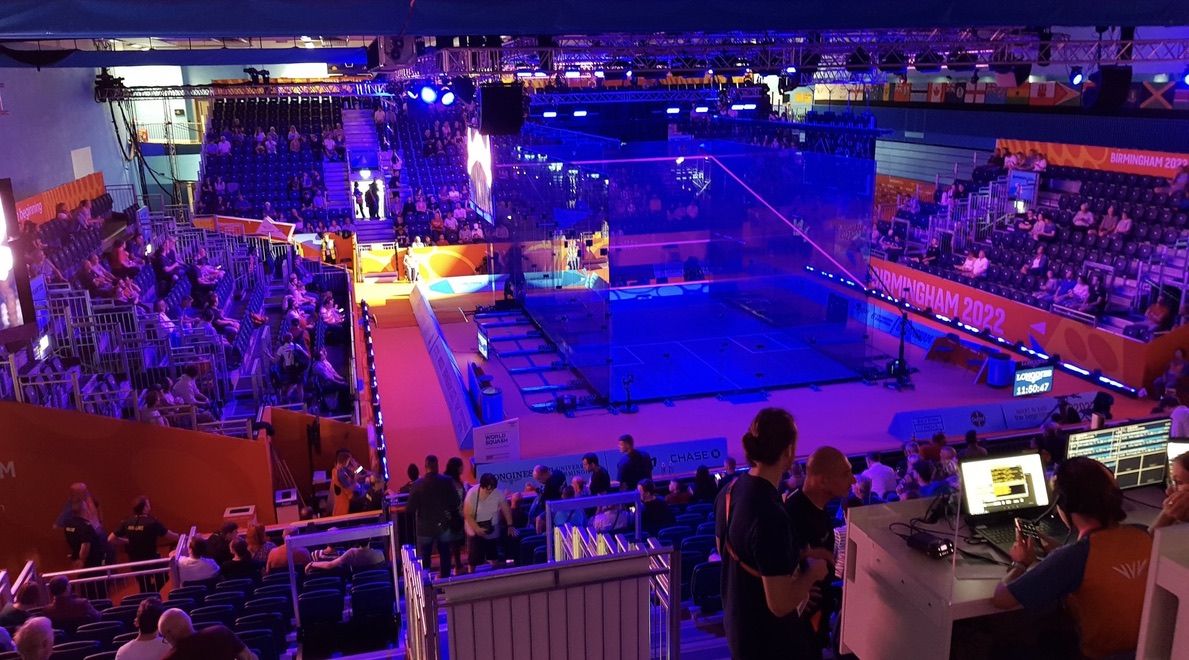 Sports Minister announces record ticket sales for Birmingham 2022
By ALAN THATCHER (Squash Mad Editor)
Eight potentially great matches are on the schedule in today's quarter-final programme from the 2022 Commonwealth Games at the University of Birmingham.
We have five English players, two each from India, Malaysia, New Zealand, Scotland and Wales, plus one from Canada.
There are four matches in the afternoon session starting at 12 noon and four more beginning at 6pm. All the action takes place on the glass court.
Today's Glass Court Schedule:
Afternoon Session
12 noon: (1) Joelle King (NZL) v (5/8) Lucy Turmel (ENG)
12.45: (1) Paul Coll (NZL) v (5/8) Adrian Waller (Eng)
13.30: [3/4] Joshna Chinappa (IND) v [5/8] Hollie Naughton (CAN)
14.15: [3/4] Saurav Ghosal (IND) v [5/8] Greg Lobban (SCO)
Evening Session
18.00: [3/4] Georgina Kennedy (ENG) v [9/16] Rachel Arnold (MAS)
18.45: [9/16] Rory Stewart (SCO) v [5/8] James Willstrop (ENG)
19.30: [2] Sarah-Jane Perry (ENG) v [5/8] Emily Whitlock (WAL)
20.15: [2] Joel Makin (WAL) v [5/8] Eain Yow Ng (MAS)
Record Ticket Sales
Reports indicate that the 2022 Commonwealth Games will achieve record ticket sales, according to British Sports Minister Nigel Huddleston.
An article on the superb Inside The Games website revealed that more more than 1.3 million tickets have been sold for Birmingham 2022, making it the best attended edition of the Commonwealth Games ever to take place in Britain.
Glasgow 2014 had previously held the British record, but Birmingham 2022 has now moved ahead of them following a surge in demand for tickets.
According to Birmingham 2022, more than 500,000 tickets have been snapped up by people living in the West Midlands.
TV Scandal
With so many top matches on the schedule today, let's hope that squash features more prominently on the BBC coverage after being ignored for almost three days.
Rod Gilmour's article on the BBC's response to complaints from the squash community drew a lot of traffic to the site yesterday, so thanks to all those who popped in to see us. We hope you will stick around for the best coverage of the Games.
#BBC #BestBritishCoverage
Party time in Amsterdam
Good luck to all those squash players staggering home from a massive party weekend in Amsterdam as the Junkies Festival celebrated its 25th anniversary.
The winners were the Dutch team Casanovas, led by Tessa ter Sluis, who beat Scots team AirTight1 in yesterday's final. The winning squad included: Marc ter Sluis (PSA), Frank Goossens, Roel Zwagerman, Tom Lucas (SBN director), Bjarni Kemperman, Bart Hostman and Tessa Ter Sluis (PSA).
Must get a Squash Mad team together for next year!
Join the debate:
If there's anything you want to mention about squash at the Games, feel free to publish your comments below.
Today's Results:
Men's Quarter-Finals:
[1] Paul Coll (NZL) v [5/8] Adrian Waller (ENG)
[3/4] Saurav Ghosal (IND) v [5/8] Greg Lobban (SCO)
[9/16] Rory Stewart (SCO) v [5/8] James Willstrop (ENG)
[2] Joel Makin (WAL) v [5/8] Eain Yow Ng (MAS)
Women's Quarter-Finals:
[1] Joelle King (NZL) v [5/8] Lucy Turmel (ENG)
[3/4] Joshna Chinappa (IND) v [5/8] Hollie Naughton (CAN)
[3/4] Georgina Kennedy (ENG) v [9/16] Rachel Arnold (MAS)
[2] Sarah-Jane Perry (ENG) v [5/8] Emily Whitlock (WAL)
Picture courtesy of Richard Vitty