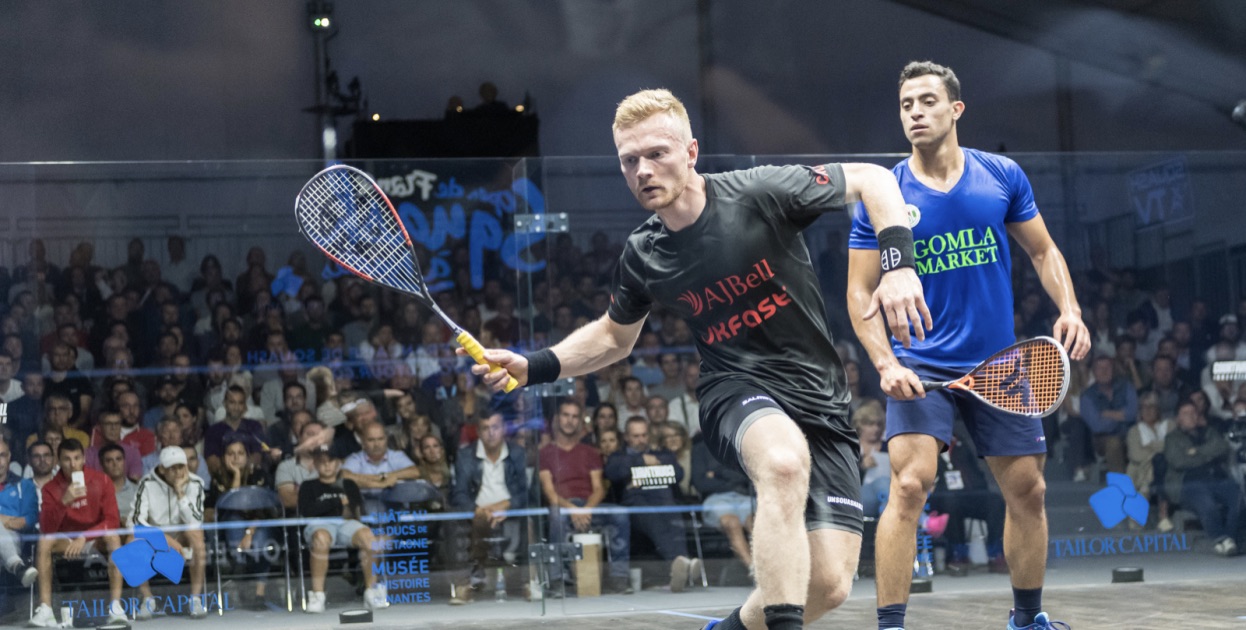 Top seed Rosner is out as Hammamy halts Waters
By MATT COLES – Squash Mad Correspondent in Nantes
France's Gregoire Marche is through to the semi finals of the Open de France – Nantes 2019 presented by Tailor Capital after a spectacular victory over Germany's top seed Simon Rösner at the glorious Chateau des ducs de Bretagne. In the sem-finals, Marche meets Joel Makin, who fought back from one game down to overcome Egyptian Fares Dessouky.
World No.16 Marche came out of the blocks firing, allowing the German to score just three points in the first game. The pair then produced some enthralling squash in the second game, which the 'Tree Chopper' took 11-9 to take the match into a third.
The three-time champion of the Open International de Squash de Nantes then took control of the third game, with some wonderful line drives, as he overpowered the World No.5.
Marche will advance to the semi-finals on Friday evening, where he will face Wales' Joel Makin, who overcame Egypt's Fares Dessouky in the first men's quarter-final clash of the evening.
"There are no words to describe the feeling I have. I said earlier that this is the only place that I have ever had goosebumps on court. That was two years ago when I beat Mazen [Hesham] in the semis and that time, it was a big win for me," Marche admitted.
"Today, to beat Simon, the No.1 seed, on that court and in these conditions, as well as it being the first time I have beaten Simon on the Tour, it is unreal. I just feel great and I am definitely going to enjoy my rest day tomorrow and then get ready for Friday.
"It was a tough battle mentally, so it is good to have a day off tomorrow. Joel is a really strong player. He had a really good season last year. I lost twice [to him]. He is really strong, he is tough to beat because he is really patient and he has good structure to his game. I will have to find some solutions to make him work differently.
"It is going to be best-of-five so it will be a different feeling, but there are no words for this crowd. For our sport, this is big, and it is the only time you can find it during the season, for us in France, and the audience are just spectacular."
After losing the first game, Welshman Joel Makin battled back to take the victory over Fares Dessouky to reach the semi finals.
The World No.12 ran out into a big lead in the first, but Dessouky reeled off nine points out of 11 to come back from 9-3 down to win it 12-10.
However, Makin would not be denied the victory, as he fought back to take the second game 11-5. As the match got scrappy towards the end, the Welshman showed his mental strength to take the win in the third, booking his spot in the last four.
"I knew I had to take the middle back away from him because towards the end of the first game, he made himself big and he played a lot of flat kills which were effective, making me work around him," Makin admitted.
"I enjoyed it three years ago when I last came and it has just got bigger. There are a lot of good players here, which is great. All the players enjoyed it from the very start, especially with a good crowd and a great atmosphere."
There was more home glory, as Camille Serme made it through to the semi-finals after a convincing victory over England's Millie Tomlinson, which took just 19 minutes.
The World No.3, and top seed of the tournament, wasted no time in sealing the first game, as she restricted Tomlinson to just three points. The second game was tighter, with the Englishwoman holding an early lead. However, Serme came fighting back to take the game, and the match, to the delight of the partisan crowd.
The Frenchwoman will play Hania El Hammamy in the semi finals at the Chateau des ducs de Bretagne on Friday evening, after the Egyptian overcame England's Alison Waters in the first match of the night.
"I am happy and relieved because when you are the No.1 seeded, you want to go all the way through to the final but obviously, you have tough opponents before that," Serme said.
"I am just happy that this is another step closer. We have had some good matches together and she has had some good matches against Raneem [El Welily] and Laura [Massaro] before so I always take her seriously because she is very talented.
"I use the pressure as more of a boost. I am more nervous about being No.1 seed rather than playing at home. That is an advantage for me because they are very supportive, so it is very positive for me."
Young Egyptian Hammamy showed complete control throughout the match against Waters, and completed her victory in less than 20 minutes.
Hammamy, the World No.15, ran out into a big lead in the first game, one she would not relinquish as she took the first 11-3. She then took the second game 11-6 to secure a first victory over the Englishwoman on the PSA World Tour.
"Last two times we played, we played at a fast pace, and I was trying to match her but she is much better at it, so this time, I tried to keep the rallies at a mid pace, find my lines and not rush for volleys," El Hammamy explained.
"I was a bit worried to have to play during daylight, but it didn't bother me one bit today."
"During summer training, I worked a lot with my coaches Haitham Effat and Ahmed AbdelKhalek on my back of court game, and they gave me a lot of confidence, and I find now that I can play better shots at the front.
"I think I have played some good squash over the past few weeks, and I'm over the moon with that victory over somebody as experienced as Alison, who beat me twice last year. It was nice to take my revenge, and I'm very happy with my performance tonight."
 
Open de France – Nantes, Chateau de Ducs de Bretagne, Nantes, France.
Men's Quarter Finals (Top Half):
[3] Joel Makin (WAL) bt [5] Fares Dessouky (EGY) 2-1: 10-12, 11-5, 11-8 (57m)
[6] Gregoire Marche (FRA) bt [1] Simon Rösner (GER) 2-1: 11-5, 9-11, 11-3 (47m)
Women's Quarter Finals (Top Half): 
[5] Hania El Hammamy (EGY) bt [4] Alison Waters (ENG) 2-0: 11-3, 11-6 (19m)
[1] Camille Serme (FRA) bt [8] Millie Tomlinson (ENG) 2-0: 11-3, 11-6 (19m)
Men's Quarter Finals (Bottom Half, Thursday September 12):
[4] Zahed Salem (EGY) v [8] James Willstrop (ENG)
Mathieu Castagnet (FRA) v [2] Paul Coll (NZL)
Men's Semi Finals: Open de France – Nantes (Friday September 13):
[6] Gregoire Marche (FRA) v [3] Joel Makin (WAL)
Women's Quarter Finals (Bottom Half, Thursday September 12):
[3] Amanda Sobhy (USA) v [7] Olivia Blatchford Clyne (USA)
Emily Whitlock (ENG) v [2] Sarah-Jane Perry (ENG)
Women's Semi Finals: (Friday September 13):
[1] Camille Serme (FRA) v [5] Hania el Hammamy (EGY)
 
Report by MATT COLES (PSA). Edited by ALAN THATCHER.
Pictures courtesy of PSA
Posted on September 11, 2019