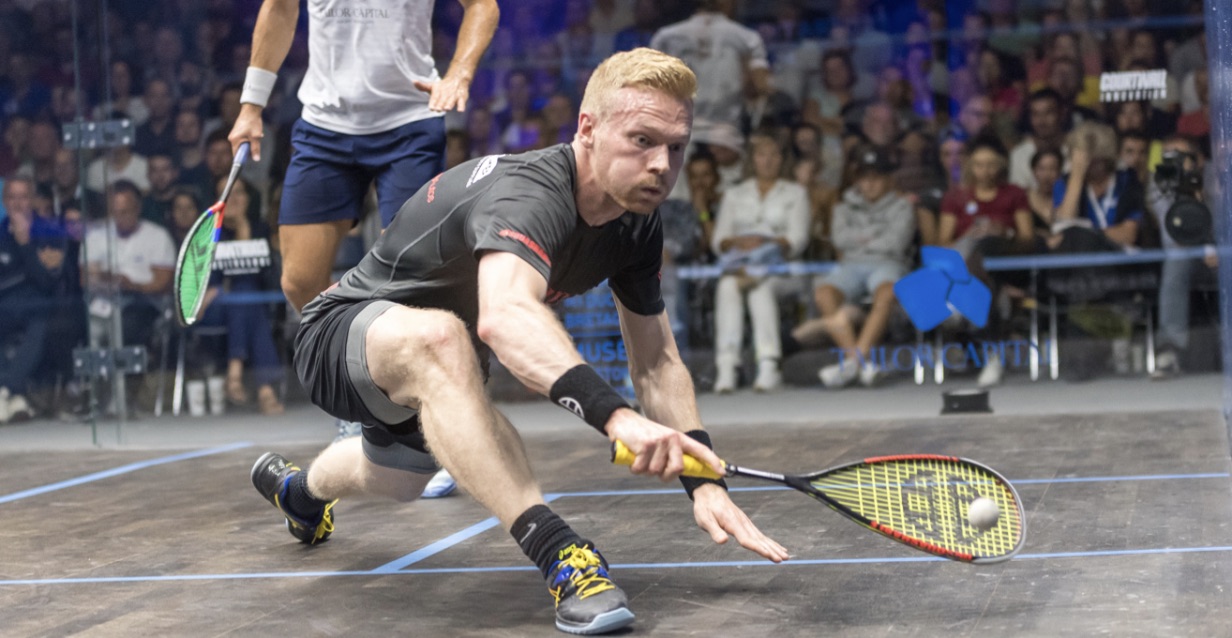 Serme meets Sobhy in Nantes women's final
By MATT COLES – Squash Mad Correspondent
Welshman Joel Makin fought back from two games down to reach the final of the Open de France – Nantes 2019 presented by Tailor Capital after beating home favourite Gregoire Marche in front of a partisan crowd at the Chateau des ducs de Bretagne.
The Frenchman, who had already knocked out the No.1 seed Simon Rosner earlier this week, quickly got into a rhythm, and was able to put the ball in the right places. He took the first 11-8, before then controlling the second even more, winning it 11-6 to double his lead and put himself on the verge of victory.
However, the 'Golden Tiger' came roaring back into life, as he was able to get in front of Marche on court and put the pressure on the Frenchman. As the match time ticked over the hour mark, Makin took the third game to bring himself back into the match.
The Welshman then dominated the fourth game, bar a few mistakes, to send the match into a decider. In the end, the Welshman had too much for the home favourite, despite the backing of a hugely vocal crowd.
Makin won the fifth 11-7 to seal victory after 95 minutes of brutal squash on the glass court, sending the handful of Welsh and Birmingham fans into raptures. He moves on to the final on Saturday evening.
"I am relieved to get through that one to be honest. I was passive and I got it wrong early on. I sat back too much, even though I knew what I wanted to do. I didn't quite get it right and credit to him, he was moving unbelievably well," Makin admitted.
"He was taking the ball in and taking his chances. Once it got to 2-0, I knew I needed to take him in and just work him. I had to try and stretch him out and he started to slow down. It was tough after that and it worked in the end.
"The atmosphere has been brilliant all week so I have enjoyed coming down and watching. Seeing your opponent for the next stage gives you a bit of a feel of how they are playing. We have all seen each other loads before but you get a feel for what they are doing this week."
Makin will play New Zealand's Paul Coll in the final after the World No.6 got the better of Egypt's Zahed Salem in the last match of the night. The Kiwi rounded off the semi-finals action with a convincing victory over the Egyptian in straight games.
The Kiwi came out strongly in the first game, but the No.4 seed was able to match him shot-for-shot in the opening exchanges. Coll managed to just eke out a lead in the final stags of the first to take the early lead in the match.
The second was easier for the New Zealander, who restricted the World No.14 to just five points as he doubled his lead in the match. Coll would go on to secure his place in the final of the event after winning the third game to seal victory inside 40 minutes.
"I am very relieved to get off court in three. It was mentally very tough and I had to keep myself very focussed. It was easy to drift off and think about my bed. I didn't think about squash, I just concentrated mentally on staying sharp and just playing what was there," Coll said.
"I took a longer nap than usual, just slept as long as I could during the day. I just started my day a few hours later than normal. It was very tough, it was still tough to warm-up and get started in the match. During the day was fine, I just postponed everything a few hours.
"I watched the whole thing [Makin v Marche] from my bed. It was a very physical match, and he did well to come from 2-0 down against a French crowd. It was a pretty impressive performance from him, but I have played him the day after a 100-minute match and we then played another 100-minute match again so I am sure he will back up again tomorrow.
"A win would be perfect. I made the final of my first event last year and just missed out so if I could go one better this time round it would be amazing. I will just try to leave everything out there. I just need to recover, sleep as long as I can in the morning. It is another late match so I will just prepare for it like I did today."
France's Camille Serme is through to the final of the Open de France – Nantes 2019 presented by Tailor Capital after she beat Egypt's Hania El Hammamy in a convincing three-game performance at the Chateau des ducs de Bretagne.
The pair were meeting for the fourth time on the PSA World Tour, with Serme aiming to keep up her 100% record over the Egyptian, dating back to 2016. She started off with that mindset, restricting the 19-year-old to just four points in the first game.
Serme continued that form into the early part of the second, taking an 8-2 lead. However, the Egyptian looked to fight back, reeling off four straight points. The World No.3 managed to compose herself though, and was able to double her lead in the match with an eventual 11-7 victory in the second game. A similar pattern happened in the third, with Serme going on to take a big lead.
This time, though, El Hammamy managed to come back from 6-1 to level the game at 7-7. However, a couple of strong shots from the Frenchwoman moved her back in front, allowing to comfortably take the victory in 35 minutes, to the rapturous applause of the partisan crowd.
"Obviously, I am very happy to win in three. When it was 2-0, I was actually thinking how nice it would have been to be over. Obviously, I was ready from the start. Even if it was best-of-three, I wanted to keep the momentum going with a really good start and I think I showed that in the first game," Serme said.
"The third game, I was feeling really hot on court. It is warmer today on court and I think I felt a little bit of fatigue and she came back to 7-7. Luckily, I managed to play two good shots at the right time so I am really happy.
"It is amazing. Every time I think of it, or I hear them [the crowd], I get goosebumps. It is like in the third game, I used the extra push. From the very first match, it was like this and I thought to myself that I wanted to play as much as I could on that court. I just want to finish on a win tonight.
"I think I will be watching [Sobhy v Perry], maybe while I am having dinner to make sure I recover properly. I have been to a couple of finals, but it has been a while since I won a tournament. No pressure on myself but I would really love to win this one!"
Serme will play United States No.1 Amanda Sobhy in the final of the Open de France – Nantes, after the American overcame England No.1 Sarah-Jane Perry in a four-game battle at the Chateau.
In a ferocious opening game, Sobhy had to save several game balls before squeezing home 15-13.
The second was much more straightforward for the New York-born Sobhy, who ran out to a 9-2 lead. Although Perry got a few points back, the World No.8 was able to close the game out to double her lead in the match.
Sobhy then went out to a 4-1 lead in the third, only for Perry to fight back. The Englishwoman kept herself in the match by winning 10 of the next 11 points to win the game 11-5, to move back to just one behind.
However, the American regained control in the fourth game, as he moved out into a commanding lead early on, a lead that she would not relinquish, as she booked her place in the final of the tournament, where she will face World No.3 Camille Serme.
"I knew that I was in for a battle with SJ. The last few times we have played it has been close and so I watched her match yesterday, and it was more about going out there and doing what I can do best, enjoying myself and playing freely," Sobhy said.
"I think it just helped with the whole atmosphere and the fact that I was playing so late, I just said to myself to go out there and to just enjoy it. To squeeze that first game was so crucial, because we are both momentum players, so if we can get up on the other person that it really helps our confidence.
"I am very happy about that, and I knew after being 2-0 up, she was going to come back strong. I was really happy to rigour in the fourth and find my form and length again.
"I am really looking forward to the final. Going into the tournament, I saw the draw and I thought I had a really good opportunity. I have never been into the finals of a 70k before so I just wanted to test where I am at, especially after the long summer. Camille and I played a few weeks ago in Bellevue and she beat me in five. Hopefully I can reverse that tomorrow."
2019 Open de France – Nantes, Chateau de Ducs des Bretagne, Nantes, France.
Men's Semi-Finals:
[3] Joel Makin (WAL) bt [6] Gregoire Marche (FRA) 3-2: 8-11, 6-11, 11-6, 11-7, 11-7 (95m)
[2] Paul Coll (NZL) bt [4] Zahed Salem (EGY) 3-0: 11-9, 11-5, 11-8 (39m)
Final:
[3] Joel Makin (WAL) v [2] Paul Coll (NZL)
Women's Semi-Finals:
[1] Camille Serme (FRA) bt [5] Hania El Hammamy (EGY) 3-0: 11-4, 11-7, 11-8 (35m)
[3] Amanda Sobhy (USA) bt [2] Sarah-Jane Perry (ENG) 3-1: 15-13, 11-5, 5-11, 11-6 (46m)
Women's Final:
[1] Camille Serme (FRA) v [3] Amanda Sobhy (USA)
Report by MATT COLES (PSA). Edited by ALAN THATCHER.
Pictures courtesy of PSA
Posted on September 14, 2019