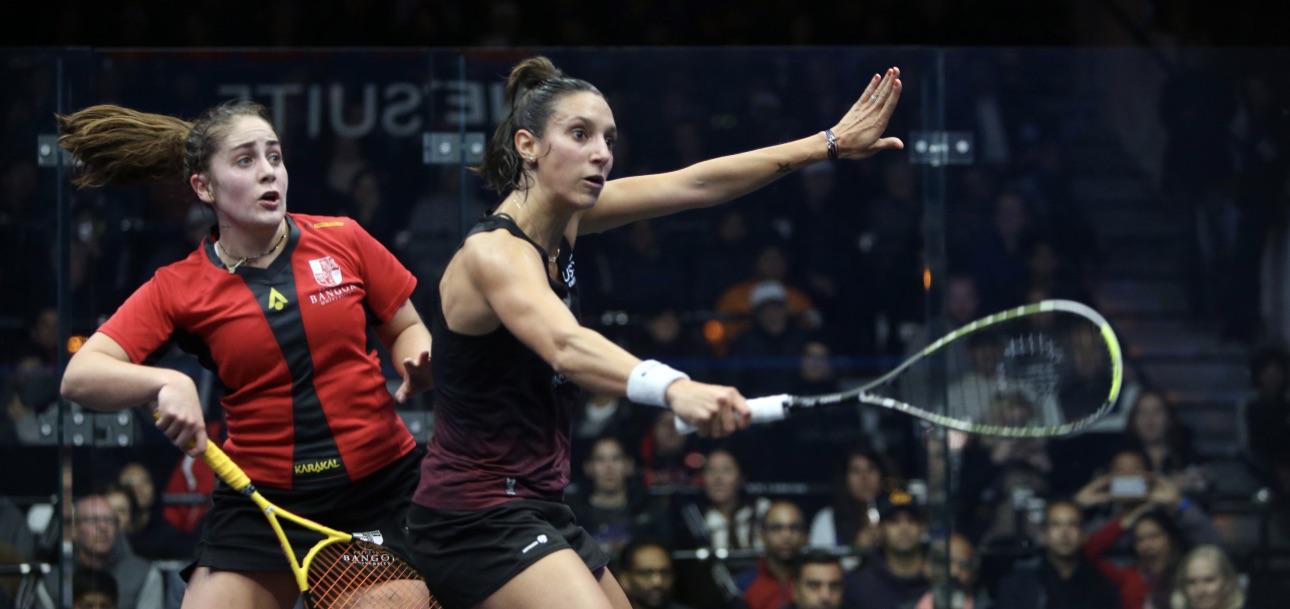 Makin makes Momen sweat in ONO battle
By MATT COLES – Squash Mad Correspondent
Egypt's Tarek Momen and France's Camille Serme are both into the semi finals of the Oracle NetSuite Open 2019 after winning their respective quarter final matches at Embarcadero Plaza in San Francisco.
World No.3 Momen came from behind in his last eight clash with Wales No.1 Joel Makin to take the victory. The pair had only faced off once before on the PSA World Tour, with that meeting coming in the quarter finals of last year's Qatar Classic, a match that the Egyptian won.
However, it was Makin that took his opportunities in the first game of this clash. He ran out into a 10-6 lead and although Momen saved one game ball, the Welshman was able to clinch the game to take the lead.
'The Viper' came out fighting to start the second game, winning the first four points. Makin battled back to level it at 5-5, but six straight points for the Egyptian sent the match into a deciding game.
Once again, it was Momen who took the early advantage in the third, running out into a 5-1 lead. This time it would not be one he would relinquish, as he went on to take the victory, booking his place in the semi-finals.
Momen admitted: "At the end of the game, it seemed like I could not put the ball away. Wherever I put it, he just dived and got it. It made me a bit edgy.
"The one at 9-6, I thought I had won it. I don't know how he got those two balls back and all of a sudden we are playing a let. It was a tough match because Joel has been a rising star on the tour. His physicality is unbelievable and he has been improving his game which makes him harder to beat.
"I am happy with the way I played after the first game. It is best-of-three and you cannot lose focus. I did not start as sharp as I wanted, but I am very happy to have been able to have got back into a rhythm, and it was a pretty exciting match for the crowd as well.
"It is always a pleasure to make it all the way. We [along with wife Raneem El Welily] are still looking for that double final appearance, but let's just take it one day at a time!"
The Egyptian will face Colombia's World No.9 Miguel Rodriguez in the last four of the tournament after he defeated Scotland's Alan Clyne in straight games in the final match of the night. Once again, Rodriguez looked in imperious form, as he took the first game in just seven minutes, restricting the Scot to three points in the cold conditions on court.
The second game was a tighter affair, with the pair locked in at 4-4. However, Rodriguez showed his class to push on and win it 11-6.
Rodriguez said: "He is very tough to play. I have played with him many times and he is a good retriever and he is very physical. I wanted to play fast paced today because it is very cold. I had to take my chances.
"I think at the beginning of the game I was hitting my targets and he made a few mistakes. At 7-1, he got a bit more patient, but I had a great push, and again in the second game to win it.
"This will be my second semi-final in San Francisco. I am very happy to be here and I thank the crowd for staying out tonight. And I can't wait to have the same support tomorrow."
In the women's draw, French No.1 Camille Serme got the better of World No.9 Tesni Evans to reach the last four. The World No.3 had never lost to the Welshwoman on the PSA World Tour prior to this clash, having been successful in all ten of their previous meetings.
Once again in this one, it was the Frenchwoman that started the strong of the two, as she raced out into a 9-4 lead in the first, as the players both got used to the colder court conditions at Embarcadero Plaza.
However, Evans then won the next six points to lead 10-9. Both women then had to save game balls, as it went deep into a tie-break situation. Serme took it 15-13, but once again, it was the World No.9 that got the advantage in the second, leading 8-5 at one point. However, the Frenchwoman came fighting back to win it 11-9, booking her place in the semi-finals.
"To be honest, it is cold right now. Event hough we have been running around. I know it is the same conditions for all the players, but it is tough. It is not easy to get your targets in the back," Serme admitted.
"As I said, we are running but I am still cold. I was just trying to stay positive despite the conditions. If you find a good shot, it is pretty hard to get it back.
"She had some amazing shots that, even though, I felt good with my legs, I could not get to it because it is so dead on court. I was a bit lucky with some bounces as well, but I am glad to be through.
"I am very excited to be through. Last year I did not make it to the glass court, so I am happy to have made it this year. I have added another round on that as well which is a positive so I am looking forward to tomorrow."
Serme will face Egypt's World No.5 Nour El Tayeb, who progressed to the semi-finals following the withdrawal of United States No.1 Amanda Sobhy due to an adductor injury. 
About tonight's withdrawal from @ONOSquash… ☹️☹️ @PSAWorldTour pic.twitter.com/iWuyTN9XEZ

— Amanda Sobhy (@itssobhytime) September 28, 2019
PSA World Tour Gold Oracle NetSuite Open 2019, Embarcadero Plaza, San Francisco, USA.
Men's Quarter Finals (Bottom Half):
[4] Miguel Rodriguez (COL) bt Alan Clyne (SCO) 2-0: 11-3, 11-6 (20m)
[2] Tarek Momen (EGY) bt [6] Joel Makin (WAL) 2-1: 7-11, 11-5, 11-7 (46m)
Women's Quarter Finals (Bottom Half):
[3] Nour El Tayeb (EGY) bt [6] Amanda Sobhy (USA): Walkover
[2] Camille Serme (FRA) bt [7] Tesni Evans (WAL) 2-0: 15-13, 11-9 (31m)
Men's Semi Finals:
[1] Mohamed ElShorbagy (EGY) v [5] Marwan ElShorbagy (EGY)
[4] Miguel Rodriguez (COL) v [2] Tarek Momen (EGY)
Women's Semi Finals:
[1] Raneem El Welily (EGY) v [8] Joshna Chinappa (IND)
[3] Nour El Tayeb (EGY) v [2] Camille Serme (FRA) 
Report by MATT COLES (PSA). Edited by ALAN THATCHER.
Pictures courtesy of PSA
Posted on September 29, 2019