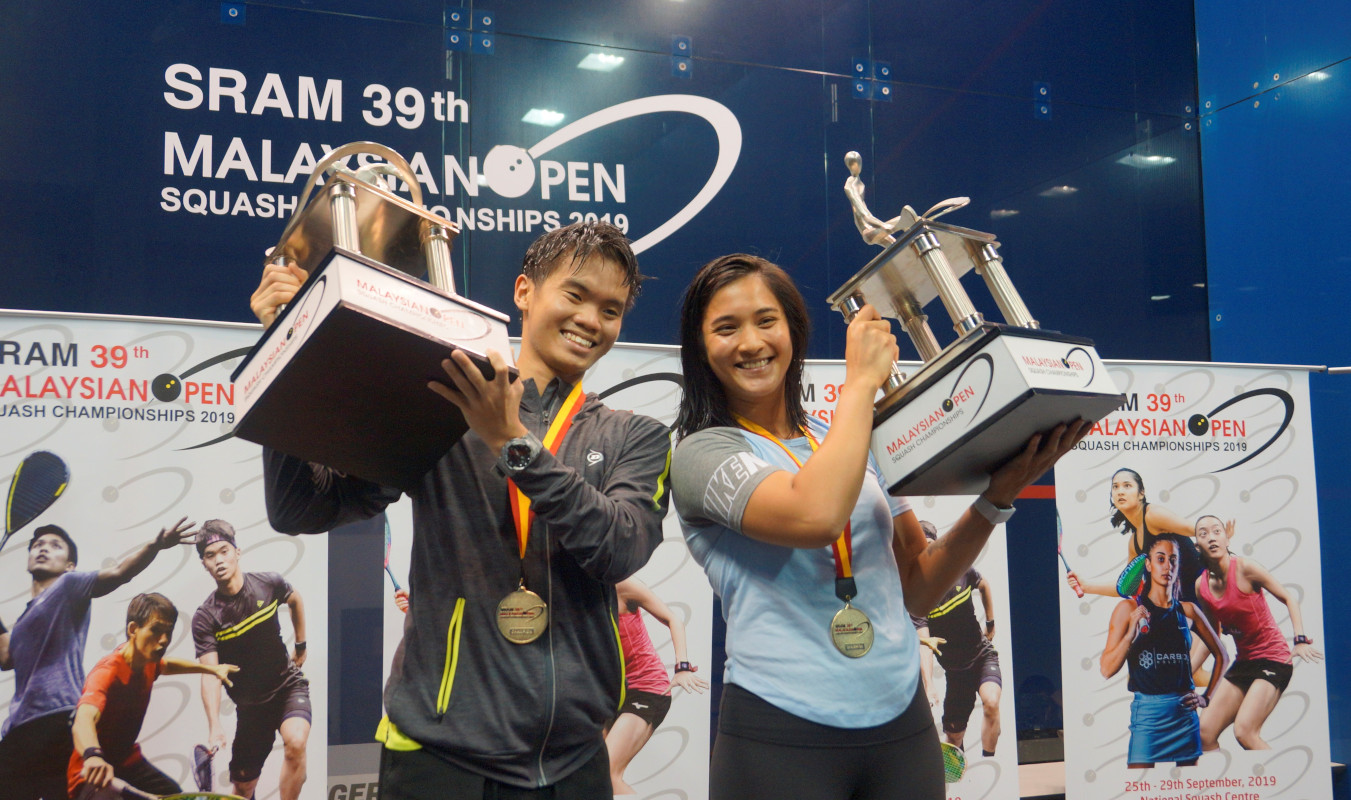 Yow masters Mueller to claim biggest title as Rachel rocks Wee Wern
By KNG ZHENG GUAN – Squash Mad Correspondent
KUALA LUMPUR – It is a sensational home double at the Malaysian Open with Ng Eain Yow and Rachel Arnold breaking through for their biggest career wins.
World No. 37 Eain Yow came through in some style as he played some of his best squash to gun down world No. 28 Nicolas Mueller of Switzerland 11-7, 12-14, 11-9, 11-5 at the National Squash Centre, Bukit Jalil on Sunday.
The 21-year-old, who reached the final without dropping a single game, had the crowd on the edge of their seats after he broke away from 6-all to take the first game 11-7.
Second seed Mueller, who has battled through his three previous matches, once again dug in to take the second game 14-12.
Eain Yow, however, took the crucial big points to edge in the third and that broke Mueller's fight as the Malaysian swept home to the win after 55 minutes.
The PSA Challenger 30 title is Eain Yow's biggest to date and it is sweet achievement for the KL lad who finished as runner-up two years ago.
Additionally, he also becomes only the third Malaysian but the first since 2010 to lift the title in front of the home crowd.
"I can't be any more pleased to win the Malaysian Open. It's a great feeling to start the season on a win and it's going to motivate me even more as well," said Eain Yow who now has four PSA titles to his name.
"It's always tough against Nicolas. He had three tough matches previously and I thought I may have an edge today.
"But he really made it tough in a physical contest. He didn't give me any chances and I'm happy to have taken my opportunities when it came.
"Of course winning the third was also important. Especially since a player like Nicolas is really hard to stop when he is confident.
"But I'm really pleased to have come through. It played on my mind a bit, knowing that the last home winner was in 2010 and there was a bit of pressure on myself to win. I'm just glad that I had it in myself to take the title," added Eain Yow who heads to the US Open next.
In the earlier women's final, world No. 46 Rachel also delivered one of her best performance ever to stun defending champion Low Wee Wee in an all-Malaysian final.
The third seeded Rachel started and finished strongly against second seed Wee Wern in an 11-7, 11-13, 10-12, 11-8, 11-5 win.
After flying out of the blocks to take the first game, the 23-year-old Rachel was unable to capitalise on her chances as former world No. 5 Wee Wern came back strongly to nick the second and third games.
It looked as though the Penangite was on course for yet another home title a few decisions went against and suddenly Rachel was right back in it.
Wee Wern's confidence was certainly battered early in the deciding rubber after a collision with Rachel left her wobbling.
And it was Rachel who stepped on it as she powered home for her fifth PSA title after 61 minutes. "I'm very pleased to have grabbed this win. It's not easy at all as I had to push myself through the whole game and fight for every rally," said Rachel.
"After dropping the third, I knew I just had to fight hard to stay in it. I told myself to stay in the rallies and increase the pace and eventually it worked out in the end.
"This is such a big win for and it would certainly help my rankings a fair bit. I've been staying around the same rank for quite a while now so this is really the win that I need to give myself a push," concluded Rachel.
 
Malaysian Open 2019, Bukit Jalil National Squash Centre, Kuala Lumpur, Malaysia.
PSA Challenger Tour 30, Men's Final:
[4] Eain Yow Ng (MAS) bt [2] Nicolas Müller (SUI) 11-7, 12-14, 11-9, 11-5 
PSA Challenger Tour 20, Women's Final:
[3] Rachel Arnold (MAS) bt [2] Low Wee Wern (MAS) 11-7, 11-13, 10-12, 11-8, 11-5
Pictures courtesy of KNG ZHENG GUAN
Posted on September 29, 2019