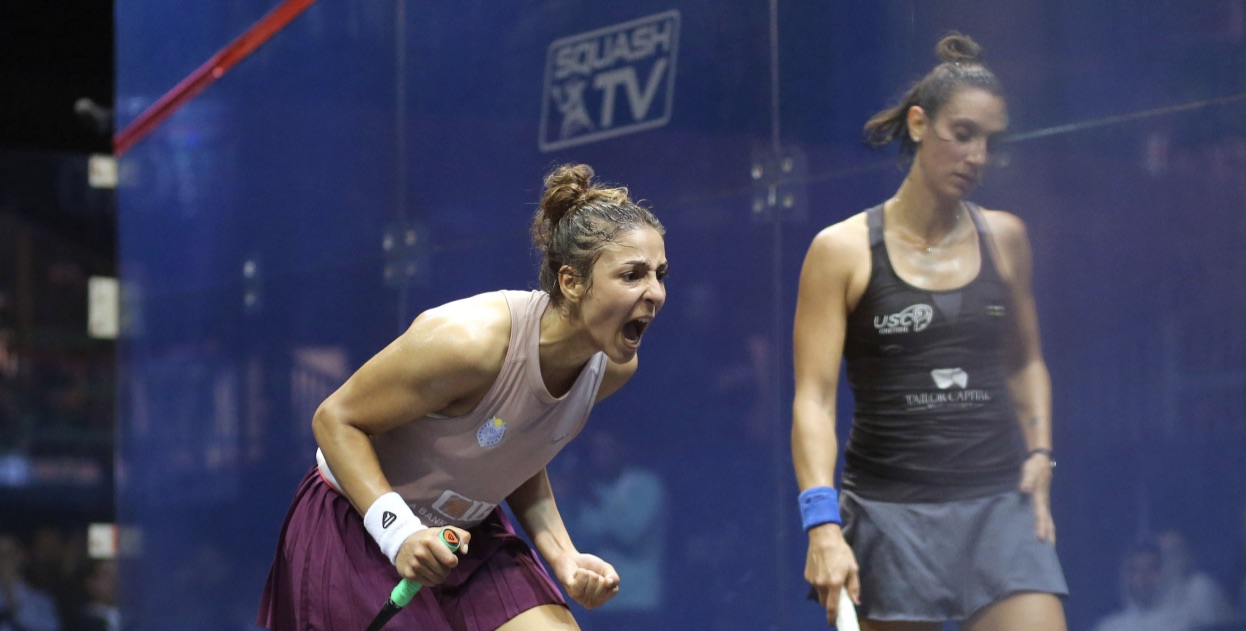 Pyramid power lifts world junior champion to new heights
By SEAN REUTHE – Squash Mad Correspondent
Egypt's Hania El Hammamy has broken into the top 10 of the PSA Women's World Rankings following her run to the semi-finals of the CIB PSA Women's World Championship last month in front of the iconic Great Pyramid of Giza.
The 19-year-old El Hammamy, the reigning World Junior Champion, came back from two games down to stun World No.5 Camille Serme as she reached the last four of the biggest tournament in women's squash before she was halted by eventual winner Nour El Sherbini.
El Sherbini, who captured her fourth World Championship trophy on her 24th birthday last month, moves up two places to No.2 as she sits behind runner-up Raneem El Welily, who completes a calendar year at World No.1.
U.S. Open champion Nouran Gohar drops a spot to No.3, while Nour El Tayeb is the other woman to feature in the top five after falling a place to No.4. 
New Zealand's Joelle King stays at No.6, while Amanda Sobhy moves up a place to No.7, her highest ranking since April 2017, which came a month after she suffered a torn achilles at the Ciudad de Floridablanca tournament in Colombia.
As a result, Sarah-Jane Perry drops a place to No.8, her lowest ranking since October 2018, while Evans stays at No.9 ahead of El Hammamy.
Hong Kong's Annie Au drops out of the top 10 to No.11, while Joshna Chinappa (No.12), Alison Waters (No.13), Salma Hany (No.14) and Victoria Lust complete the top 15.
Yathreb Adel moves up to a joint career-high ranking of No.16, with Olivia Blatchford Clyne rising two places to No.17. Nele Gilis stays at No.18, while Nadine Shahin reaches a career-high ranking of No.19. Hong Kong's Joey Chan drops four spots as she completes the top 20.
The biggest mover on the women's tour is South Korea's Mingyeong Heo, who rises 80 places to World No.246 after reaching the Pacific Toyota Cairns Squash International quarter-finals. 
PSA Women's World Rankings Top 20 – December 2019.

Report by SEAN REUTHE (PSA) Edited by ALAN THATCHER. 
Pictures courtesy of PSA 
Posted on December 1, 2019