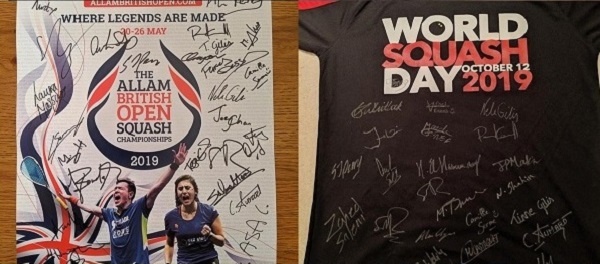 Final bidding flurry expected ahead of auction close at 19:00 BST
By JAMES ROBERTS – Squash Mad Reporter
After a week of steady and generous bidding activity, organisers of the World Squash Day Auction 2019 are bracing themselves for what promises to be a final flurry of bidding activity to secure some collectable pieces of unique squash memorabilia.
This is the 4th auction of squash memorabilia that has been held in association with World Squash Day, with proceeds going to charitable causes such as Unicef and the John Batty Tournament's chosen charity.
This year, the Auction has partnered with the PSA Foundation, which serves as the philanthropic arm of the Professional Squash Association. The Foundation's mission is to inspire the next generation of squash players and foster the growth of our sport by making a positive impact on the communities that it reaches and by supporting the wellbeing of the professional players that spearhead this effort.
Star lots so far have proven to be, as expected, the World Squash Day shirt signed by an array of PSA World Tour stars who participated at the season opening events at Nantes and San Francisco. Current bidding for this stands at £100.
Daryl Selby however is demonstrating his popularity with squash fans, with his signed signature playing shirt also reaching £100 bid.
A poster for the Allam British Open 2019 held in May this year signed by the PSA players is also keeping pace with £100 having been bid for this so far.
A used squash ball has seen quite an array of competitive bidding, with a bid of £40 currently out in front. However, it is not any old squash ball, but one used in the final of the British Nationals 2019 between Champion James Willstrop and runner up Daryl Selby, signed by both players.
A Birmingham Lions Premier Squash League shirt signed by the Birmingham and Pontefract team line ups for their season-opening match completes the array of lots. This includes the signatures of 2 former World no. 1s James Willstrop and Laura Massaro, as well as the current Welsh No. 1 Joel Makin. £25 is the current highest bid, but this is sure to attract some last-minute bidding interest with that price looking on the low side.
Bidding will close tonight, Sunday 1st December at 19:00 BST (that is UK time). You can place your bids either via the Auction Facebook page, Twitter account or using direct messages through either platform. Links to these are also posted below. You can also email your bids to James Roberts, [email protected].
Please continue to bid generously to raise the maximum amount of money possible to support the great work of the PSA Foundation. Happy bidding!
World Squash Day Auction Facebook page: https://www.facebook.com/WSDAuction
World Squash Day Auction Twitter page: https://twitter.com/WSDAuction
To find out more about the work of the PSA Foundation, visit their website.
Pictures courtesy of  James Roberts
Posted on December 1, 2019