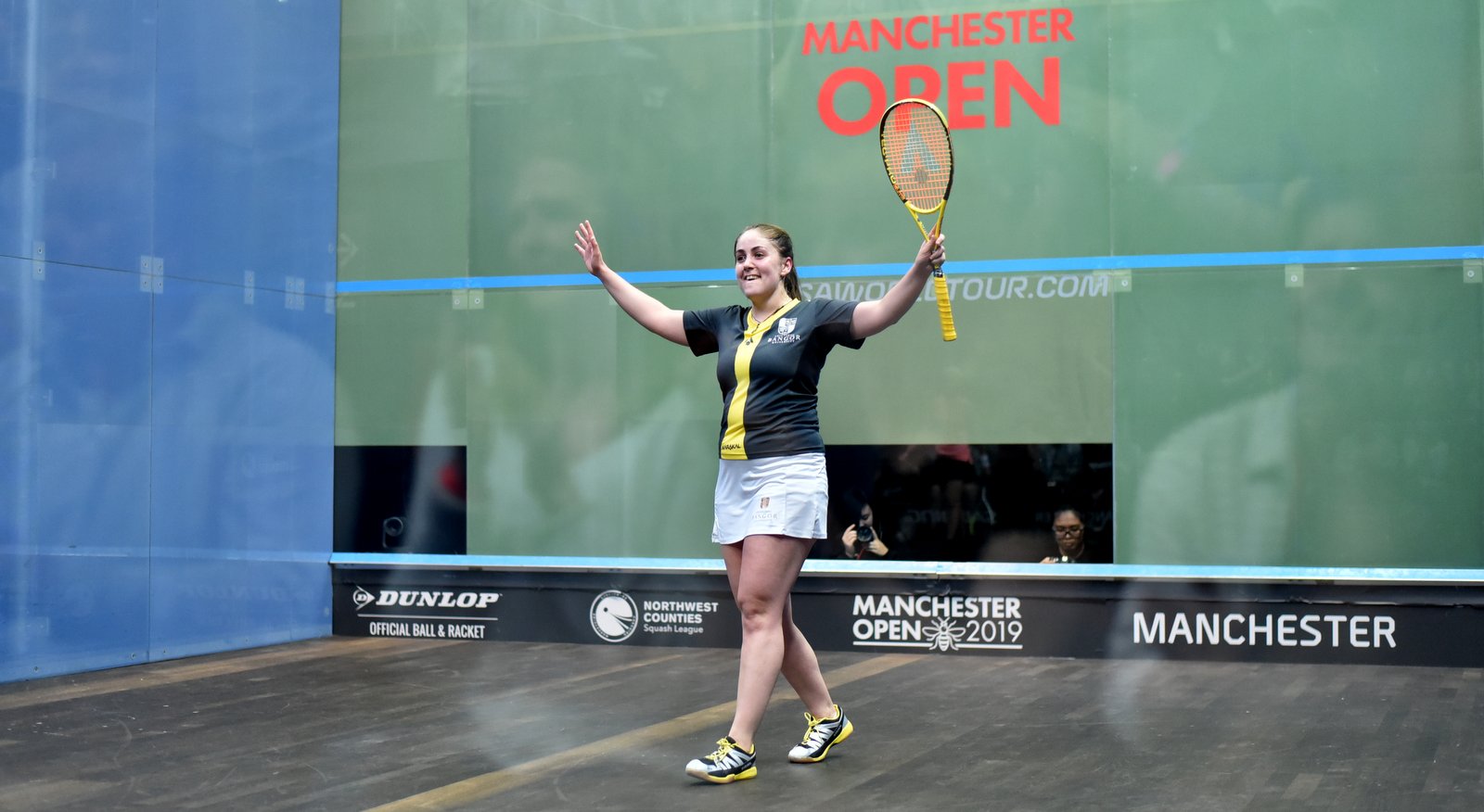 'I just kept digging and played my best squash at the end'
By ELLIE MAWSON in Manchester
Tenacious Tesni Evans produced a monumental comeback to take out Egypt's World No.3 Nour El Tayeb and reach the biggest PSA final of her career at the 2019 Manchester Open.
Wales' World No.9 was facing defeat at 2-0 down as top seed El Tayeb took control of the opening phase of the match at the National Squash Centre.
However, Evans demonstrated her brave resilience as she fought back in a gladiatorial battle to win 7-11, 9-11, 11-7, 11-9, 11-9 in 72 minutes to reach the final of the inaugural women's-only PSA World Tour Silver tournament, where she will face New Zealand's World No.5 Joelle King tonight.
Evans, 26, from Rhyl, said: "I felt even in the first two games that I was actually playing quite well. I just couldn't string a few points together. I'm really happy with myself because I never let that get to me and I just kept digging and digging, just to see how far it would get me and I can't believe it in the end.
"I think the more matches I play, the better I get. I just don't normally get the opportunity to play more than a couple of matches. My squash was probably the best I've played at the end of the match and I'm really proud of myself.
"It's probably my biggest win because she is No.3 in the world and reached the final of the World Championships."
Meanwhile, World No.5 King overcame United States' No.1 Amanda Sobhy in straight-games to reach her second final of the season, following her victory at the Hong Kong Open in November.
Both players enjoyed strong wins in the last round, with Sobhy continuing her excellent run of form to down Egypt's World No.7 Nouran Gohar, while King saw off England's former World No.3 Alison Waters in straight games.
A positive first game from both players saw them consistently trade blows with both pulling out some of their best squash for the occasion. As the game progressed into an extended tiebreak, it was King who was able to take the advantage, winning 17-15.
From then on, the momentum stayed with the World No.5 as she didn't put a foot wrong and adapted to the conditions of the warm court well to advance against World No.8 Sobhy.
"It's no secret that Amanda has been coming back strong this year," said 30-year-old King.
"It's credit to her that she's in the semi-finals of a Silver tournament not so long after coming back from injury. Overall this week, I've been feeling mentally quite good. Even in my other matches if I had lapses, I was able to close out in the business end and I guess that is one of my strengths when I'm playing well.
"I was down in the first and I was able to claw my way back and take a crucial first game and I'm pretty happy with my mental performance.
"I think at the start of this year, after winning Hong Kong, I put a bit of pressure on myself to do well and it didn't work out so well for me. I've tried to come into every tournament and treat it like it's my last one and it seems to be working, so hopefully it will carry on."
The final take place today (Monday May 13) at 19:00 local time (UTC+1) and the action will be broadcast live on SQUASHTV (rest of world), Eurosport Player (Europe only) and to multiple broadcasters around the world. 
PSA $76,000 Women's Manchester Open 2019, National Squash Centre, Manchester, England.
Semi-finals:
[6] Tesni Evans (WAL) bt [1] Nour El Tayeb (EGY) 7-11, 9-11, 11-7, 11-9, 11-9 (72m)
[2] Joelle King (NZL) bt [8] Amanda Sobhy (USA) 17-15, 11-5, 11-8 (39m)
Final:
[6] Tesni Evans (WAL) v [2] Joelle King (NZL)
Report by ELLIE MAWSON (PSA Media Team). Edited by ALAN THATCHER.
Pictures courtesy of PSA
Posted on May 13, 2019