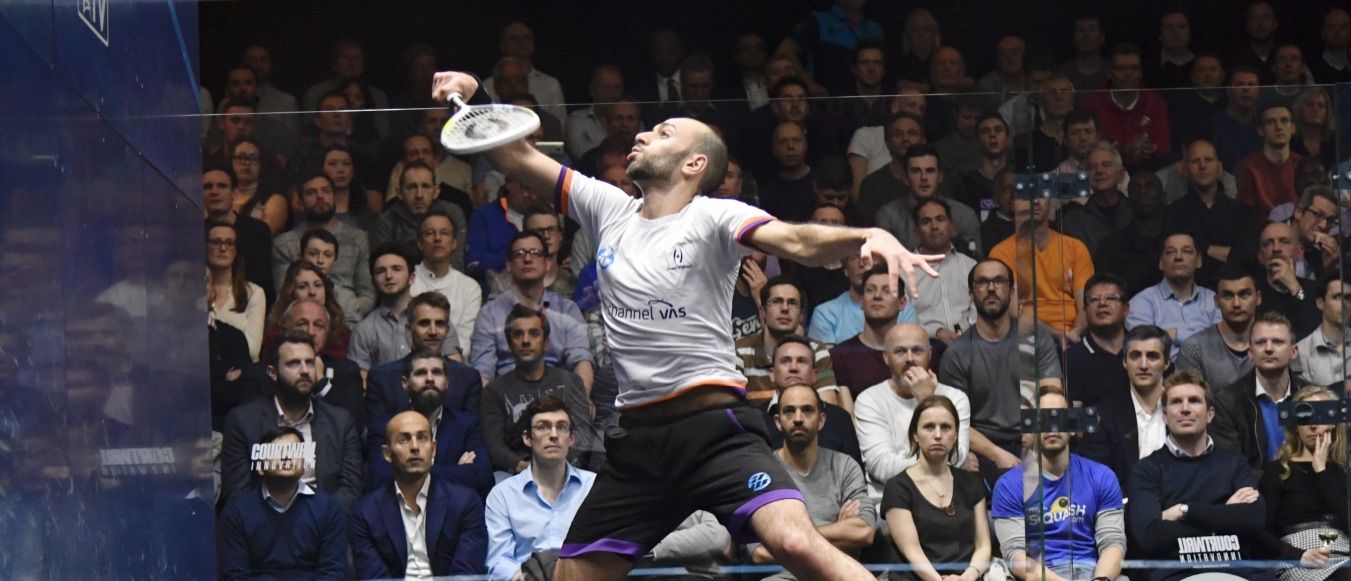 Mostafa Asal takes out home hope Tom Richards
By ALAN THATCHER – Squash Mad Editor
Top seed Marwan ElShorbagy imposed himself on the tournament as he beat fellow Egyptian Fares Dessouky in the second round of the Squash Squared Open at The Wimbledon Club.
On the same day, three top seeds fell by the wayside as Tom Richards, Cesar Salazar and Mathieu Castagnet were all beaten, with world junior champion Mostafa Asal toppling Richards, the number four seed and local favourite.
ElShorbagy and Dessouky treated the packed crowd to a special occasion, with competitive squash of the highest quality.
In the first game, both players took a while to settle but once Dessouky got into his groove he struck some beautiful winners and took the game 11-7. Marwan was much more solid and relaxed in the second, playing some trademark backhand drops and volleys and upping the pressure on Dessouky to take the game 11-7.
The third game saw both players at their best and had it all. The crowd also enjoyed great interaction with referee Steve Richardson, epitomised on one occasion when Dessouky queried a let decision and asked Steve what was going on. He replied, much to the amusement of the crowd, 'He's tying his shoelace', referencing Marwan who was indeed doing just that.
One 80-plus shot rally finished off by a rolling cross court drop shot nick brought a standing ovation from an utterly absorbed crowd. Marwan sneaked it 11-9. Someone shouted out 'Squash doesn't get any better than this'.
ElShorbagy looked imposing in the fourth and he kept his focus superbly, weathering a ferocious attack from his opponent as Dessouky fired in some breathtaking crosscourt nick winners.
Dessouky needed a short injury break after some contact, but the top seed eventually took it 11-7 in a match that lasted 64 minutes and will go down as one of the finest matches seen at the club, and one played in great spirit.
Mostafa Asal, Baptiste Masotti and Mahesh Mangaonkar are all into the quarter finals after beating their seeded opponents.
Masotti and Mangaonkar are tied at 61st in the world rankings, but both are through, after defeating Mathieu Castagnet and Cesar Salazar, respectively.
The Frenchman got the better of compatriot Castagnet, who made it all the way through to the semi-finals of the Citigold Wealth Management Canary Wharf Classic in March.
Masotti, who has won the Carter Classic and the Crawford Fund Management Open this year, continued his good form with a victory over his countryman.
The lower ranked man held the lead twice, at 1-0 and 2-1, but Castagnet refused to go away, fighting back to level the match on both occasions. However, Masotti got over the line in the fifth, taking an 11-4, 8-11, 11-5, 7-11, 11-7 victory in exactly an hour.
India's No.3 Mangaonkar got the better of Mexico's Cesar Salazar, beating the World No.24 in straight games, 11-9, 11-5, 11-9.
He will now face Egypt's World No.33, Asal, who overcame England's Tom Richards, ranked 11 places above him in the world.
Asal demonstrated that he could make the move from junior to senior ranks in the Black Ball Open in December, winning two 89-minute matches against Youssef Soliman and Declan James before bowing out to Ali Farag.
At Wimbledon, he beat wild card Jordan Warne in the first round in less than 20 minutes and also overcame Richards in straight games, winning 11-9, 11-4, 11-7 in 42 minutes.
The first game was very close. Richards failed to settle and looked quite distracted, challenging a lot of decisions. Asal's composure and focus was hugely impressive.
He wowed the crowd with his forehand in the first round but his backhand looked equally potent against Richards, who struggled to cope with Asal's power, intensity and largely error-free squash.
PSA $51,250 Men's Squash Squared Wimbledon Club Open 2019, The Wimbledon Club, London, England.
Second Round (top half):
[1] Marwan Elshorbagy (EGY) bt Fares Dessouky (EGY) 7-11, 11-7, 11-9, 11-7 (64m)
Baptiste Masotti (FRA) bt [5] Mathieu Castagnet (FRA) 11-4, 8-11, 11-5, 7-11, 11-7 (60m)
Mahesh Mangaonkar (IND) bt [7] Cesar Salazar (MEX) 11-9, 11-5, 11-9 (44m)
Mostafa Asal (EGY) bt [4] Tom Richards (ENG) 11-9, 11-4, 11-7 (42m)
Bottom Half:
[3] James Willstrop (ENG) v Chris Simpson (ENG)
[8] Lucas Serme (FRA) v Ben Coleman (ENG)
[6] Daryl Selby (ENG) v George Parker (ENG)
[2] Omar Mosaad (EGY) v Iker Pajares Bernabeu (ESP)
First Round:
[1] Marwan Elshorbagy (EGY) bye
Fares Dessouky (EGY) bt Asim Khan (PAK) 11-3, 11-2, 11-0 (27m)
Baptiste Masotti (FRA) bt [WC] Tom Walsh (ENG) 11-9, 11-7, 11-4 (30m)
[5] Mathieu Castagnet (FRA) bye
[7] Cesar Salazar (MEX) bye
Mahesh Mangaonkar (IND) bt Ramit Tandon (IND) 11-9, 11-3, 11-2 (38m)
Mostafa Asal (EGY) bt [WC] Jordan Warne (ENG) 11-1, 11-2, 11-2 (19m)
[4] Tom Richards (ENG) bye
[3] James Willstrop (ENG) bye
Chris Simpson (ENG) bt Olli Tuominen (FIN) 11-7, 11-4, 16-14 (47m)
Ben Coleman (ENG) bt Carlos Cornes (ESP) 11-6, 11-2, 11-1 (59m)
[8] Lucas Serme (FRA) bye
[6] Daryl Selby (ENG) bye
George Parker (ENG) bt Patrick Rooney (ENG) 11-13, 11-6, 11-9, 11-7 (66m)
Iker Pajares Bernabeu (ESP) bt Sébastien Bonmalais (FRA) 11-7, 11-9, 9-11, 11-3 (70m)
[2] Omar Mosaad (EGY) bye
Pictures from Squash Mad files
Posted on May 13, 2019