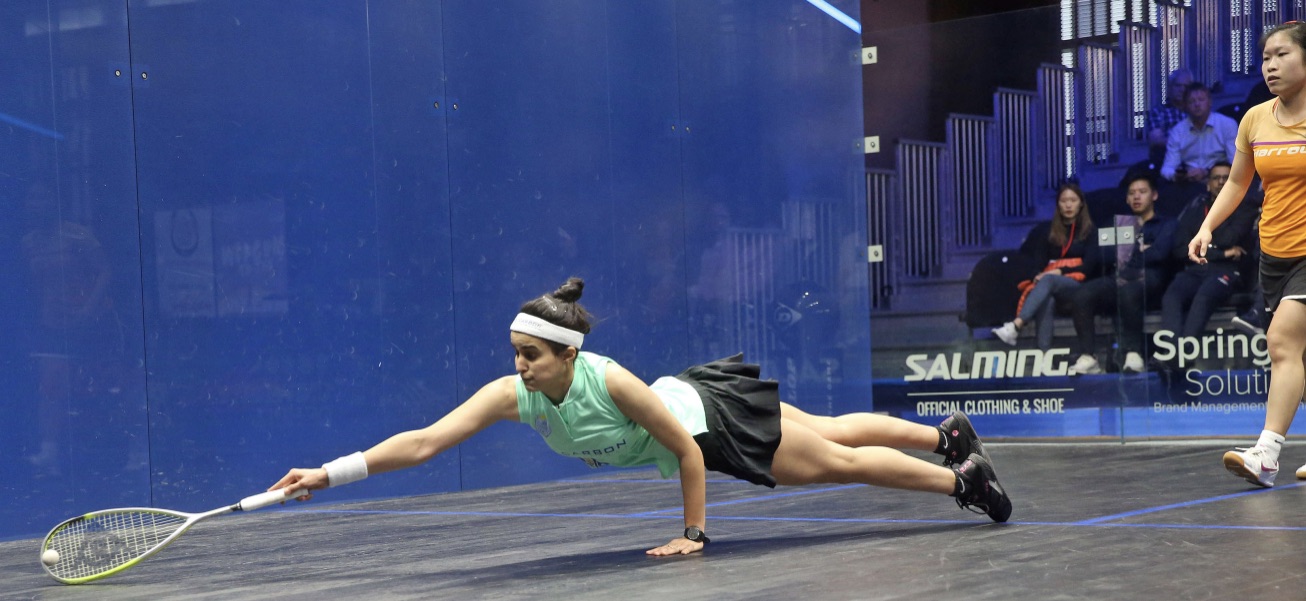 Nour saves two match balls before winning 13-11 in the fifth
By SEAN REUTHE in Hull
Egypt's World No.3 Nour El Tayeb overturned two match balls to come through a gripping five-game battle with Hong Kong's Annie Au at Hull's Allam Sport Centre as she booked her place in the quarter-finals of the 2019 Allam British Open, PSA Platinum event.
Au hadn't beaten El Tayeb since the 2010 PSA World Championships, but the World No.11 outplayed the Egyptian in the opening two games, winning the opener 13-11 on the tie-break, before following that up with an 11-7 triumph in the second.
A fired-up El Tayeb – who yesterday defeated Malaysian legend Nicol David in the final match of the eight-time World Champion's career – finally got her game going in the third and fourth games as she came back to level, but she lost her focus to allow Au back into the encounter in the fifth.
Au moved ahead to hold two match balls, but El Tayeb dug in to come back and complete the win, and the tenacious 26-year-old will line up against World No.5 Joelle King in the next round.
"Ali [husband and men's World No.1, Farag] and Raneem [women's World No.1, El Welily] kept pushing me on," said El Tayeb afterwards.
"They gave me the motivation to try harder after the second game. I don't know if I wasn't trying hard enough. When you get stuck in her game, it's suffocating to get out of, so Raneem and Ali were trying to push me on.
"I told Ali that I could do it on my own, but apparently not yet. I thought I didn't need him, but apparently I'm not over that. He gave me a big push, and just knowing someone is there and believes in you makes a lot of difference."
King overcame England's World No.12 Alison Waters in straight games to earn her spot in the quarter-finals, while World No.1 Raneem El Welily (pictured) dispatched United States No.1 Amanda Sobhy by the same scoreline.
El Welily, the 2018 British Open runner-up, has won her last three PSA tournaments – beating Sobhy in two of them – and she extended her unbeaten run to 15 matches with a 12-10, 11-6, 11-6 win in just 26 minutes.
"It was very important to take the first," said 30-year-old El Welily. "I'm happy to be trying my best in every match and that is something that I have been working on with my coach, who is here with me, and was giving me the right tactics at the right time. Doing my best is the thing that I've been doing. I'm enjoying myself and just trying to do my best in every match, and wherever that takes me, I will be pleased with it."
El Welily will play Egypt's Nouran Gohar in the next round in what will be a repeat of last month's El Gouna International final, in which the World No.1 triumphed. Gohar will now look to end a six-match losing streak to her fellow Egyptian after downing Hong Kong's Joey Chan 3-0.
In the men's draw, World No.34 Mazen Hesham advanced to his first major PSA quarter-final since November 2015 after he got the better of France's Lucas Serme by a 3-1 scoreline.
Hesham (pictured) rose to a career-high ranking of World No.13 off the back a run to the semi-finals of the Qatar Classic that month, but a hip problem has seen him tumble down the rankings in recent years.
The 25-year-old looked to be back towards his best as he scalped World No.8 Diego Elias in the previous round, and he followed that up with victory over Serme to set up a quarter-final meeting with New Zealand's Paul Coll, who beat World No.18 Fares Dessouky.
Hesham said: "I've been struggling badly, and I'm still struggling slightly, but there is hope at the end of the tunnel.
"I need to thank Omar Abdel Aziz, my coach, who persuaded me to come to Hull. I had such a bad season, I hadn't had a good win against a top 10 player for three or four years. Omar is not just my coach, he cares, and really wants me to do well, so I kept pushing."
Elsewhere, men's World No.1 Ali Farag ended a three-match losing streak to World No.21 Marwan ElShorbagy to earn his place in the last eight for a fourth year in succession.
Farag, 27, has struggled to get the better of ElShorbagy over the past 18 months and lost to his compatriot in the final of the El Gouna International last year. However, after a nervy start to the match, Farag soon took control to win 11-8, 11-1, 11-2 in 31 minutes.
"It's a very big win," said Cairo-born Farag. "To play Marwan in the last 16 is a lot of pressure. I'm really happy with the way I dealt with it, the first game could have gone either way, I think that made a psychological difference, and I'm really happy with the way I pushed on after that."
Farag will line up against the only person to beat him so far in 2019 – World No.9 Mohamed Abouelghar – in the next round, with Abouelghar beating France's Gregoire Marche in straight games.
Third round action at the Allam Sport Centre continues tomorrow (Thursday May 23rd) with play getting under way at 12:00 (GMT+1). Play will be shown on SQUASHTV (rest of world), Eurosport Player (Europe only) and the official Facebook page of the PSA World Tour. 
Allam British Open 2019, University of Hull Sports and Fitness Centre, Hull, England.
Men's Third Round (Top Half): 
[1] Ali Farag (EGY) bt Marwan ElShorbagy (EGY) 3-0: 11-8, 11-1, 11-2 (31m)
[7] Mohamed Abouelghar (EGY) bt Gregoire Marche (FRA) 3-0: 12-10, 11-2, 11-2 (40m)
Mazen Hesham (EGY) bt Lucas Serme (FRA) 3-1: 11-4, 11-6, 4-11, 11-7 (48m)
[4] Paul Coll (NZL) bt Fares Dessouky (EGY) 3-1: 11-5, 11-7, 9-11, 11-5 (66m)
Women's Third Round (Top Half): 
[1] Raneem El Welily (EGY) bt [12] Amanda Sobhy (USA) 3-0: 12-10, 11-6, 11-6 (26m)
[7] Nouran Gohar (EGY) bt Joey Chan (HKG) 3-0: 11-5, 11-8, 11-3 (23m)
[5] Joelle King (NZL) bt [10] Alison Waters (ENG) 3-0: 11-4, 11-8, 11-6 (32m)
[3] Nour El Tayeb (EGY) bt [11] Annie Au (HKG) 3-2: 11-13, 7-11, 11-9, 11-4, 13-11 (50m)
Men's Third Round (Bottom Half, May 23):
[3] Simon Rösner (GER) v Omar Mosaad (EGY)
Zahed Salem (EGY) v [5] Karim Abdel Gawad (EGY)
[6] Miguel Rodriguez (COL) v Cesar Salazar (MEX)
Daryl Selby (ENG) v [2] Mohamed ElShorbagy (EGY)
Men's Quarter-Finals (Top Half, May 24):
[1] Ali Farag (EGY) v [7] Mohamed Abouelghar (EGY)
Mazen Hesham (EGY) v [4] Paul Coll (NZL)
Women's Third Round (Bottom Half, May 23):
[4] Camille Serme (FRA) v [9] Tesni Evans (WAL)
Nele Gilis (BEL) v Tinne Gilis (BEL)
[6] Sarah-Jane Perry (ENG) v [15] Joshna Chinappa (IND)
[13] Victoria Lust (ENG) v [2] Nour El Sherbini (EGY)
Women's Quarter-Finals (Top Half, May 24):
[1] Raneem El Welily (EGY) v [7] Nouran Gohar (EGY)
[4] Joelle King (NZL) v [3] Nour El Tayeb (EGY)
 
Report by SEAN REUTHE (PSA PR and Media Director). Edited by ALAN THATCHER.
Pictures courtesy of PSA
Posted on May 22, 2019