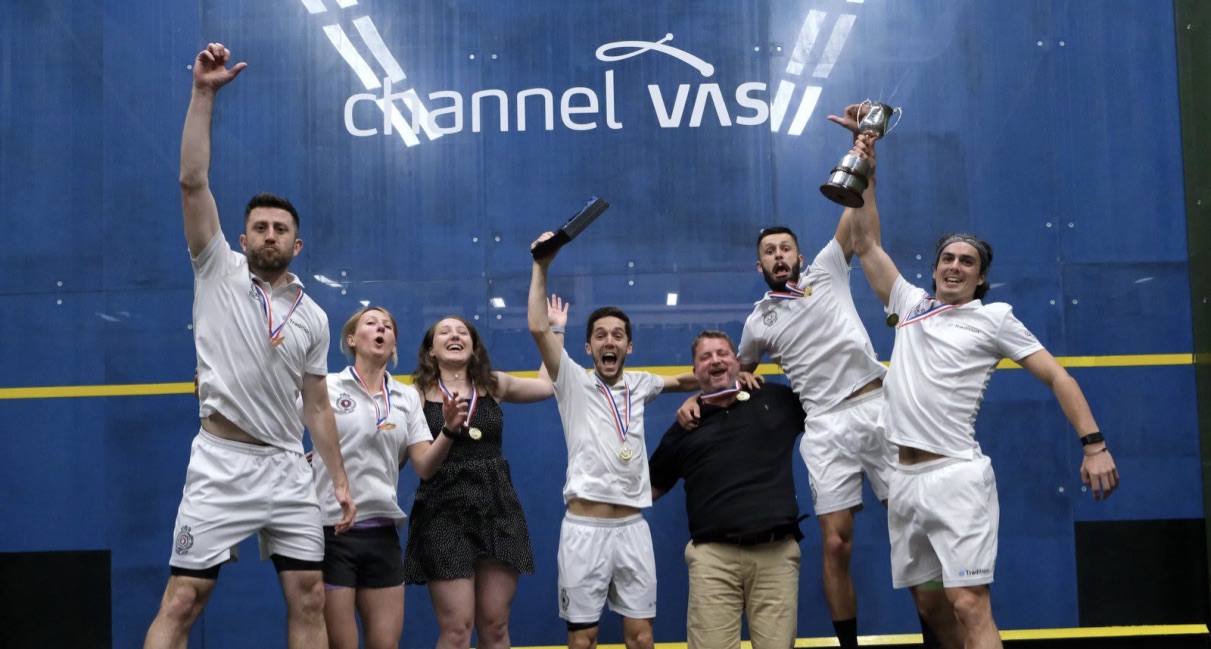 Winning is a new Tradition for RAC
By WILL JENNINGS
[email protected] put last season's Premier Squash League (PSL) final heartache behind them to be crowned champions for the first time after sealing a 3-2 victory over Team Pontefract in Surrey today.
It was a dominant display from [email protected], who maintained bragging rights over their opponents after repeating their victory in last season's semi-finals.
The final marked the climax of another compelling PSL season, a campaign that started with ten teams but was whittled down to two after [email protected]'s and Team Pontefract's semi-final triumphs over Warwick/Kenilworth and Luxford St George's Hill respectively.
But it was [email protected] who claimed the ultimate prize in front of a packed out crowd at St George's Hill Lawn Tennis Club, with victories from Daryl Selby, Paul Coll and Ben Coleman giving them the title.
It wasn't all plain sailing for [email protected] however, who went 1-0 down after Laura Massaro's 11-7, 12-14, 11-8 (40m) victory over Alison Waters in the final's opening match.
It was a compelling duel between the two female players, who continued to repel each other's advances to take the match to a decider.
But it was former World No.1 Massaro who prevailed, demonstrating all the skill that earned the 2014 World Championship title to overcome her battling opponent.
Team Pontefract's lead was short-lived, though, as parity was soon restored thanks to Selby's 11-7, 11-8 win over India's Ramit Tandon.
Selby's dominance was then emulated by team-mate Coll, who brushed past India No.1 Saurav Ghosal to claim an assured 11-5, 11-5 victory.
It was an impressive performance by Coll, with the New Zealander proving exactly why he's the World No.6 to give his side the edge with two matches left to play.
[email protected]'s victory was sealed after Coleman's equally dominant 11-4, 11-3 triumph over 16-year-old Sam Todd, who struggled to compete with his opponent's skill and experience.
With the destination of this season's trophy already decided, the final match of the day between George Parker and Abhay Singh was wisely shortened to a one game format.
And in a match that had an almost exhibition feel, it was the Malaysian Singh who managed to restore some pride for Pontefract and secure a consolation 13-11 victory.
[email protected]'s triumph will be a sweet one for the London-based side, who narrowly missed out on claiming their inaugural PSL title last season after a 3-2 loss to Luxford St George's Hill.
But Lee Davies' team showed great resilience throughout this year's campaign, putting that disappointment behind them to finish second in the Southern Division and eventually seal the crown.
A delighted Davies said: "I feel fantastic for the team, for the RAC club, and for our sponsor Tradition! It's a long, hard slog getting this far. We had to take last year on the chin but it's been a real team effort all season and I'm proud of every one of them!"
The PSL has been another marked success this season, continuing to attract crowds around the country and help further raise the profile of squash.
But it was ultimately [email protected] who were left celebrating, executing a composed display to cap off a thrilling year for the sport.
Premier Squash League 2019 final, St. George's Hill, Weybridge, Surrey.
[email protected] beat Team Pontefract 3-2:
Alison Waters 1-2 Laura Massaro 7-11, 14-12, 8-11 (40m)
Daryl Selby 2-0 Ramit Tandon 11-7, 11-8 (27m)
Paul Coll 2-0 Saurav Ghosal 11-5, 11-5 (28m)
Ben Coleman 2-0 Sam Todd 11-4, 11-3 (20m)
George Parker 0-1 Abhay Singh 11-13 (13m)  
Report by WILL JENNINGS. Edited by ALAN THATCHER.
Pictures by STEVE CUBBINS courtesy of England Squash 
Posted on June 1, 2019