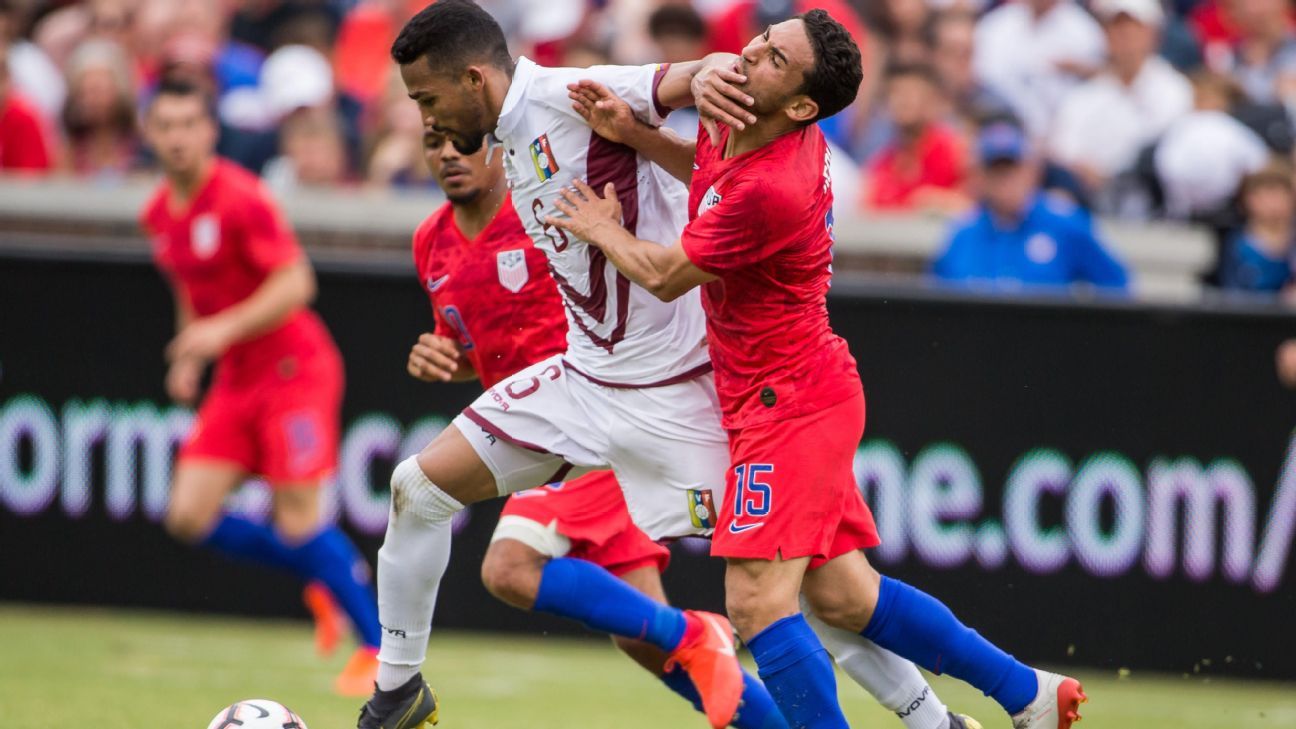 CINCINNATI -- U.S. men's national team manager Gregg Berhalter said his staff and players "need to be calm" and that he won't scrap his system in the wake of the Americans' 3-0 defeat to Venezuela.
The match was intended to serve as the final tune-up for the U.S. ahead of the Gold Cup, which opens for the Americans on June 18 when it takes on Guyana in St. Paul, Minnesota. What transpired instead was a brutal performance that saw the U.S. fall behind by three goals within the first 36 minutes.
- When is the CONCACAF Gold Cup?
- Full Gold Cup fixtures schedule
"I think we need to be calm," Berhalter said. "I think we need to look at the game, look at what we need to improve on, and then set out to do it. It's really tough after a result like this and start making excuses. I don't really want to do that. But what I'd say is we're still getting guys where they need to be, and we're not there yet, and that's pretty clear. So we're going to keep working on it.
Salomon Rondon scored the first of his two goals in the 16th minute following a wayward pass from U.S. keeper Zack Steffen, though there was a strong hint of offside in the buildup. Jefferson Savarino doubled La Vinotinto's advantage in the 30th minute, scoring from his own rebound after his initial effort hit the post. Rondon grabbed a second six minutes later when he latched onto a long pass from Tomas Rincon, evaded the attentions of Aaron Long, and rifled his shot past Steffen.
For the Venezuelans, the win provides a boost ahead of the Copa America in Brazil, which kicks off on Friday (watch all matches on ESPN+ in the U.S.).
For the U.S., it was a sobering performance with the Gold Cup nine days away, and one that came on the heels of another disappointing defeat against Jamaica four days ago.
"We talked about wanting to be more aggressive, wanted to get behind them, wanted to get balls into their penalty box. I think to a certain extent we did that really well," Berhalter said in his post-match press conference. "We gave up the goals. I didn't love the response. And then, I don't feel like for 90 minutes we competed on the level that we needed to compete on; the mentality. I'm understanding that it's hot, that guys some have been playing 90 minutes every week for the last month, some have been on vacation and we're getting everyone to where they need to be. But you still want more competitiveness, I think. It starts with putting guys in good positions to be able to make tackles and to do in on duels."
But Berhalter said he wouldn't be scrapping his system as a consequence of the two recent defeats. Linchpin Christian Pulisic is still working his way back to full fitness after getting two weeks off. Tyler Adams is also getting a break and won't join up with the team until June 11, while Michael Bradley is still recovering from a hamstring injury. Jozy Altidore played just 45 minutes. All four will be expected to start once the tournament begins. But Berhalter was keen to defend the players who played in this match.
"The guys worked hard. They gave what they had. They came up short," Berhalter said. "And it doesn't mean that we're going to scrap all the plans. We're always evaluating, we're always seeing how effective we can be, and where we need to improve. And we're just going to continue that process."
One bright spot for Berhalter was the second half introduction of Altidore, who looked active and helped out the U.S. attack with his passing and movement.
"It's what I've said all along about Jozy. He has top quality," Berhalter said. "His ability to combine with players, his ability to see passes, his ability to hold the ball up, he's a real quality striker. It would have been nice to get him a goal. I think we moved a lot of balls into the penalty box in the second half and it was unfortunate that he wasn't on the end of one of those. But overall, it's exciting to think about his quality coming back into the team."
But Berhalter is well aware of the negativity surrounding the U.S. team at the moment, one that is still reeling from the failure to qualify for the 2018 World Cup.
"Obviously, I know what the narrative is going to be, that we have no chance [at the Gold Cup], that we're going to lose or maybe not even make it out of the first round," he said. "That's fine. We'll deal with it."