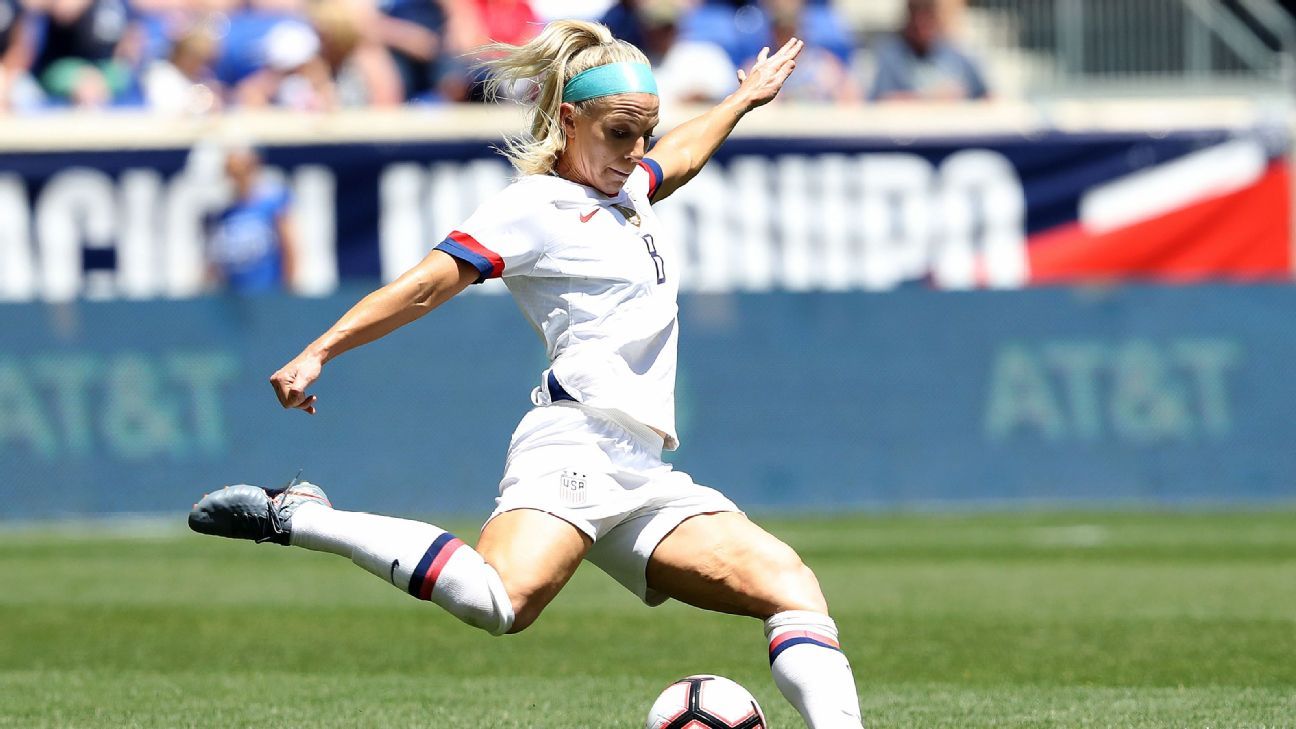 REIMS, France -- They wear the same uniforms. They are around the same age. They occupy the same space on the field, literally the middle ground between those tasked with producing goals and those expected to prevent them. And none of them has been here before, not like this.
Any number of superficial strands connect Julie Ertz, Lindsey Horan, Rose Lavelle and Sam Mewis, the four midfielders who top the United States depth chart and who competed for three starting positions throughout the buildup to this World Cup. But as the middle without which the entire U.S. effort on the field will crumble, the personal bonds that knit together their individual promise are anything but superficial. None of them know what it's like to play in the midfield in a World Cup, but all of them know they aren't alone.
"I call them soul ties," Ertz said. "Because I think when you have history with somebody your bond just is stronger."
The U.S. will play Thailand on Tuesday with a starting midfield that collectively lacks even one World Cup start in midfield. The front line is loaded with experience. The likely starters at forward -- Tobin Heath, Alex Morgan and Megan Rapinoe -- have played 34 World Cup games. The defense, including goalkeeper Alyssa Naeher, has its share of inexperience, but Becky Sauerbrunn is hardly a newcomer in the middle of the back line.
Among the four midfielders who received most of the minutes in recent years, on the other hand, only Ertz has World Cup experience -- and that as a center back in 2015. Horan played in the midfield in the 2016 Olympics, but started only once in four appearances in Brazil. Lavelle and Mewis have yet to play a minute at any position in any major tournament.
Nowhere did Jill Ellis have more of a blank canvas with which to work after 2016 than in the midfield. What emerged is a reflection of how she wants to play.
"Obviously it's a coach's preference in terms of profile and what they want the function to be," Ellis said of what goes into shaping a midfield. "I think for me it was important to have balance in there. It's not just about [one thing]. It's obviously breaking up plays, but then players that can play the final pass. With the front three, the attacking profile of our forwards, the ability for us to break lines requires players making the final pass in midfield."
She referenced recent Champions League winner Liverpool as an example. Liverpool's collection of "hard, strong, physical, hard-working" midfielders, as Ellis put it, did the work that fed the star-studded front line and aided a back line built around one undeniable talent. It sounds familiar. All of those midfielders fit an athletic profile for an aggressive system. But rather than interchangeable parts, each complemented the others. That's the model.
While Horan got her foot in the lineup during the 2016 Olympics, the midfield truly took shape in the 2017 Tournament of Nations. With the U.S. trailing Brazil in San Diego, Ertz came on as a substitute at the holding midfield position. It wasn't a coincidence that a 3-1 deficit became a signature 4-3 win. Ertz scored a goal in the comeback, but more than that, she brought an energy and intensity to winning back that spread throughout the lineup that day.
The energy is still different when she's out there. And as the U.S. settled on an aggressive 4-3-3 formation, taking cues from her hard-tackling, ball-winning ways, it relied on her even more. They take risks going forward knowing she will throw her body in the way to back them up.
"Just that sort of transitional style and getting after it and always wanting to go forward and push, push, push, she kind of provides that anchor for us," Rapinoe said of Ertz. "She's good box to box and can get up and down, but we want to send the [other two midfielders] and be able to have them go unattached from the back line and get our outside backs forward. So Julie provides that anchor for us and the ability to break up the counterattack."
By her own analysis, Ertz plays the No. 6 with a more defensive mindset than Lauren Holiday, the maestro who retired after the 2015 World Cup (and Morgan Brian, who filled the same role in the later rounds of that tournament with Holiday higher on the field). But Holiday still has a successor in Horan, the 25-year-old NWSL MVP who came into her own for both club and country in 2018, when she was also a finalist for U.S. Soccer Female Player of the Year.
A forward for much of her youth career, including when she signed with Paris Saint-Germain out of high school, Horan developed into a true box-to-box midfielder, the No. 8 who can do everything from a pinpoint 30-yard, switch-of-play pass to a header in the box on set pieces.
"Her presence in the midfield already intimidates other people," Ertz said. "She's fantastic in the air. She is feisty on the ground to be able to win tackles with her strength alone. But not only that. Her foot skills, being both-footed and finessing her passes, I think elevated me, for sure, but elevated the team's standard for being able to pass and build out."
Lavelle was the final piece to fall into place, one that Ellis had to wait patiently for through a series of injury delays, mostly related to a nagging hamstring issue.
"Rose is amazing at changing the tempo of a game," Ertz said. "She is so much faster than I think people realize. She can create these chances out of nothing. Her creativity and her vision, especially in [the final] third, is world class. On top of that, she works so hard to get back, which obviously helps me. Her having that 10 role, more freedom and creativity, has been amazing."
Ellis tossed Lavelle in the deep end for her senior international debut against England in 2017. Yet despite the class of opponent and a wickedly frigid day in New Jersey, the rookie was one of the stars for the U.S. in an otherwise forgettable loss. It didn't hurt that for all the newness, she was surrounded in the lineup that day by Horan and Mallory Pugh, all three teammates on the U.S. team that competed in the 2014 U-20 World Cup, and Mewis, one of her best friends.
"I felt like I came in at a time that was a lot easier for younger players to transition into because we had a lot of each other to lean on," Lavelle said. "The older players were great, but I think having someone you're a little more familiar with off the field definitely made it easier because it is such a competitive environment."
It isn't just those four midfielders who are intertwined. Ertz and defender Crystal Dunn go back years as friends and teammates. They won a U-20 World Cup together, along with Mewis and Morgan Brian. Colorado natives who shared youth rosters and bypassed college in favor of pro soccer, Horan and Pugh are inseparable -- Lavelle often not far removed. Emily Sonnett is in the middle of most everything that goes on for the younger generation. And on and on.
They weren't thrown together as strangers on one of the most competitive teams in the world and forced to find common cause on the fly. They brought their bonds, formed long ago in club soccer, college soccer and youth national teams, to that crucible.
"When you have somebody who has your back, it automatically creates a bond," Ertz said. "The DNA of this team has had that, having each other's backs, fighting to the last whistle. That is what makes this team so dangerous in tournament because people can't touch that.
"You can touch tactics, you can sit back, you can change that stuff. But you won't break somebody's will to fight for each other."
The fourth member of the quartet exemplifies the collective strength best of all, precisely because she may be the odd one out when starters are announced June 11. Mewis has done plenty to merit a place in the starting lineup, coming into her own in 2017 and bouncing back this year after an injury-marred 2018. A powerful presence who can play any midfield role, she will play important minutes in France, starter or not.
"When I'm on the bench, I'm cheering the loudest for Lindsey and Rose, even though they're in front of me and they play my position," Mewis said. "Because their success is my success. We're all working in this together, and it feels really like a team in that way. And of course, it is, but this team is so competitive, and I think that having those strong bonds of support and caring for each other is going to carry us a long way."
The American midfield in 1999 was already full of World Cup winners from eight years earlier. The midfield in 2015 had Olympic champions multiple times over. This group doesn't have that history. But it has its own history. So while the individual parts are what the U.S. needs to play the way it wants to play, the friendships and trust that bind them together are what the U.S. hopes will let them shine.
"It's all there for them," Rapinoe said. "We'll do our best as older players to sort of embolden them and encourage them, but I think [they should] realize that they have everything that they need. Their individual strengths and talents that they have coming out of the midfield is exactly what we need them to do. We don't need them to be anything different than what they are."
And if the middle holds this summer, anything is possible.