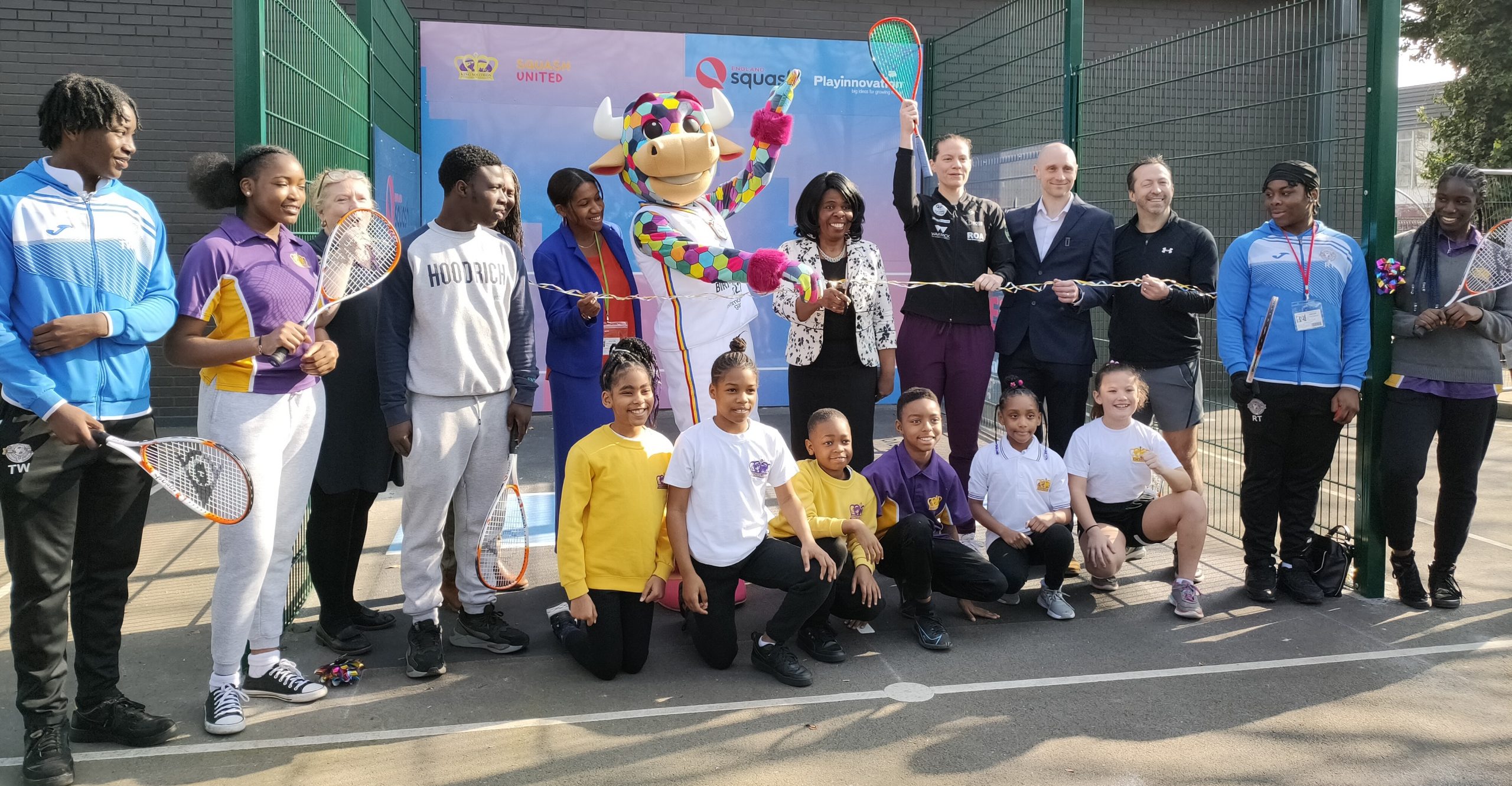 School court and new campaigns set to build on the momentum to make squash a Games star attraction
By JAMES ROBERTS – Squash Mad Correspondent
An innovative outdoor squash court was officially unveiled today at King Solomon International Business School in Birmingham which aims to build on the excitement of the Birmingham 2022 Commonwealth Games and introduce the sport of squash to potentially thousands of young people.
World No.5 squash player Sarah-Jane Perry and Perry the Bull, the official Birmingham 2022 Commonwealth Games mascot, opened the court alongside England Squash CEO, Mark Williams and Founder of the school, Dr Cheron Byfield.
Funded by England Squash, the new court is the latest in a series of initiatives by Squash United, the collaborative group leading the squash legacy programme which is an official project of United by Birmingham 2022, the community programme for the Commonwealth Games.
More than 600 pupils at the school will benefit from the new court, which will help to improve physical and mental wellbeing both in curriculum time and outside of school hours. 12 pupils and eight teachers have received Squash Activator training so that they can help deliver squash sessions to their peers.
Mark Williams, CEO at England Squash said: "We are so proud to be part of Squash United and to have funded this amazing new court, which we hope will inspire a new generation of players to develop a lifelong love of squash.
"It's a hugely exciting year for squash as we look to build on the excitement around the Commonwealth Games to make the game more accessible than ever.
"This revolutionary outdoor court concept could be a game changer for school squash, and we would love to see more being installed up and down the country to help engage young people in our game."
Ming Lee, founder of Squash United said: "We are delighted to be creating new sporting opportunities at King Solomon International Business School and a tangible Birmingham 2022 Commonwealth Games legacy. It's wonderful to give Birmingham children a Game's experience and ignite dreams of being a future squash star like Birmingham-born Sarah-Jane Perry!
"This amazing playground squash court has been designed to be flexible and scalable as part of a coordinated programme to create a squash culture in schools and a pathway into clubs across the country.
"Making squash visible, accessible and appealing to young people is vital to our mission of having more people playing squash after Birmingham 2022 than before COVID-19."
Dr Cheron Byfield, the Founder of the school said: "I am delighted that the children at King Solomon International Business School will have the opportunity to play and learn this exciting sport.
"Thank you to the Parent School Partnership and everyone who brought this project together. This innovative yet bespoke mini squash court really is a thing of beauty.
"I should also like to thank England Squash for donating the funds to make it a reality and Squash United for training our Sixth formers and teachers to be Squash Activators for the school children.
"This is a wonderful legacy of the Birmingham 2022 Commonwealth Games, and our children and the community will enjoy it for many years to come."
John Crabtree, Chairman of Birmingham 2022, said: "It is wonderful to see this great concept of introducing squash courts to new spaces and communities in Birmingham come to life.
"The court will be a unique addition to the playground at this school, enabling greater participation within the sport and a chance for some young people to play squash for the very first time.
"As a permanent feature at the school, the court will be a great long-lasting benefit linked to the Birmingham 2022 Commonwealth Games, raising the profile of one of our sports and allowing more local youngsters to engage with this exciting sport."
With just four months to go before the start of the Commonwealth Games, Squash United by Birmingham 2022, the Games' official squash promotion and legacy programme, is about to launch two new initiatives, both involving the construction of squash courts to increase the sport's visibility.
These new projects build on the impressive momentum already generated by 'taking squash to the people' at a series of Community Roadshows, using a ¼ size mobile Perspex court.
These were hugely successful, largely down to the enthusiasm of Squash United key mover and co-founder, Michael Harris, affectionately known as 'Mr Squash', and ably assisted by 'Mrs Squash', his wife Vicky.
Michael has also recently been appointed Squash United Coordinator in addition to his day job as Head Coach at Wolverhampton Lawn Tennis and Squash Club.
Other initiatives undertaken have included a new 'Squash Stars' junior and schools programme developed in partnership with Off the Wall Squash and officially launching in June.
Today (Friday 25th March) will see the ribbon cut on the first 'Playground Squash' court, having been installed at King Solomon International Business School in Aston, Birmingham.
This has been built against the external wall of the school's sports hall, using 1cm thick colourful polycarbonate sheets for the front wall and part side walls, and metal fencing panels typically seen in multi-use games areas to create a strong, lasting structure.
England Squash provided a grant of £6,000 to build this first prototype court. Costs for building these courts is estimated at around £10k – £12k but it is hoped that a combination of crowd and school funding will allow more such courts to be built across schools in the Birmingham and wider West Midlands area.
John Crabtree, Chairman of the Board of the Commonwealth Games, will be on hand to cut the ribbon on the court, alongside Games Mascot Perry the Bull and England Squash CEO Mark Williams.
Hot on the heels of the launch of the playground squash court will be what will probably prove to be Squash United's flagship event in the run up to the Games.
Taking inspiration from the famous Tournament of Champions, which takes place in New York's Grand Central Station, an all-glass championship court will be installed right in the main concourse of New Street Station, Birmingham's own Grand Central, from Monday 4th to Monday 11th April.
A whole host of events and exhibitions are planned during the court's residence, starting with a media day on the first Monday, involving some of the world's best PSA players. Thereafter, many communities, organisations and squash clubs will benefit from having a hit on the all-glass court, which is a unique and different squash playing experience. This includes the Army, NHS, local employers, schools and squash enthusiasts of all ages.
In addition, on Friday 8th and Saturday 9th April, the court will host the semi-finals and finals of the University of Birmingham Open tournament.
Ming Lee, co-founder of Squash United commented: "With daily footfall across the  station's concourse of more than 170,000 people, this is a fantastic opportunity to promote squash to a diverse new audience. We are grateful to our co-sponsors, Gowling WLG and Aston & Fincher Ltd, as well as all the Squash United partners for making this initiative possible."
The seeds of Squash United were first sown during Covid lockdown and is the brainchild of a variety of West Midlands squash enthusiasts, clubs and organisations.
It enjoys the full backing of a number the sport's key stakeholders, including England Squash, the World Squash Federation, Rackets Cubed, Off the Wall Squash and the PSA Foundation.
The Commonwealth Games singles and doubles squash tournaments are due to take place at the University of Birmingham Sport and Fitness Centre from 29th July to 8th August.
During the Games themselves, Squash United will be coordinating a Squash Festival, encouraging squash clubs and venues up and down the country and across the Commonwealth to run fun events open to the whole community.
For more information about Squash United, see their website, follow them on Twitter or join their Facebook Group.
Pictures courtesy of  England Squash, Squash United and James Roberts