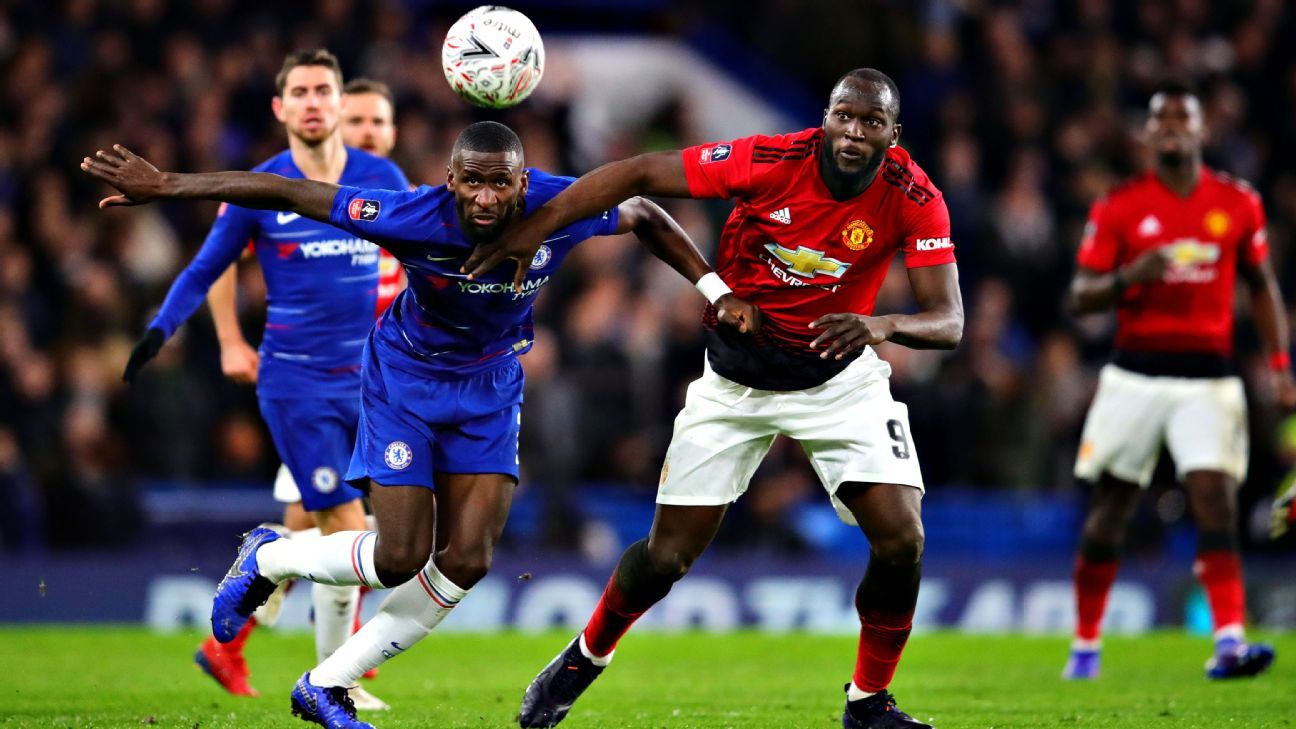 With three rounds of matches to go in the Premier League season, the race to qualify for the Champions League has become a battle between four clubs seemingly unable to grasp the opportunity.
Third-placed Tottenham, sitting on 70 points, took a huge leap towards confirming a top-four spot with a late home win against Brighton on Tuesday, but Chelsea, Arsenal and Manchester United, separated by just three points from fourth to sixth, continue to drop points.
United host Chelsea at Old Trafford on Sunday in a game that is now crucial for both clubs' aspirations, but with time running out to make the top four, who needs the Champions League most, which clubs are best-equipped to cope with a year in the Europa League and who is facing a nightmare scenario by failing to qualify?
3rd place: Tottenham, 70 points
Remaining Fixtures: West Ham (H), Bournemouth (A), Everton (H)
Why they need a top-four finish
Tottenham have finally moved into their spectacular new stadium, but they now have to pay for it and the money that comes from being in the Champions League is crucial in ensuring that the finances remain healthy enough for the club to avoid having to sell their best players.
As this season's run to the semifinals, and potentially beyond, has shown, Spurs are an emerging force under coach Mauricio Pochettino and are a team capable of winning the Champions League.
But missing out on qualification and ending up in the Europa League would leave Spurs vulnerable to losing their top stars, and Pochettino, to clubs who can offer Champions League football.
If Spurs finish in the top four, their business model and football development will only become stronger.
What happens if they miss out?
Christian Eriksen is stalling on a new contract, while Toby Alderweireld can leave for £25 million this summer, so Spurs would find it difficult to keep those two key players if they can only offer Europa League football.
And for a club that has not added to their squad since January 2018, recruitment plans would be hit badly if Champions League football is not booked.
Of all the clubs chasing a top-four finish, Spurs are arguably most at risk of the ramifications of missing out because of the delicate balancing act of keeping the team together and paying for the stadium, so Champions League qualification is absolutely vital.
Prediction: The win against Brighton has put Spurs in pole position and, with two home games to come, they will secure qualification by finishing third.
4th Place: Chelsea, 67 points
Remaining Fixtures: Man Utd (A), Watford (H), Leicester (A)
Why they need a top-four finish
With Eden Hazard increasingly likely to leave Stamford Bridge this summer, Chelsea need to be able to offer Champions League football in order to attract a top quality replacement.
There is also the question mark over the future of coach Maurizio Sarri, who might just cling onto his job if he can guide the club back into the Champions League.
Chelsea are in the midst of a transitional period and their rebuilding plans would be accelerated by a return to the tournament, both in terms of finance and the ability to attract better players.
But, of course, they still have the problem of a two-window transfer ban imposed by FIFA. They do still hope to get the ban paused, or overturned, to be able to deal this summer.
The funding of owner Roman Abramovich will always insulate Chelsea from the financial hit of not being in the Champions League, but as the only London club ever to win the competition, there is a determination at Stamford Bridge to regain the prestige of being back among the elite.
What happens if they miss out?
Any slim prospect of keeping Hazard would evaporate if Chelsea face another year in the Europa League and Sarri might follow the Belgian out of the door.
But there could be a positive element of missing out on the Champions League for Chelsea in the shape of their emerging youngsters.
Ruben Loftus-Cheek and Callum Hudson-Odoi have been given first-team chances this season and, if Chelsea are unable to offer Champions League football to prospective signings, the club's hugely successful youth policy could finally bear fruit with more senior graduates.
Financially, Chelsea are in a stronger position than Spurs to ride out another year in the Europa League, but if a new coach comes in and turns to the youngsters, the transition may take even longer.
Prediction: Everything hinges on Sunday's trip to Old Trafford, and Arsenal can take advantage and leave Chelsea finishing in fifth.
5th Place: Arsenal, 66 points
Remaining Fixtures: Leicester (A), Brighton (H), Burnley (A)
Why they need a top-four finish
Arsenal's business model has always been heavily reliant on the money earned from playing in the Champions League and two seasons in the Europa League has hit them hard.
Coach Unai Emery has been restricted in the transfer market and Arsenal simply cannot compete financially with their top-six rivals as long as they sit outside the Champions League.
Traditionally London's biggest club, Arsenal as a Champions League team are an attractive proposition to potential signings, but they are forced to shop in the second tier as a Europa League outfit.
So Arsenal need to be back among the big boys for reasons of finance and prestige. Another year out will see them drop even further behind.
What happens if they miss out?
Emery's transfer budget is already restricted and he will be forced to find a replacement for Aaron Ramsey, leaving on a free transfer to Juventus, as well as bolstering every other department of his squad this summer, namely the defence.
The former Sevilla and Paris Saint-Germain coach has worked wonders simply to make Arsenal competitive for the top four this season, but his task will only become harder if they miss out on the Champions League for 2019-20.
Petr Cech has announced his retirement, so a back-up keeper will be needed, and Danny Welbeck is out of contract, so perhaps more than any club, Arsenal need the Champions League riches to keep the wheels turning.
Prediction: If Arsenal can win one of their two remaining away games, they should end the season in fourth position.
6th Place: Manchester United, 64 points
Remaining Fixtures: Chelsea (H), Huddersfield (A), Cardiff (H)
Why they need a top-four finish?
Financially, United can withstand missing out on the Champions League for one, maybe even two seasons, and there is even a school of thought that such a failure would actually trigger the reality check required to make the club focus properly on the challenge of returning to the top of the game.
But even United feel the pain of not playing in the Champions League, especially when their biggest rivals -- Liverpool and Manchester City -- are becoming potential European champions.
Champions League football would enable Ole Gunnar Solskjaer to rip up his squad and attract top quality players to Old Trafford. A year in the Europa League would force United to pay bigger fees and higher wages to get their main targets and, after upsetting the pay structure to sign £400,000-a-week Alexis Sanchez last season, that is the last thing the club wants to expose itself to.
What happens if they miss out?
The biggest pain felt by United would be to their pride, as the self-styled "biggest club in the world" missing out on the Champions League for the third time in six seasons would be a real humbling proposition.
Solskjaer would be under no financial pressure to sell any of his players and United would continue to generate millions off the pitch, but they would be a less attractive proposition on it to stars whose sole focus is playing in the Champions League.
No team has won the Premier League after starting the season in the Europa League, so United would already be on the back foot domestically and, with Solskjaer under pressure to oversee a "cultural reset" at Old Trafford, being out of the Champions League would only make life more difficult.
Prediction: United need to win all three remaining games to have any hope, but their recent form suggests they will fall short and finish sixth.