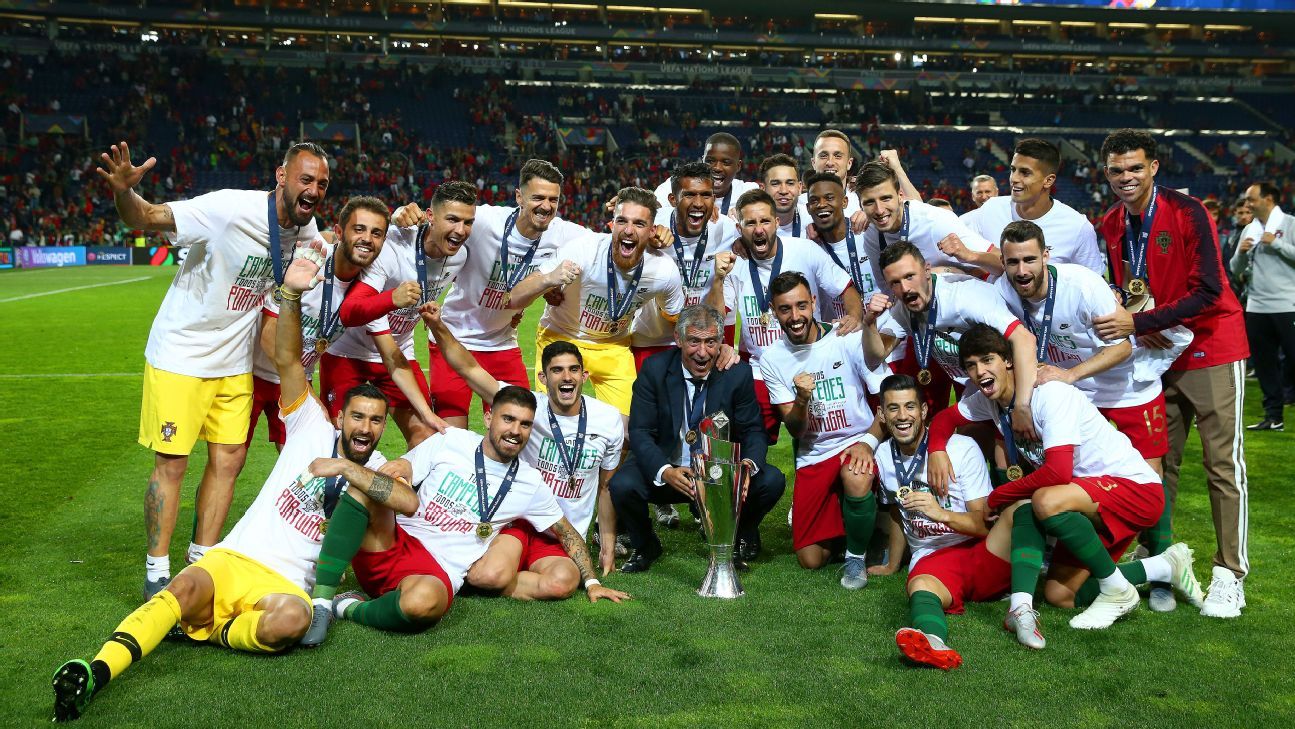 PORTO, Portugal -- Cristiano Ronaldo has grown accustomed to lifting trophies and the relish with which he hoisted aloft the silverware that comes with winning the UEFA Nations League, following Portugal's 1-0 win vs. Netherlands, suggested that it meant every bit as much as all of the prizes he has won in the past for club and country.
It is not the World Cup or European Championship, but it is a hefty, glittering trophy and the qualification process to reach the four-team finals means that the winners had to overcome strong opposition to come out on top, so Portugal's triumph should not underestimated.
Their success in the inaugural Nations League, which was sealed by Goncalo Guedes' 60th-minute goal in Porto, means that this small nation of just over 10 million people has won back-to-back UEFA tournaments, following on from their surprise Euro 2016 triumph in France, when they beat the host nation in the final.
It is a remarkable success story and one that has largely been driven by Ronaldo's unique talents for the past 15 years, but should we take Portugal's latest success as a sign of their dominance as a force in Europe or nothing more than helping to measure the current temperature of the continent's leading teams?
Euro 2020 kicks off in Rome one year this coming Wednesday -- June 12 -- and Portugal, assuming they qualify, will be a formidable opponent. Fernando Santos' side perhaps has one big tournament performance left in them, especially as Ronaldo will be 37 by the time the Qatar World Cup rolls around in 2022.
In the meantime, the growing importance of Bernardo Silva, who was exceptional against in this final, as well as emerging players such as defenders Ruben Dias and Nelson Semedo and forwards Guedes and Joao Felix, ensures that the Portuguese can contend as they defend their continental crown next year.
So will the Dutch, though, having developed into a force under Ronald Koeman. They lack a true striker -- Memphis Depay and Ryan Babel led the line with mixed success in these finals -- so should prioritise the discovery or development of a goalscorer between now and next summer to play in front of the formidable Virgil van Dijk, Frenkie de Jong and Matthijs de Ligt.
"To play a final, even if you don't win it, you take experience for the next time," Koeman said. "We have taken big steps in the Nations League, against France, Germany, England and Portugal, but to take the next step, we maybe need more time and offensive strength to take the chances we created tonight. But maybe it's too early for us to win."
- England seal third place with shootout win vs. Switzerland
- Kuper: New Dutch team is not the finished product yet
England earned a penalty shootout win against Switzerland in the third-place playoff earlier on Sunday and will regard their progress as positive following a run to the semifinals at the World Cup in Russia last year, but Gareth Southgate's team have some work to do before they can legitimately consider themselves among Europe's elite.
They do not score enough goals from open play and still lack creativity in midfield and reliability at the back. Nonetheless, Southgate is working with a talented generation and the likes of Raheem Sterling, Jadon Sancho, Marcus Rashford and Harry Kane should give England belief at Euro 2020, a tournament in which the semifinals and final will be staged at Wembley.
World champions France, eliminated at the Nations League group stage by the Dutch, should be the team to beat next summer. Didier Deschamps' team suffered a surprise qualifying defeat against Turkey on Saturday, but any side that can rely on the talents of Kylian Mbappe, Antoine Griezmann, N'Golo Kante and Paul Pogba has to be regarded as the favourites.
Among Europe's other traditional powers, Spain and Germany are in a state of transition, rebuilding teams that had previously enjoyed great success, but each boasts a depth of talent that ensures they cannot can be dismissed as contenders next year.
Elsewhere, Croatia will believe they can go one better than at the World Cup in what could be a last hurrah for their own golden generation, led by Luka Modric, while Belgium and Italy have 100 percent winning records in qualification.
Belgium have knocked on the door in several major tournaments recently and if Roberto Martinez can rely on a fully-fit Eden Hazard and Kevin De Bruyne, it may well be their year. Italy, having failed to qualify for the World Cup, are slowly recovering under Roberto Mancini and could be a force to be reckoned with again.
Much can happen in the upcoming 12 months, but international football in Europe is in a state of flux, with none of established heavyweights at the peak of their powers. As such, the Nations League might be the most accurate form guide, one year out from the European Championship.
The four teams who contested the finals qualified at the expense of more historically successful countries and Portugal's victory ensured the competition made for a headline-making start; successful host nations always give a tournament added lustre.
While it would be foolish to suggest they are favourites to defend their Euro title next year, with Ronaldo fit and able, Portugal will always be a threat. Who knows, this tournament could prove to be a pre-cursor for a hat trick of success.